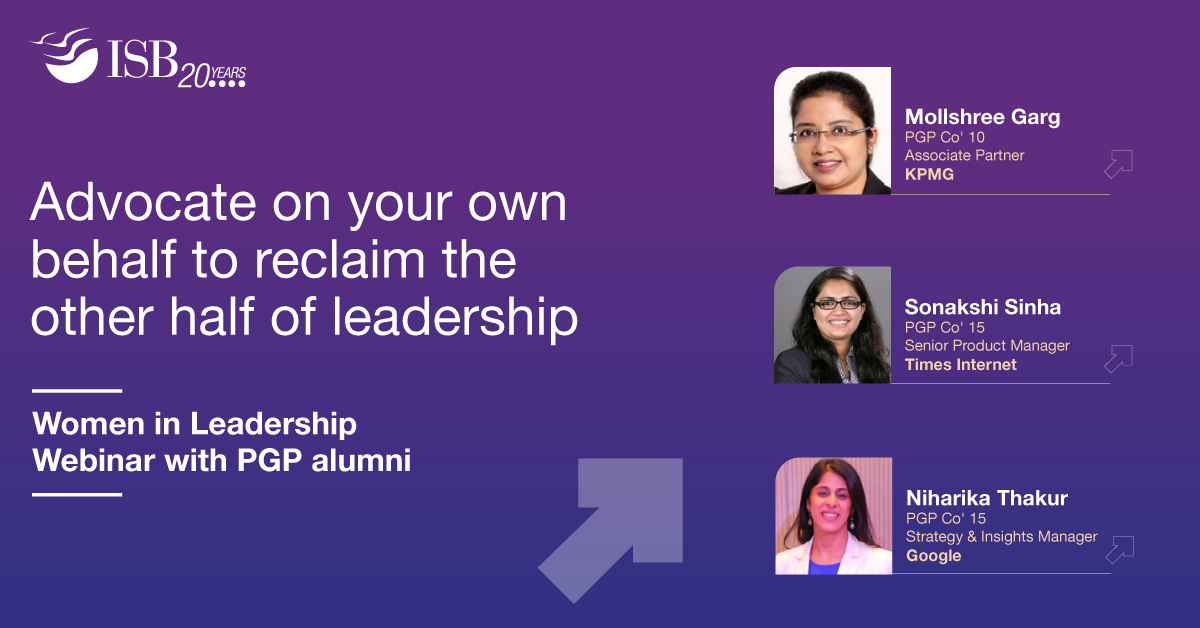 The world we live in today has come a long way from a gender-based division of work and is moving towards a more progressive age. Though the change is slow, women are taking up key leadership roles in businesses across the world. More women are realising their potential and creating a direct route to success. When they find themselves in a leadership role, their capability and abilities are undeniable.
The Indian School of Business (ISB) understands the importance of diversity in every shade and works earnestly towards it. The male to female ratio in an average PGP class is among the highest in Top B-Schools around the globe. To learn how the school has played a pivotal role, we brought three eminent women leaders and ISB alums on a panel discussion to further understand the importance of diversity in a learning environment. Here is how the whole discussion progressed.
Learnings from Diversity at ISB:
Women makeup almost 38% of PGP classroom strength at ISB and contribute immensely to the overall diversity. The perspectives students gain during the programme from the diverse set of peers adds a lot of value to their career upon culmination of the programme.
Speaking on the lessons learnt, Mollshree shares one of many lessons from her ISB days. "I came to ISB with a very traditional view of business and had never explored entrepreneurship. The batchmates that sat with me at various forums during ISB were already working and developing startup ideas. I learnt how simple ideas have the potential to create successful businesses in the long run. Though I never pursued my career in the startup ecosystem, I carried the insights gained during the programme. These insights continue to add value to the diverse and well-rounded perspective I bring for my clients even in my current role."
Speaking about diversity, Niharika adds, "Diversity is something you experience at every level and shade in ISB. The set of batchmates you meet during the course is highly diverse in terms of educational background, experience, industry vertical, gender, etc. For example, the study group I was assigned had me (a Chartered Accountant), two engineers, one analyst and one from sustainable development space. All of us didn't know each other priorly, had a different approach to working along with non-aligned work habits. But despite all the differences, we had to work together as a team. That is strikingly similar to everyday office life. That experience helped me learn how to work, manage and lead a team more effectively in my career."
Putting a gender lens on the topic, Sonakshi shares her perspective. "I come from a very gender-balanced ecosystem (mass media} & most of the colleagues at my workplace were women. At ISB, although the number was a little less, the whole environment regardless was quite progressive. What was astonishing for me was the diversity in the range of experience my cohorts brought. The diversity spectrum I witnessed during the programme gave me great anecdotal examples that helps me motivate people and colleagues in my career after ISB. I don't think any other top-tier B-School in India provides such diversity."
The Journey of Re-Discovery
Many times students are unsure about what they want to do after ISB or how they want their career to take shape over the period of 52 weeks. What should be the ideal way of discovering your true calling while pursuing PGP? The panellists added their perspectives to the discussion.
Speaking on the subject, Niharika adds two cents from her experience, "When joined ISB, I had eight years of experience under my belt. I started as a Chartered Accountant, working as an auditor then moving into investment research. After shifting into corporate strategy, I knew I wanted to expand my career in that role. So, I had a fair idea of what I wanted from ISB. This helped me prioritise and pick up a lot of learning during the span of one year. Be it the clubs, study groups, or events – everything came to fruition since the objective was clear in my mind. I specialised in strategy and explored new-age industries as well. Though I got very good offers during the placements, I went out of campus to crack a role in strategy consulting. That is the learning and confidence ISB bestows."
Reflecting on her experience, Mollshree shares, "I came into ISB with express desire to move into strategy consulting and wanted to gain a better understanding of finance. I was very clear about my expectations from day one and specialised in finance and strategy. The whole ISB experience was very insightful, courtesy of world-class faculty and peer learning. Though I did not get the desired role at the start, I got an HR consulting role in Delloite through placements and was eventually transitioned into strategy consulting within a year. I feel ISB is the one that facilitated this move. One should grab every opportunity that comes their way at ISB. Having a clear idea helps but one can even discover themselves while pursuing the course."
Coming from mass media, Sonakshi shares her experience from the other end of the spectrum. "I came to ISB with a mere objective of having a degree from Tier-I MBA college. However shallow my motivation was, the wealth of knowledge and rich learning I gained at ISB was way beyond my expectations. I never had a role in mind because I was a journalist in an MBA college! Luckily there was a job opening at Network18 for a product manager which is generally reserved for engineers. Had I not been from ISB, I would not have bagged that opportunity. Six years down the line, I am a Senior Product Manager at Times Internet where all my colleagues from premier engineering colleges with me as an exception to the rule! The 11 months at ISB compensates for every expectation."
Leadership Development at ISB:
In today's world, women are taking up leadership and decision-making roles more than ever. The highly diverse learning environment at ISB creates a space conducive to inculcating leadership and team management skills.
Speaking on the subject, Sonakshi reflects, "Speaking from personal experience, I was a highly motivated individual with a finesse to lead. I never felt a change in terms of managing a team however I learnt how to deal with the complexities that arise when the team you lead is way more qualified than you. The cohorts you gain at ISB are some of the best minds of their industry and are highly skilled in their area of expertise. I learnt how to navigate and influence without authority. This learning continues to play a great role in my everyday work life."
On account of developing leadership skills, Niharika adds, "ISB greatly contributed towards my leadership skills. Not that I wasn't leading teams before or managing projects, but I wanted to develop more skills and push my boundaries & limits. When I look at leadership, two qualities stand out – first is the adaptability to lead despite your vulnerabilities in uncomfortable situations, and second being the ability to garner trust and respect around you. I found ISB as a training ground for honing my leadership skills. No matter where you are in your career, ISB pushes your limits in every possible way, helping you to evolve into a better leader."
For Mollshree, leadership comes in many forms. "For me, one thing that made me a better leader is the confidence I gained from having a wonderful alumni network. I am supported by a network of greatly diverse professionals across the globe, whom I can reach anytime. I can bring vast connections, better insights, and all-around perspectives to my clients more efficiently. This ability helps you boost your confidence and surely makes you a better leader with time."
ISB Alumni Network – the highly valuable resource:
The alumni network is a highly resourceful system that is accessible to all students. The network not only helps in terms of career opportunities but also supports in every way possible.
Sharing her thoughts about the network, Niharika adds, "When I joined ISB, I did not value networking that much. I was in B-School and had certain objectives in mind. I did not understand the true might of the ISB Alumni Network until I stepped out of the school. At the first client meeting, I step into my new job after graduating, one of representatives from the client-side turns out to be an ISB alum! It has been six years, and this keeps happening even today. No matter where you are, you always find ISB alums all around the globe and in every business sphere. This ISB connect brings a certain amount of credibility and trust on both sides because we know what the institute stands for."
Like Niharika, Mollshree too found the importance of the network a bit later. "Network is among the top three things you go to ISB for. Though I networked with my batchmates, I did not realise the value ISB alumni bring to my career trajectory. Even on the personal front, the network comes a long way in helping you. In the last wave of Covid-19, I contracted the virus and required a hospital bed. It was through the network that I was able to secure one. That is the extent to which the network helps."
Sharing another example of how ISB Alumni Network comes through for each other, Sonakshi adds, "A classmate of ours was seriously affected by Covid-19 and required a lung transplant. The money for the treatment cost (over 1 crore) was raised by the Alumni Network within 24 hours. Thankfully, the treatment was successful, and he is doing quite well. Where does this happen? I can't think of any other place."
Out of Classroom Experience:
There is a lot that happens outside the classrooms at ISB. Be it the clubs. marquee events, study groups, or ISL – this out-of-classroom experience adds a lot of value for the students.
Speaking from her experience, Sonakshi reflects, "I highly recommend students to spend a considerable amount of time (at least 30%) in experiencing the campus life and engaging in an active role. If you like to dance, join a dance club. If talking is your forte, join Alumni Association (just kidding). These activities help you grow out of your cocoon and realise your potential outside the classroom sphere."
From Neharika's perspective, it would be sad for students who do not experience ISB outside the classroom. "If you are only limited by your classmates and peers in your study group, you would really lose on meeting awesome people from your batch! You do not have to do everything but choose at least the activities that stimulate your area of interest. Party with your peers. All this adds to the social element of knowing people and different walks of life."
Taking the conversation to a lighter note, Mollshree reflects, "Any activity you participate in outside the classroom at ISB is very important. The deepest connections happen in informal settings. These activities stimulate uninhibited meaningful conversations that help you make friends for life. As for the no. of parties to attend in a night, you can set the limit according to the amount of alcohol you can consume (just kidding)!
The above blog summarises and presents excerpts from an online panel discussion organised by The Indian School of Business on the topic "Women In Leadership." Niharika Thakur(PGP Co'2015) is Strategy & Insights Manager at Google. Sonakshi Sinha(PGP Co'2015) works as a Senior Product Manager at Times Internet. Mollshree Garg(PGP Co'2010) Associate Partner at KPMG. The session was hosted by Akshita Mahajan, a current PGP student at ISB.