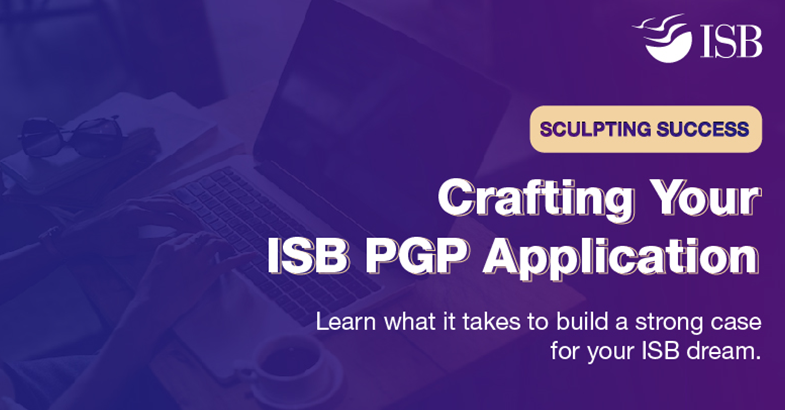 Setting forth on the path to higher education marks a momentous stride in an individual's journey. If Post Graduate Programme in Management (PGP) at the Indian School of Business (ISB) is your choice for advancing your management studies, then you are venturing onto a road brimming with opportunities for profound personal and professional development. Yet, as you find yourself at the cusp of this remarkable odyssey, a pivotal factor emerges, standing as the gateway between you and your ambitions: the ISB PGP application.
Unveiling the Application Landscape
The ISB PGP application serves as a blank canvas, allowing you to craft a vivid portrait that captures your achievements, aspirations, and untapped potential. Beyond being a routine form-filling task, it stands as a mirror to your unique journey, a mirror that reflects your exceptional character. Let's navigate through the pivotal sections that collectively shape the narrative of your application:
1. Applicants Information: Personal Touches and Prerequisites
Begin your application by sharing your personal details and those of your parents. Be sure to have your Aadhar number and PAN ready, as these are vital components of your application.
2. Test Score – A Gateway to Opportunity
Your GMAT or GRE score opens doors to ISB's prestigious programmeme. Ensure your score is valid as of the application deadline. Remember, reapplicants need only send their score again if it's a retest.
3. Education Details: A Journey Through Academia
Your academic history tells a story of growth and dedication. Record your Class X, Class XII, UG, and other certification details accurately. If your institution isn't listed, contact pgp@isb.edu for assistance.
4. Employment Details: Crafting Your Professional Odyssey
This section isn't just about listing your jobs; it's an opportunity to showcase your leadership prowess. Detail your work experiences in reverse chronological order, highlighting achievements, initiatives, teamwork, decision-making, and more.
Tips for an Impactful Employment Details Section:
Reverse Chronological Order: Begin with your most recent job, highlighting the impact you've created.
Demonstrate Leadership: Emphasize achievements that reflect your leadership abilities.
Quantify Impact: Use numbers to showcase the scale of your accomplishments.
Focus on Attributes: Discuss teamwork, decision-making, accountability, and innovation.
Address Entrepreneurship: If self-employed or in a family business, select "self-employed" and highlight your roles and contributions.
5. Full-time vs. Part-time Employment: Building Your Professional Profile
Distinguish between full-time and part-time stints. Ensure a clear two-year full-time work experience before applying for the PGP. Remember, ISB values well-rounded individuals who excel beyond work.
Tips for Balancing Full-time and Part-time Employment:
Clear Distinction: Differentiate between full-time and part-time engagements.
Two-Year Work Experience: Fulfill this requirement for PGP eligibility.
Holistic Excellence: Showcase awards and activities that reveal your multi-dimensional achievements.
6. Awards and Activities: Your Journey Beyond the Ordinary
Demonstrate your passion and impact through awards and activities. These portray your commitment, initiative, and holistic development.
Tips for Showcasing Awards and Activities:
Meaningful Pursuits: Highlight pursuits that align with your passions and values.
Role and Impact: Describe your contributions and how they created positive outcomes.
Diverse Engagement: Display your ability to excel across various dimensions.
7. Essays: Crafting Your Narrative
The heart of your application lies in the essays. Here's your chance to shine:
Essay 1: Reflect on your journey, strengths, and weaknesses authentically. Identify pivotal moments and illustrate them with relevant anecdotes.
Tips for Navigating Essay 1:
Authenticity Matters: Be genuine in portraying your strengths and acknowledging your weaknesses.
Highlight Pivotal Moments: Identify experiences that shaped your journey and character.
Showcase Impact: Illustrate achievements and contributions that showcase your potential.
Essay 2: Narrate a success and a failure, delving into personal and interpersonal lessons learned. Show growth, introspection, and real-world application.
Tips for Crafting Essay 2:
Select Meaningful Scenarios: Choose impactful success and failure stories that demonstrate growth.
Personal and Interpersonal Insights: Reflect on personal emotions and lessons for both situations.
Learning and Impact: Discuss how these experiences influenced your personal and professional development.
Essay 3 (Non-Mandatory): Outline short and long-term career goals and how ISB's PGP will pave your path.
Tips for Articulating Essay 3:
Align with Career Goals: Connect your career trajectory to the ISB PGP's impact on your transformation.
Identify Skill Gaps: Address the skills and knowledge you plan to acquire through the programmeme.
Value of Management Education: Explain how ISB's PGP will aid your journey.
8. Re-applicants: A Fresh Approach
Only past complete applications are reapplications. If you're not sure, you're not a reapplicant.
9. Recommendation: Validation from Your Network
Obtain a recommendation from a professional who can vouch for your leadership and work. The process is online and straightforward.
10. Scholarships: Opportunities for Recognition
All applicants are considered for merit scholarships. However, separate essays are needed for certain scholarships like need-based, diversity, and others.
11. Editing and Navigation: A Steady Progress
The application can be completed in multiple sittings. Save as you go and take your time to verify details and provide thoughtful responses.
12. Supporting Documents: Building a Complete Picture
Scan and combine documents like passports and mark sheets into single PDFs for submission.
13. Statement of Integrity: Honesty Matters
Sign the statement, scan, and upload. Your integrity speaks volumes.
14. Application Submission: The Final Step
After meticulous completion, hit the Submit button. Your journey to ISB takes a significant stride forward.
Embarking on the Journey
As you embark on the transformative journey of becoming part of the ISB family, remember that your application serves as your canvas, your story, your personal narrative. Every word you choose holds the power to leave a lasting impression. Seize this opportunity to not just outline your strengths and accomplishments, but to also artfully weave in your invaluable learnings and the unique shades of your personality. The ISB PGP is far more than a mere academic pursuit; it's a chance to sculpt your own destiny, enveloped within a community that thrives on excellence and believes in nurturing holistic development. Your voyage begins now. Shape a narrative that captivates, one that resonates with your journey, your dreams, and your boundless potential. With ISB beckoning, and armed with a meticulously crafted application, you're already enroute to etching your indelible mark. Best of luck!