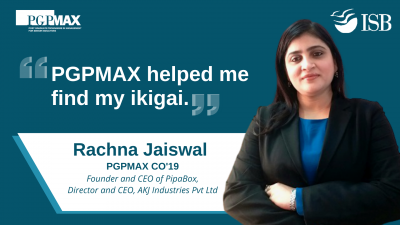 Career before ISB
I am a qualified lawyer, and I worked with some of the top five law firms in the country for five years. Post that, I started my venture, which was manufacturing and export of leather goods. While my own business running, I took some strategic decisions for the business – we shifted to an industrial estate, for example. But the industry was going through a tough phase, and I felt a strong need for formal business education – something that could help me make sense of the challenges and how to deal with them.
The MBA decision
To be very honest, I was not so keen on ISB initially. I was badly divided between ISB and other global business programmes. Since I have an export background and lots of international exposure through travelling to international trade shows in the Americas and Europe, I was keener on other global B-schools. I had an innate curiosity to learn about the international markets and global businesses. But it so happened that I was in Hyderabad and attended a coffee meet by ISB, and that meet was the inflection point! Speaking to ISB alumni clarified a lot of doubts that I had and firmed up my decision to join PGPMAX over other international executive MBA programmes.
Choosing ISB
As a lawyer, I really value diversity. My initial formative years of my career as a lawyer, really helped in meeting clients from diverse backgrounds and industries. I owe a lot of my knowledge to the fact that I was able to learn about various sectors through my clients. And during the coffee meet, I figured that ISB attracted a diverse pool of candidates – doctors, IT professionals, ex-armed forces personnel, bureaucrats, and finance and banking professionals. This diversity was what made me excited about PGPMAX.
Another thing that sold PGPMAX to me was the fact the faculty was best in the industry. The choicest faculty from global business schools come to teach at ISB. I also reached out to the admissions office and asked them to connect to a few PGPMAX alumni who were entrepreneurs. I wanted to check how they had grown their businesses post the PGPMAX programme and how they had benefitted from the course. After speaking to a couple of alumni in my industry, I was convinced that there cannot be anything better for me.
ISB: The Pivot
Before PGPMAX, I aspired to diversify my venture because, as aforementioned, the leather goods industry was experiencing significant challenges. I was eager to enter the online markets, the E-commerce space but I felt unequipped regarding my understanding of branding, marketing, such as creating a brand, corporate communications, etc. But post PGPMAX, I have started two new businesses – one is PipaBox, and another one is launching at the end of this month. Whatever I learnt at PGPMAX is completely implementable, and I have transferred it into my business. I have a much clearer vision about the direction I want to drive my company to. PGPMAX has also made me more positive and courageous – so much so that I do not view the Covid-19 situation as a threat but rather an opportunity that it presents. How you respond to the changes is what will grow or destroy your business in these crisis times. It is ISB where I learnt that one needs to be agile as a leader.
ISB: The Faculty
I hold Prof. Prashant Kale's strategy classes the closest to my heart, because as an entrepreneur, I think it was where I gained my maximum confidence. For example, I remember that he always stressed that if you are in an industry which is in a declining stage, no matter what good decision you take, you cannot turn the tide.
Although every term opened my eyes to a fresh perspective, but I think there were some courses that I could immediately apply to my business. For example, marketing and branding. Although I was no novice to such business concepts, some of those concepts were redefined, while some were brand new and challenged me. One such example was Sunil Chopra's strategy class. I learnt how to sync operations with strategy, and how to improvise operations. I implemented a lot of changes in my own manufacturing units to increase efficiency. Streamlining operations directly impacted the bottom lines of my business.
Learnings from ISB
One thing that has changed drastically post PGPMAX is how I process information now. I notice the gaps and opportunities in everything I see. For example, we now use leather scraps or waste products for creating the logo of my other venture – PipaBox. I also ensure that I create sustainable packaging. During these tough times, I have increased focus on providing a rich customer experience. Because I have learnt that the customer is also petrified in these times, and tends to gravitate towards brands that are reliable, familiar, and carry a level of comfort and trust in them – and this is what is helping me tide over the tough times.
Leadership lessons
Before PGPMAX, in my organisation, I did not pay as much attention to organisation culture. All I focussed on was strategy, and how to take my business ahead. But during our organizational behaviour classes I learnt how organisational culture makes a huge difference in the growth of a company – there are innumerable intangible benefits that accompany a rich culture. In fact, I am going to take the liberty of saying that any organisation that fails to define organisational culture will suffer sooner or later. Working on organisation culture is much more important than strategy.
Women leadership
Women leaders – whether in business or otherwise, often have a softer and humble side to themselves but business magazines, books, and the environment in general tries to mould you into a more aggressive and ruthless version – closer to a male stereotype of a leader. But after PGPMAX, I realised that one cannot let the external world define what leadership looks like as everyone has their own individual leadership style. We do not let the world decide how a male leader or a female leader looks like. If you cherish humility for example, you do not need to cover it up or clone someone else's leadership styles. Post ISB, I discovered and owned up my individual leadership style.
ISB alumni network
The ISB alumni community is a close-knit family. I travel across the globe – to Canada, the USA, – and everywhere I have met and synergised with the ISB community. In Kolkata too, we have a network of ISB alumni and in fact a closer group of ISB alumni who are entrepreneurs, and we often help each other out.
This network is especially beneficial to women – the reason being that I have often observed that women are often not so great at networking. Networking has in the past always been viewed as an area where men excelled traditionally. Although, as a lawyer and an entrepreneur, I never shied away from networking – but there are women who do. And for them, to receive an access to such a robust and wide network – that feels like family, is what helps them get better at this non-negotiable skill.
My contribution to PGPMAX
Well, for one, I was a jack of all trades – as even before joining PGPMAX, I had a little bit of knowledge of different industries. So, I believe I did participate more heartily in all classroom discussions, adding my two cents, from a lawyer's perspective. Another value add I brought to the classroom is genuine gender neutrality. A lot of times we think that we are gender neutral but, we are not. A lot of times we are so conditioned that we didn't realise when we make stereotypical comments, and as a lawyer, I realised it – and would often politely correct my classmates the moment they made a faux pas when commenting in general about gender roles or gendered skill sets.
PGPMAX: The Return on Investment (ROI)
Programmes such as PGPMAX have a very long gestation period. I would consider a person very short sighted if they are impatient for an immediate ROI. What you learn at PGPMAX is so fundamental, that while it affects your business positively, it also tends to spill over to the rest of your life making it better. I would say that post the programme, I found my IKIGAI – with a concept I learnt in leadership class. Earlier, I felt that my personal life was separate from my professional life – and my personal values such as integrity, humility, truthfulness, cannot be merged with the professional self.
I learnt how to bring my authentic self to work as well as how to assign a higher purpose to brands. For example, at PipaBox, we sell beauty products, but I was always clear that we would never make women feel bad about themselves to sell our products. We would not resort to damaging fragile self-esteem, or body shaming and would ensure that the at all times, our brand communicates that women of all shape, size, colour, race, are beautiful; that diversity is beautiful; individuality is beautiful. We decided to take a different route than the rest of the beauty industry which thrives on low self-esteem of their customers.
An Executive MBA in Covid-19 times
When the markets are more rainbows and roses, anyone can do well, and flourish. It is in difficult times such as these that you require all these tools and techniques and concepts to hold your hand and help navigate your business or organisation in the right direction. I think in these difficult times companies who spend more on marketing perform better organisations or individuals who invest in frameworks and tools that help them tackle the challenges, will grow faster in these difficult times.
– Rachna Jaiswal, Founder and CEO of PipaBox, Director and CEO, AKJ Industries Pvt. Ltd. and PGPMAX Class of 2019