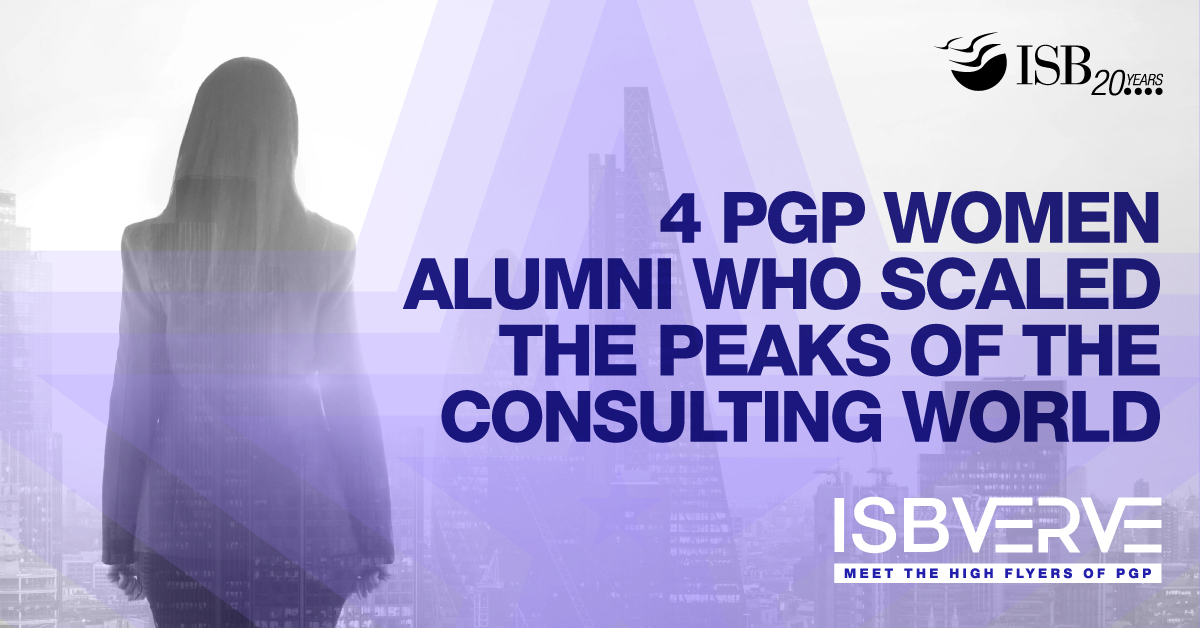 Consulting is a highly sought-after career option for MBA aspirants. It is not only a career alternative for professionals with a tech background but also provides a chance to work across diverse industries and sectors. The Indian School of Business is one of the biggest talent pools for top recruiters in consulting and provides great opportunities for students looking for a functional shift in their careers.
In the second blog of ISB verve, we celebrate women and ISB Alumni from the world of consulting who are serving at key positions at Top Tier consulting firms in the world across various geographies. From Deloitte, KPMG, EY to BCG, here are the stories of four women and their journey.
---
Pallavi Malani, BCG:
Pallavi Malani is a Managing Director & Partner at Boston Consulting Group. In her decade and a half-long career, Pallavi has worked with global organisations including KPMG and IBM across diverse industries. She started her career as an analyst at KPMG, working on complex processes to assess risk and recommend mitigating controls across diverse industries such as Retail, FMCG, Infrastructure etc. Subsequently, she moved to IBM to work as a Consultant, leading a cross-cultural team to revamp the go-to-market strategy for IBM's technology services.
After spending a year with IBM, she came to ISB in 2009 to further strengthen her knowledge and skills. According to her "For a successful career in consulting, one needs the ability to think in a structured manner. One should also be able to solve a diverse set of problems and go beyond the obvious to bring a well-rounded solution that clients value. One also needs a wide network to leverage opportunities and build deep client relationships. PGP provides a substantive value in all these aspects. ISB helps you signal to the world your dedication to upgrade your core skills, provides a wide network of alumni to tap into and gives access to build a career in consulting"
---
Mollshree Garg, KPMG:
Mollshree Garg is a Partner at KPMG, leading a team of around 200 consultants to deliver projects globally in some of the most exciting sub-sectors including Fintech, Healthcare, Ecommerce and ESG.
Having dabbled in HR consulting initially in her career, Mollshree came to the ISB in 2009 with a clear desire to move career paths and enter consulting full time. For her, ISB was the means to gain great strategy and finance knowledge and skills. As a student, she organized ISB's first Talent Management Conclave, attracting HR leaders from across industries onto campus. The conclave became the conduit to the HR leads at Deloitte, eventually landing in her job with them.
After spending eight years at Deloitte, Mollshree moved KPMG. For her consulting has lived up to its promises of "you never stop learning" and 'there is never a dull day."
On the personal front, Mollshree likes to spend her free time gardening, binge-watching and reading. Her favorite books include 21 Lessons for the 21st Century by Yuval Noah Harari, Good to Great by Jim Collines and Ride of a Lifetime by Robert Iger.
---
Nitika Mehra, Deloitte
Nitika Mehra currently serves as Director at Deloitte in their UK Financial Advisory (M&A) practice in London. Prior to Deloitte, she spent 3.5 years in operational risk, transaction banking and corporate banking roles at Standard Chartered Bank in Mumbai.
An ISB alum from the founding class of 2002, Nitika felt a bit overwhelmed at first, being among the youngest students in the batch and with the bare minimum work experience. She says, "Eventually I realised that I did not have to measure and compare myself to or compete with my fellow classmates, and rather be 'me'. It is a learning that I have carried with me into every arena of life and has served me extremely well in life – making it one of the key takeaways from my time at ISB."
Recently completing her 14 years with Deloitte, she remembers her initial plan was to get the "standard" international experience for 2 years after her second masters and then return home to India. Clearly Britain and all things British agreed with her, including the weather!
An avid reader, she likes fiction and non-fiction alike. Her recommendations include The Secret Island by Enid Blyton, The Diary of Anne Frank & Who Moved My Cheese? by Spencer Johnson.
---
Shikha Gera, Ernst & Young:
Shikha Gera works as a Director at EY. A strategy, transformation and digital professional, she has extensive experience in leading multi-functional teams and senior stakeholder management. With over 14 years of experience in tier 1 global consulting firms, Shikha designs and leads programs to achieve desired business outcomes via multiple transformation and digital levers.
Her journey in consulting started with a research role in McKinsey, subsequent to her graduation from Delhi university. After spending two years in the organisation, Shikha came to ISB in 2005. She recalls, "I was working with McKinsey and the firm was closely involved in the setup of ISB. Given the rich backgrounds of the organisations involved, I was pretty sure no stone would be unturned to make the endeavour a success."
Her key takeaways from ISB – don't compete instead grow to find your niche. Don't compare and rather share. Network and learn. There is no dearth of opportunities that one can pursue. Post ISB, Shikha joined EY and served in various roles.
When not working, Shikha likes to catch up with her 9-year-old, spending time with her on board/card games. In terms of hobbies, she likes to sing and is trained in Hindustani classical music. She is recently trying to hone her guitar skills, though that's coming along real slow!