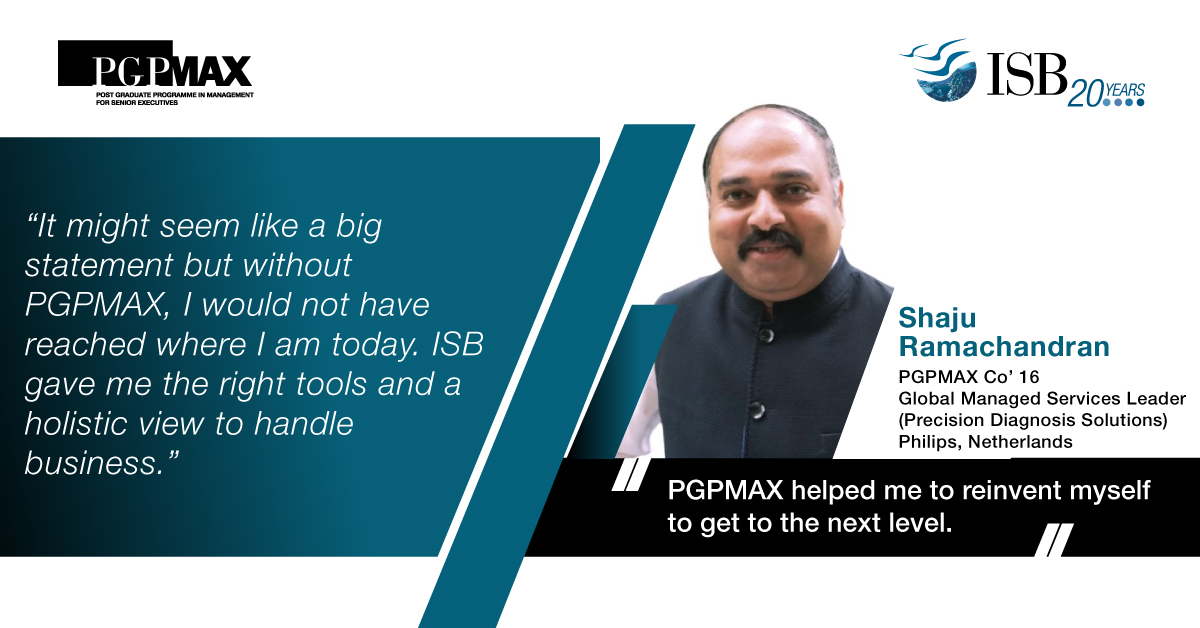 After graduating in engineering (Bio-Medical Instrumentation) from Mumbai University, Shaju Ramachandran started his career as Field Services Engineer at Philips back in 1994. Little did he know he would be associated with the same organisation till date, rising to the level of a global leader. In over 27 years of his career, Shaju has served at various positions & geographies, aiming to build precise treatments for patients and shortening treatment timeline.
An ISB Alumnus from PGPMAX Class of 2016, Shaju describes his experience as an opportunity by chance. Currently based in Amsterdam, he took some time out of his schedule to connect and discuss his PGPMAX journey, learnings from the programme and how it all began. Here is a summary from our interaction.
Tell us about yourself, your current organisation and role and your professional journey so far.
I look at myself as a business innovation & transformation professional with around 20 years of leadership experience in managing global teams, global customer accounts, building capacity and improving lives by digitizing cancer diagnosis & treatment in medical technology. I'm currently placed in Amsterdam, working for Philips Healthcare in the country for last 4-5 years and have been fortunate enough to scale up business in the oncology space. As Philips transitions into a solutions & services organisation from just selling boxes, I am responsible to support that transition by building up professional and managed services in the precision diagnosis solution space.
I think I am one of the lucky few who have been within the same organisation for more than 2 decades. I joined Philips right after my graduation as a service engineer, installing and servicing medical equipment, and gradually made my way up the ladder. I have worked at various leadership roles in customer service, operations, project management, building up new teams, delivering customer solutions, etc. Having come from a technical background and having done actual technical activities in the field, the transition to a management role needed a wider perspective. That eventually led me to ISB.
What inspired you to pursue an Executive MBA programme? Why did you choose to pursue PGPMAX from ISB?
When you are in your day-to-day job and are doing well at it, you don't think about change or investing in yourself to get to the next level. I was lucky that I had managers who gave sound advice to me. In fact, one of my immediate managers basically recommended that I should join PGPMAX and I am glad he did. Had I not heeded his advice, I would have reached saturation in my role by now. PGPMAX helped me to reinvent myself to get to the next level. So, I would say firstly, the good advice from my manager and secondly, ISB was working with Philips for the programme. These two reasons led me to pursue PGPMAX.
After finishing the programme, what do you think is the right time to pursue PGPMAX?
I am not sure I can tell you the right time because I think it is different for everyone. Everyone should look at where they are in their professional journey and what they need to get to the next level. What you have learnt over a period of time, will only get you to a certain level. To get to the next strata, you need to learn & reinvent yourself. For me, it happened after more than 20 years in my career. For others, it can be at 15, 25, or even at 10 years. I believe it varies based on where you are professionally, what has been your journey so far and where do you want to go in your career. However, the most important point is to reflect and assess that right time.
Where did you think you were headed in your career before you took the course? How has the overall ISB experience affected the direction?
Like I mentioned before, I had already been at various leadership roles in customer service, operations, project management spaces and each role were based on some experience from the previous role. I was leading teams and delivering results using on the job experience. I think I had reached the saturation point where my prior experience could not have taken me further. It was my manager who had recognised it more than me at that point of time and recommended PGPMAX.
It might seem like a big statement but without PGPMAX, I would not have reached where I am today. ISB gave me the right tools and a more holistic view about overall business. It taught me how I should look at things and helped by bestowing confidence to leap forward to the next level.
Tell us about your ISB days, specifically about the course and the faculty. What ISB memories do you connect with most profoundly?
Initially, I had my apprehensions about whether I would be able to pursue the programme. We had to spend a week on campus, leaving our daily job behind. There were so many things that you had take care off to complete the course. But once I was in campus and attended the first session, I started to see the value of the programme. It is not only about the classes that you attend or the knowledge that you gain, but also about the connections and friends you make.
If I talk about the memories, there are a lot but something that stands out for me are group assignments. If you ask me, it was great in terms of being able to work with various team members in the group. Everybody was from different industries, brought their diverse perspectives & experiences to the discussion. If it was a team of 5 people, the collective experience was surely around 100 which is huge. When you are work in that kind of group, the pace of learning and growth is fast. Working late nights until the next morning to finish the assignments together helps you form strong connections naturally. It also creates a huge impact in terms of understanding other perspectives.
ISB has a high quality of faculty. Each professor is a leader in their own right and comes with a lot of experience and knowledge. The kind of knowledge sharing that happens in sessions are immense. I had a great experience overall.
What is your philosophy of a good leader? What nuances of leadership did you pick up during the programme worth applying in your professional life?
My leadership philosophies are very simple. One is how do you create value for your customers. The second is how you can keep your team engaged and motivated. If you are able to do these two things effectively, the rest follows. That has been my experience throughout in various roles and across geographies that I have worked in. Some of the courses we did at ISB and some of the learnings that we have had from our batchmates and alumni also helped in that respect. Be it strategy sessions, team leadership sessions or change management sessions, all of that helped me move further in that direction.
What are the new challenges business leaders face in the wake of the current global pandemic? How has business leadership evolved in these unprecedented times?
I don't think anybody could have planned for the current situation that we are in. It conveys that leadership should be ready to handle any kind of situation. How to handle the unknown is very important. In terms of the current pandemic, remote team leadership has become very important because you rarely get to meet your team member. Even when you are a global leader, you have local teams with whom you met regularly and global teams who you meet occasionally. But the last two years have been quite difficult.
Secondly, the pandemic has also accelerated the rate of digitisation. In the healthcare space, it was already coming in at a slow rate in terms of the transformation because anything that brings in change faces resistance to an extent. But the pandemic accelerated the digitization in the healthcare sector. We see a lot of changes happening both at the customers' front as well as at the supplier front. This also connects ties directly to my current role where we are trying to build professional services and managed services instead of just selling the technology to the customer.
How significant is pursuing PGPMAX during the pandemic? Should one pursue executive education in such times?
One should definitely pursue PGPMAX in these times because like I mentioned, pandemics already showed us that we need to be ready with the right tools, skills and thought processes in order to manage such uncertainty. Having the support of the large alumni community that you build with ISB helps. The knowledge you gain through the programme only helps you in getting a better perspective than what you have today in terms of managing these kinds of situations.
What does it mean for you to be a part of the ISB alumni community? What value have you derived from it and how has it benefitted you?
The strength of the ISB alumni community lies in the huge collective experience, diversity in terms of perspectives and the industry experience that everybody brings in. The kind of access that you have with all the alumni around the world helps you tremendously. For instance, I was contacted by somebody recently because they had recently switched to Switzerland and wanted to understand about what kind of roles they could expect. They were actually looking for executive coaching and I was able to share my experience with them. Similarly, when I have certain requirements, I reach out to the people in the network and ask for their help. It helps you in terms of making your decisions more profoundly as it becomes much better when you have more inputs from people who are experienced and have gone through that same process.
What is it that keeps you buoyed and relevant? What do you cherish doing in your spare time?
On the professional front and being in a healthcare company like Philips, the mission resonates with you which is to improve people's lives. We aim to directly touch about 2.5 million people's lives every year by 2030. So, that keeps me quite motivated in my role because I know I am making a difference.
What keeps me going is working with diverse teams and achieving our objectives. The pandemic has shown us that we think we are ready for anything but actually, we are not. So, we need to keep reinventing ourselves. We need to keep learning new things; reading experiences from other areas; see how others have succeeded and learn from your own failure. Even if you have the entire experience and knowledge in the world, you can still fail. How do you learn from those failures and move to the next stage, makes all the difference.
In my spare time, I like to unwind myself watching sports. I am a big sports buff and living in Europe gets you to watch a lot of football. In the last 2-3 years, I have learnt to balance life better, spending more time with family. You don't realise that in the early stages of your life but with time, you start to appreciate it more.
What advice would you give to the current batch of PGPMAX students?
I would say invest in your personal growth. It is very important. Like in my case, I am very grateful that my manager advised me to pursue this programme. It is very important for you to take a moment for yourself. Look at what you are doing in order to make the required transformation. If you don't reinvent, it becomes very difficult to progress.
So my advice would be – invest your time & money in reinventing yourself; learning new skills and thought processes in order to be ready for the future.
If you must encapsulate your PGPMAX experience in just one word or a line, what would that be?
Describing it all in one word is difficult but I would say "Confidence". PGPMAX gives you the confidence to go back to your professional life filled with new energy. You start speaking the language of your chief marketing officer or people you were not able to communicate effectively with before. The programme helps you to start speaking the business language and boosts your confidence tremendously. So, I think that confidence is the biggest factor you develop at ISB.
Author: Shaju Ramachandran, PGPMAX Co'16, Global Managed Services Leader (Precision Diagnosis Solutions) – Philips, Netherlands