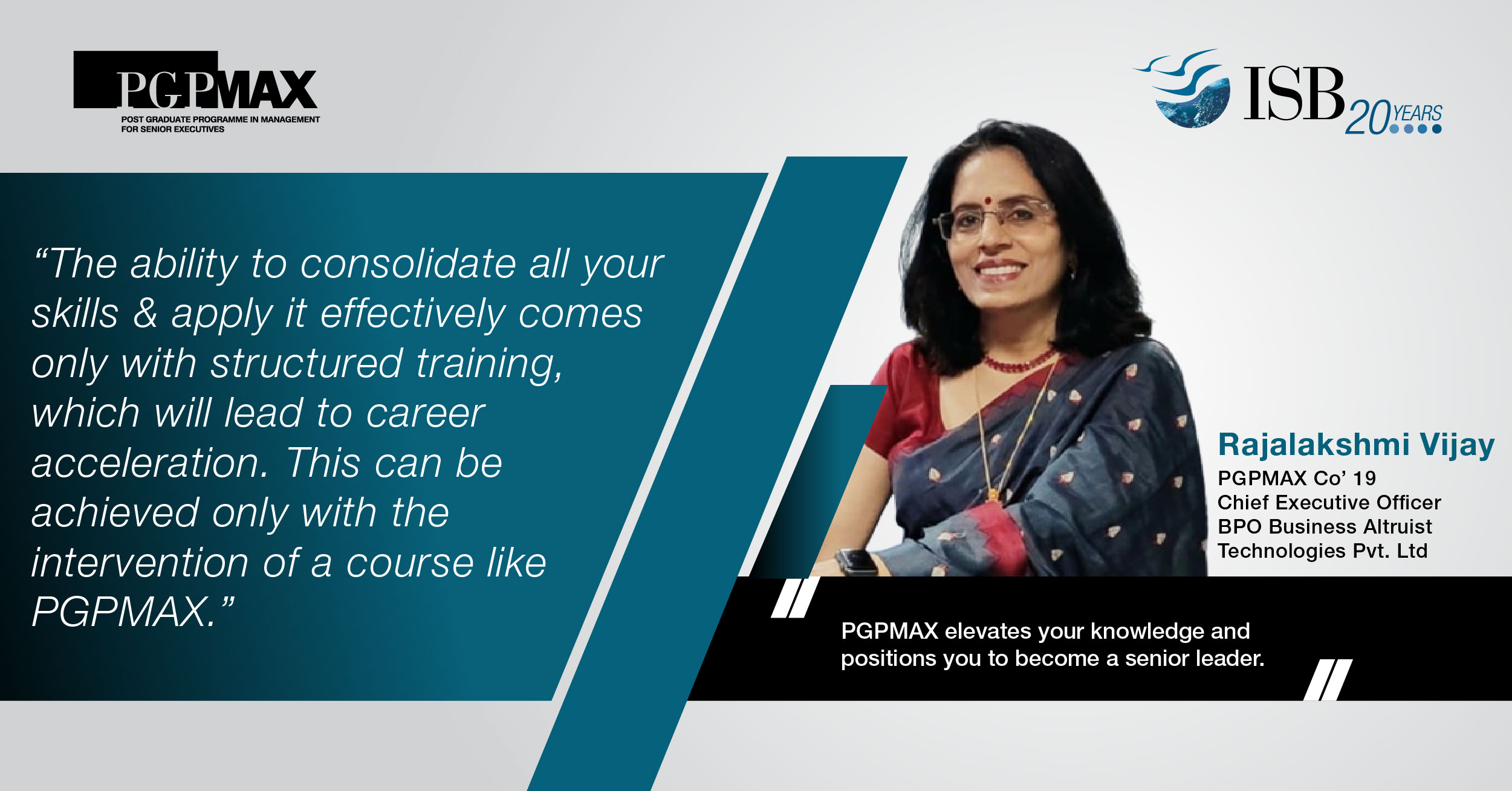 Rajalakshmi Vijay is a seasoned Chief Executive Officer with a rich background in leading global teams towards growth in diverse industries. Fondly known as Raji, her career experience spans over three decades working in several organisation and roles. From National Insurance Company to Airtel, GE Capital, Tata Group and Flipkart, she has demonstrated skills in business turnaround, profitable growth & acquisitions.
An ISB alum from PGPMAX class of 2019, Raji feels honoured and proud to be associated with the institution. It is through that fond association that she obliged to have a conversation with us on her career journey, ISB experience, learnings & much more. Here is a summarised version from the interaction.
Tell us about yourself, your current organisation & role, and your professional journey so far.
I have been the CEO of the Altruist Technologies BPO, an ITES firm for last five and a half years. Before that I worked with Tata Motors, GE Capital, Flipkart and Bharti Airtel in various roles. At Altruist Technologies, I lead a team of 15,000 employees with offices in India, UAE & Kenya.
I am an all-India rank holding Chartered Accountant and a proud ISB alum from PGPMAX Class of 2019.
What inspired you to join the PGPMAX programme? Why ISB?
There are two ways to look at this. First, one can study the programme offerings and how it enriches your knowledge & skills. Second, to identify the right time in your career when you can assimilate the different stakeholder perspectives in an organisation and this is where ISB comes to the forefront. For me, it is the latter.
As a leader, prior to my ISB experience, I was merely looking at business from organic growth, stakeholder value (to name a few) point of view. This course widened my understanding to include complex business growth strategies such as mergers & acquisitions, the IPO route, etc. It helped broaden my perspective of what business success is in a challenging environment. The programme also gave a whole new meaning to the definition of stakeholder and value. To sum up, the PGPMAX course elevates your knowledge and slates you to become a senior leader.
What is the right time to pursue PGPMAX?
I believe the right time to pursue PGPMAX cannot be defined in terms of years. For some people it can be earlier & others, a little bit later in terms of experience and not in terms of age. In my opinion, it is essentially the time when you feel you want to accelerate your career. In other words, when you want to see the value and direction of the organisation from the top. Unless you pursue a programme like PGPMAX, accelerating your career growth is an uphill learning process.
There can be growth based on hard work, commitment, skills, intelligence, knowledge or any other factor. But the ability to consolidate it all & apply it in an organisation comes only with a structured training like PGPMAX.
Talking about your career direction, where do you think you were headed in your career when you took the course? And how has the overall ISB experience affected that direction?
Before PGPMAX, my focus was largely on the Indian market for growth. I am now able look global. The complexities of expansion become more easier to handle through knowledge gained from the PGPMAX course. This is one of the reasons why UAE and Africa came into the picture for me.
Critical to me in this journey is, I look at partners and clients supporting the organization as win-win long term partnerships. In the pre PGPMAX period, it was about the short-term acceleration in growth. Now, I stress upon sustainability of business and inclusion of the ecosystem and employees in this journey. My vision is still growth but what ISB has done is change the way I look at the ecosystem. No matter what you have as your vision, after the PGPMAX course, you will see the bigger picture.
Tell us about the time you spent on campus, specifically about the course and the faculty? What ISB memories do you connect with most profoundly?
It always makes me smile when I think of the ISB campus days. PGPMAX is a tightly packed programme. It is rigorous and I firmly believe it prepares you for a CXO role. The most interesting part of this programme is that it covers the entire arc of corporate learning. Right from finance, pricing & marketing to crisis, change & much more.
The faculty at ISB is well chosen for this course. If you ask me who are my favourites, they are my personal favourites. Prof. Sridharan Swaminathan from North-Western University who taught us finance & pricing. Being a Chartered Accountant, I had my favourite well defined. My favourite is also Prof. Sreedhari Desai, a visiting faculty from UNC Kenan. She taught us change management and in this world of constant change, I think it is very important to imbibe these skills. And the Covid19 happened after our graduation…
In terms of memories, my batchmates will always be the best and the evergreen part of the programme. They make the package complete.
There are courses that you could say, have and will stay with me. One is product pricing and the second is crisis management. These two are a "must know" if you want to take on the mantle of a CXO role in an organisation or aspire to have your own start-up. Without product pricing and building the ability to handle any crisis, the challenges in these positions will loom larger. These were very important and interesting topics in PGPMAX.
What are the new challenges do you think business leaders are facing during the current pandemic? How has the business leadership evolved in these unprecedented times?
The challenge that leaders are now facing is clearly about employees. On one side there is safety, second is productivity and the third side is collaboration. The pandemic has brought its challenge of distance. So, to be able to bridge that gap and bring in a single direction for employees is the biggest challenge.
The way this can be managed is probably through some kind of an experiential or structured learning. Let's just put it like this – if you have gone through a structured learning on crisis management like I did during PGPMAX, sailing through the pandemic challenges could be a little less tough. You learn how to quickly put down the anchors in a crisis like this and then work your way through.
How significant do you think pursuing PGPMAX is during pandemic? Should one pursue the programme in these times?
Learning has got no time or boundaries & children have taught us that. The young generation is getting educated through digital platforms such BYJU's, Unacademy, etc. They are moving ahead & accumulating knowledge. So, for learning, pandemic really does not make any difference.
The subjects during PGPMAX and the professors who teach bring in a lot of value. That value does not, in anyway, get reduced because you are attending virtual classes during the pandemic. You could probably miss on what I call the comradery in a class but that can always be built over a shorter period of time when you meet on campus or outside. During project work, they align you to groups. So even if you are not physically meeting a person, you would still be working together and learning a lot from each other. I think this teaching methodology is a very critical part of the PGPMAX experience.
If children can cope & learn during the pandemic, so can we adults. If you want to do something different, use this time to learn.
What is your philosophy of a good leader? What nuances of leadership did you pick during the programme that were worth applying in your professional life?
This question is subject to many answers. I think a good leader is someone who can lead a team on one path and plan an alternate path when the current one falters. In the pandemic, we all moved to an alternate path. The agility to take both – people and goals together in the same direction is what I feel defines a good leader.
How PGPMAX enabled me to become a leader is by ensuring I learn directional collaboration. It made me think of collaboration, not just between colleagues or functions, but on a larger platform involving employees, partners, competitors & the entire business ecosystem. To manoeuvre all these in the same direction is what I call a directional collaboration.
I gained insights into integrated thinking. I didn't use the term "out of the box thinking" because that is something that you could develop over a period of time. What you learn is the ability to see all the pillars at the same time to drive a goal or objective. By pillars I mean finance, costing, people, partners, business, stakeholders, etc. PGPMAX teaches you this.
Apart from that, you do pick up leadership traits from your classmates and their experiences. This is a very rich learning. PGPMAX ensures that you learn from varied experiences. When you are constantly in a group of experts in their own field, you do pick up leadership traits from them.
What does it mean to be a part of ISB alumni community? What value have you derived from it?
The ISB Alumni Community is the best part of the course. There is always someone around to bounce a question to, give an answer or help at any opportunity. It feels like there is someone who always has your back covered at all times. That is the Alumni community. For example, I wanted to know about going for an IPO and I put it in the group for advice. I had multiple folks in alumni community giving me their experiences, calling to make sure I don't stumble along the way. They even gave me references of bankers and underwriters. I can say confidently that the ISB Alumni Network is a network that supports.
What advice would you give to the current class and to the prospective students?
PGPMAX is a big opportunity. What you want to take out of this course is entirely upto you. Pick and choose what you want from your time at ISB. Nothing comes easy. All best things in life are to be earned and the same is with PGPMAX. Expect tightly packed schedules, a lot of homework & studying and catching up when you are not having the scheduled classes. A lot of projects & learning but amongst all this, surprisingly, you will have new friends & loads of fun.
What is that keeps you buoyed & relevant? What do you cherish the most in your spare time?
The answer to what keeps me relevant is similar to question on why I chose PGPMAX. I wanted to accelerate my career growth and stay relevant. Upgrading your knowledge, pursuing PGPMAX and adding value to my work professionally keeps me interested.
What keeps me charged, is my running. I am a marathon runner and run almost every day. It is my "me time". In addition to running, I learn Hindustani classical music. The one single thing that keeps me going is: every Monday morning, if I wake up feeling excited to start the week, I have achieved the first step towards my goals. That is the secret sauce!
How would you encapsulate your PGPMAX experience?
In your career, you can grow to the highest level if you have the potential. You can either grow with a mentor who can give you all the time in the world to train & teach you or you can grow by pursuing a programme like PGPMAX to guide you.
Author:

Rajalakshmi Vijay, PGPMAX Co'19, CEO – Altruist Technologies