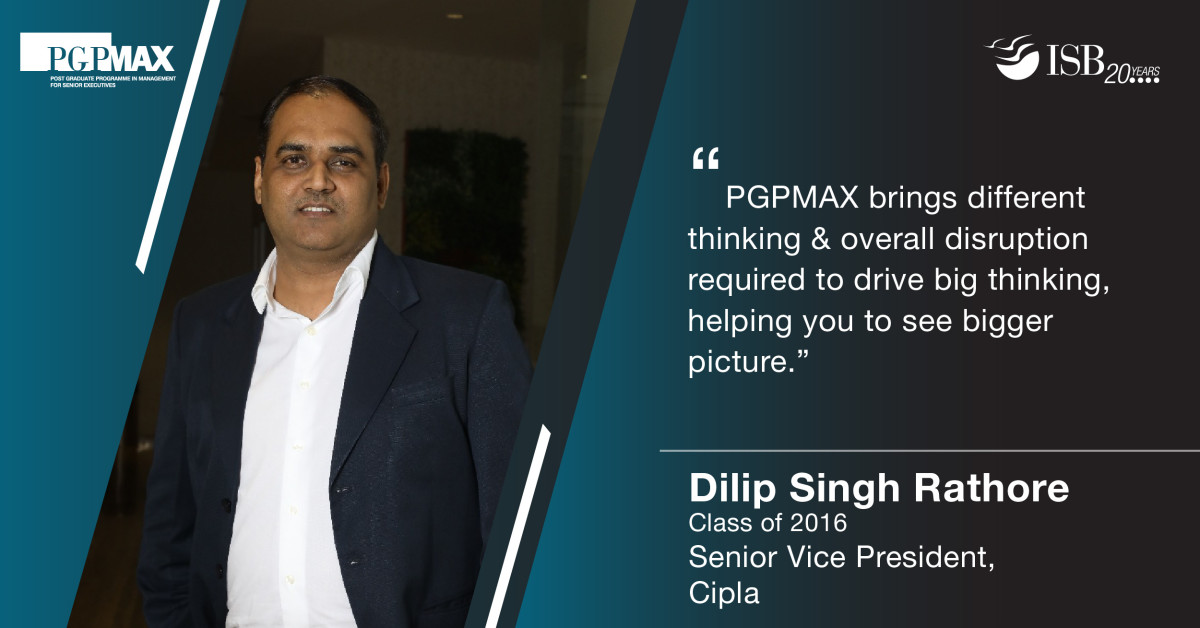 Dilip Singh Rathore is a seasoned professional working in the pharmaceutical sector. In his over two decades of experience, Mr. Rathore has worked with pharmaceutical giants such Pfizer, Cipla and JBCPL. At Cipla, he handled P&L of close to Rs 3000 crores with a team of about 4500 employees and strategized for the launch of Cipla in International Markets like Sri Lanka Nepal and Myanmar. He joined PGPMAX in 2015 and upon completion has served a key leadership position his career.
Five years after graduating from ISB, we connected with Mr. Rathore to talk about his ISB days, experience and life ever since. Here is the summary from the interview.
Tell us about yourself, your current organisation and role, and your professional journey so far.
I started my career in the pharmaceutical industry with Pfizer where I served as Business Development Manager from 2000. After 2 years of my short stint, I transitioned to Cipla where I worked for almost two decades, travelling the journey from an Area Manager to the head of business as Senior Vice-President. I was handling the entire respiratory portfolio, the flagship division of the company and finds its relevance more than ever due to current circumstances. I am currently working as the President – Sales & Marketing (India & Asia-Pacific Business) at JB Chemicals & Pharmaceuticals Ltd. Overall, my career journey has been fulfilling in terms of learning, growth & goals and I look forward to keep following my path.
What inspired you to join the PGPMAX programme at ISB?
I initially came to ISB with my colleagues from Cipla for the Accelerated Sales Force Performance Programme sponsored by the company. In a short span of our time during the course, I was highly impressed by the faculty, learning facilities and alumni I came to know about. It became my dream to return as a student for a longer programme. The dream came true in the form PGPMAX and I along with five of my colleagues applied for the programme & fortunately became ISB students.
In my opinion, The Indian School of Business is the country's leading business management school in terms of faculty, infrastructure, curriculum, and the learning experience. Hence, there wasn't any other choice to consider apart from PGPMAX at ISB.
Where did you think you were headed in your career before you took the course? How has the overall ISB experience affected your career direction?
My entire career journey changed after PGPMAX. From what I have observed, the Indian pharmaceutical sector is majorly about ordinary people doing extraordinary work. Most of us come from humble backgrounds and have grown in the industry by the virtue of our experience. With the ever-changing business model and the industry ecosystem, mere work experience falls short to manage and adapt to the changing circumstances, limiting the opportunities to grow as industry leaders.
PGPMAX brings different thinking & overall disruption required to drive big thinking, helping you to see the bigger picture. It lets you grow out of your circle & industry silos by bringing people from different industries together into the same classroom. The programme strengthens your network & helps you build a well-rounded perspective. The peer learning environment helps you learn about the best industry practices, co-relate with problems and find better solutions. My network grew tremendously and became highly diversified. Even today, they are my sure shot solution to any issues and challenges.
After completing PGPMAX, the weightage ISB provides to your experience & resume is phenomenal. The outlook of people (colleagues, seniors & leaders) around you changes and they start seeing you in a different light. I got the opportunity to work in the international market which gave me a lot of exposure to the Asia-Pacific market, eventually landing me in an elevated in my current organisation. Personally, my overall thinking process changed and I was able to focus more on strategy rather than execution.
Tell us about your ISB days, specifically about the course and the faculty. What ISB memories do you connect with most profoundly?
ISB is a very well-built ecosystem for learning, growth and transformation. Despite the hectic schedule & performance pressure, the overall atmosphere is quite enjoyable. The professors I met & learned from during the programme were highly knowledgeable yet very humble in nature. From strategy, human resources, marketing to distribution and supply chain, every topic taught was quite insightful. The journey through Kellogg and Wharton during the international immersion was a lifetime experience, helping me learn about different cultures, industry practices & global business.
PGPMAX takes you back to your college days, making you enjoy doing different things outside corporate life. I was able to make 70 new friends and learn from their experiences. To summarise, the faculty and peers were the highlights of the programme.
What lessons have you learnt during the programme and what relevance does it bring to your work/function/role?
If I have to pin-point, two sessions during programme really helped me a lot in terms of new learning. The first being mergers & acquisitions and the second being strategy sessions. These sessions really changed my mindset helped me grow in my career. The skillsets I developed from these sessions in ISB and Wharton hold great importance in my current role.
What is your philosophy of a good leader? What nuances of leadership did you pick up during the programme worth applying in your professional life?
Leadership is about how you can be a thought-provoking leader rather than a designation leader. For me, leadership in my industry really boils down to three things. The first is about how you create a difference for your customer segment through disruption. The second is about customer delight. The lessons I learned during the programme helped me understand a lot about customer behaviour & needs. The third is about how to create an environment in the organisation where people can learn & grow in terms of career advancement & knowledge. PGPMAX has helped me develop skills to tackle all three fronts.
What does it mean to you to be part of the ISB Alumni community? The value you have derived and how has it benefited you?
The ISB alumni network is not about the value you derive but also about the value you create for the community. For example, in current circumstances, I was able to help the group in making medicines available for those in need as I was working in the pharmaceutical sector. Vice-versa, few peers stepped up to help me create a digital ecosystem for my organisation. That is the real essence of the ISB Alumni network which is diverse and helps you in more ways than you can possibly imagine. The network not only helps you professionally but also has a strong impact on our personal lives. It is for sure one of the key takeaways from PGPMAX.
What are the new challenges business leaders face in the wake of the current global pandemic? How has business leadership evolved in these unprecedented times?
If you look at the business leaders all around the globe right now, one word is common among all – Reimagination. The current pandemic has changed the dynamics of business and work, catalysing the digital revolution to an even higher rate. The role of leaders, organisations and the work environment need to evolve rapidly to cater to the rapid change. Hence, reimagining every facet of business is of top priority.
For leaders, balancing the aspects of business, work environment & personal life in these new realities is an additional challenge. Going forward, new leadership traits will emerge and leaders who can manage the adaptability of new business models will be of relevance. Hence, it is of utmost importance for leaders to learn and develop new skill sets. This is where PGPMAX becomes a more relevant programme to pursue. If you ask me, there is not better than now to pursue PGPMAX.
What advice would you give to aspirants and students of PGPMAX?
In this ever-evolving world, change is the only constant one can bank upon. I would advise students to learn to adopt the change and evolve with it. If you are a business leader, develop new skills sets. Focus on digital marketing and strategy as they are the key to the future. Don't be afraid of failure and take the risk. If you fail, fail first and fail fast – that is the only way to learn and grow.
If you must encapsulate ISB experience in just one word, what would that be?
ISB really provides the wholesome experience of customer delight where one can experiment, learn and grow outside of their day-to-day work and organisation. If I must encapsulate ISB experience in just one word, it would be – Customer Delight.
– Dilip Singh Rathore, PGPMAX Class of 2016, Senior Vice President, Cipla.