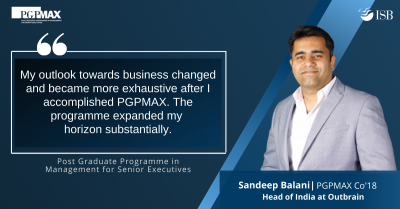 After my BSc computers, I was clear I wanted to get into media sales. I Joined DNA Newspaper in 2005. For five years, thereafter, I was in the ad sales ecosystem in the print media. After two years in DNA, I moved to Anand Bazar Patrika (ABP), a leading Bengali daily, where I looked after the ad sales for the recruitment section. But I wanted to shift to digital media, and so I joined Monster.com. After ten months, in 2010, I took the big leap into the digital media field by way of Komli media, a large ad network in digital, and a reseller for FaceBook in India. I started as a senior sales manager and moved up to lead the performance sales teams. My scope of responsibility increased to five businesses of Komli.
In 2015, I launched Outbrain in India and was their first employee. Two years later, I was leading their entire India business. I was in charge of the overall demand and supply strategy and all the operations related to the India markets.
Why PGPMAX?
From a salesperson, I suddenly got catapulted to a business person as the India Head for Outbrain. Around that time, I was contemplating doing a management programme. A top B-School in India was my preference because of the opportunities the country was likely to offer in the future compared to any other market. PGPMAX appeared to be the most comprehensive programme and ISB was a brand name to reckon with. The opportunity it provided to connect with the senior executives and learn from them was phenomenal and no less than what the best global institutes offered.
The PGPMAX Edge
The programme added great value to my understanding of the different aspects of the business. It expanded my horizon substantially. Professors at ISB are a league apart from what I have seen anywhere else.
Professional Evolution Post PAGPMAX
I was a part of a very energetic cohort. The class was largely made up of CXOs of different companies. Their thinking about the industry and the way those industries were shaping up was broad and comprehensive. My outlook towards business changed and became more exhaustive after I accomplished PGPMAX.
The PGPMAX Learning
I come from a sales background. In my earlier role at Komli, I had to deal with the legal and finance persons, but I lacked the necessary understanding of where they were coming from. After PGPMAX, my knowledge of finance, legal, operations, and marketing functions strengthened. While negotiating with other companies, I am now comfortable on the legal and finance side of discussions. I can now better understand the language of cash flows, operational margins, and so on.
The PGPMAX ROI
I have never looked at the PGPMAX from the lens of ROI, i.e. financial gains or a salary hike. I was doing quite well in my organisation and had a long time ahead in my career to think about the ROI. I have evaluated the programme from the standpoint of learning that I could implement in my business and the brand value the programme would provide me.
PGPMAX Influence on My Leadership Style
Leaders are enablers of change. In today's business environment, people are looking for an entrepreneurial spirit. You need to enable a larger eco-system rather than restrict yourself to the sale you are doing or the business you are getting. At ISB, we had a class full of leaders from different fields that helped me to understand the different perspectives and the way different structures work, and the way technology can enhance your leadership effectiveness. This variety of thinking and understanding from different people on the way things were happening in their organisation helped me reshape my thinking about leadership.
To be a great leader, you need to show growth in business, but what's changed in me is the way I thought a business needed to be run. Is it you who should drive the business or should your team be enabled so that they run the business? The way I thought about business, its structure and the processes have completely changed. I have realised that rather than just being a deal maker, you have to become a business person who thinks about the larger impact he would have. That has helped me make decisions that are more methodical and more structured.
The PGPMAX Alumni Advantage
ISB has the best alumni community in India. The School attempts to involve the alumni in interviews and in networking events where you get to meet the alumnus and you get to know about how they are using this community. For me, my community is largely the class that has helped me stay updated and relevant. Learning from the alumni community has been phenomenal, as I have learnt from their businesses and got different perspectives about my business from them.
To Invest or Not to Invest During COVID times
Leaders should not be fearful about the challenge this pandemic is. Rather, you must look at your career from a larger and longer perspective of where you are headed. PGPMAX is not a programme that will give you the returns in a short time. It is to be looked at as a wider horizon of a lifetime because you are building a network for a lifetime, you are investing in a brand for a lifetime, and the learnings are going to be with you for a lifetime.
On the Personal Side
Staying relevant is critical to me and understanding technology has helped me. I cherish meeting friends and have a great network of school and college friends. In my spare time, I spend a lot of moments with my children.
Advice to the Current PGPMAX Cohort
Do not come with the mindset of only networking. It becomes very mechanical. Networking is a byproduct. Make good friends and networking will happen. I am blessed with a good number of friends as I came with that mindset. Developing an emotional connection with classmates is essential to have bonding.
Advice to the Aspirants
Take the leap without thinking much about the ROI or else you will not be able to get the requisite value from the programme. The brand name of ISB and the learning it provides will help you immensely.
–Sandeep Balani, PGPMAX Class of 2018, Head of India at Outbrain