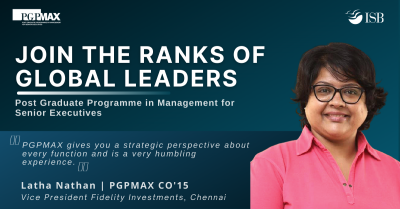 My Professional Journey
I started my career as a software engineer and have been in the IT industry for 17 years. I had the opportunity to startup operations in India for Information Edge, a NZ based technology product company as well as instrumental in setting up the Bangalore operations for Photon Infotech, which specialises in Mobile technology solutions. At present I am the Vice President at Fidelity Investments, heading one of their digital units in India.
ISB the Obvious Choice
I was always clear that I would study at ISB and was keen on doing PGP. However, my mother's fragile health required my presence by her side. PGPMAX came up as the most viable option under those circumstances, as the flexibility of the programme allowed me the comfort of staying close to my mother without being away for a long duration. Looking deeper in to the PGPMAX curriculum, I realised the advantage of continuing my work parallelly with my education. There wasn't any compromise on the quality of PGPMAX when compared to PGP.
The PGPMAX Advantage
PGPMAX gives you a strategic perspective about every function. Having come from an engineering background, I had a dread for accounting and everything around financial numbers. The programme taught me how to look at the numbers, be able to get to the details, interpret them correctly and make the right decisions for my business unit as well as the organization as a whole. Secondly, the networking and the peer learning I got. Third, the programme was a very humbling experience, especially when you look at the stalwart professors—people who have achieved so much and yet are so down to earth. When you finish the course, you feel that the school has given you much more than you paid for and that's a fulfilling feeling. ISB goes beyond its way to ensure that the students get as much fulfilling knowledge and network and resources not only when you are on the campus but also when you are the alumni.
Professional Evolution Post PGPMAX  
The programme was a transformational journey for me. The opportunity to start a company or even head one was available to me even before I came to ISB. What PGPMAX gave me was a change in perspective and a change in my thinking about how you would look at different aspects and different functions of an organisation from a strategic point of view. I was already good at the technology and product development but not so in financial and operational aspects. I learnt at PGPMAX the strategic way to look at these from a senior management perspective without having to go into any tactical details. This enormously helped me in better decision making and in my career growth post-PGPMAX. One of the leadership courses helped me uncover my passion for teaching, and that prompted me to join the EFPM programme. Eventually, I wish to get into the teaching profession.
The PGPMAX ROI
Returns are not immediate from PGPMAX. But over the years you find yourself one notch above those who have not done the programme. The brand adds on to your experience and helps you wherever you go, gets you the edge over others. The ROI comes through the career moves that you can make, the promotions you get or the breadth of additional responsibilities you get. You get a rare confidence and so does your organisation, which entrusts more responsibilities in you.
My Leadership Philosophy
A leader you must lead by example and must know when to be at the forefront and when to take the backseat—bear the brunt in challenging situations and support from the rear when things are fine and let the team members shine in the limelight.
Be empathetic. You may have a high IQ, you may be excellent in your domain, you may be brilliant at executing strategies but if you do not have empathy, you cannot be an outstanding leader.
PGPMAX Influence on My leadership Style
As a leader, building a strong ecosystem is essential as you move up the career, but the one eye-opener for me was that one needed to collaborate well with the peers. I was well-focused on my team's alignment with me. I made sure my seniors had complete transparency into what my team and I was doing. But I was not making the conscious effort of collaborating methodically with my peers, which I learnt from one of the PGPMAX courses.
Empathy came up as a strong leadership trait at ISB programmes. I always thought that as a leader I had to stay ahead of my team because if I had to lead them I had to be better than them, know more than them. But the course taught me it is okay to say you don't know something and then work with the team to find a solution; it's okay to make mistakes. The case studies and the discussions were game-changing as far as my outlook towards leadership is concerned.
On the Personal Side
Learning new things keeps me relevant and going. I keep in touch with what's happening by enrolling in courses. Slipping into the shoes of a student keeps me energetic and lively. At present, I am doing my research.
I love long road trips with family and I enjoy going to new places and meeting new people.
To Do PGPMAX or Not to Do During COVID-19 times
This is the best time to do PGPMAX, the best time to invest and upskill in oneself and be ready as a future leader. These pandemic times will not last forever. When we get back to normalcy, growth is likely to be extraordinary. Much of what is taught at PGPMAX is trending curriculum, not something written in the books ages ago. While there are some evergreen concepts, several new concepts are emerging and equip us to solve the problems of today and tomorrow.
Advice to the Current PGPMAX Cohort
Please network extensively with professors and peers while at the campus. Getting back together will not be easy once you graduate. The campus is full of resources. Enjoy your time. Do whatever it takes to improve the brand of PGPMAX and be an engaging alumnus after graduating.
Advice to the Aspirants
ISB gives a blend of local and global aspects. These aspects stand out against programmes that focus more on developed markets. The faculty, the case studies and the curriculum are extraordinary and these along with several other factors give ISB a clear edge over other B-schools.
– Latha Nathan, Vice President Fidelity Investments, Chennai, and PGPMAX class of 2015.