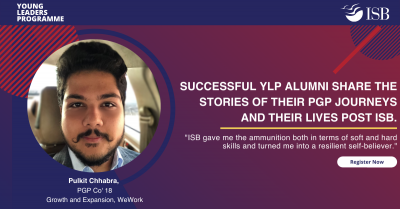 Tell us a little about your current role. How did ISB help you in preparing for this role?
I work for WeWork and my current role is Enterprise Growth and Expansion, which is essentially a Sales and Business Development role, where I generate multi-million dollar business from Large Enterprises & Fortune 500 companies along with geographically expanding WeWork across the country. With no prior Sales experience, ISB gave me the business acumen along with the width and depth of business to actually be able to pull this off. The role also entails meeting CXOs and nurturing relationships – ISB gave me the confidence to go out there and hold a conversation with them. Prior to ISB, I worked for Uber and expanded its footprint across India.
ISB gave me the ammunition both in terms of soft and hard skills and turned me into a resilient self-believer. My work involves constantly thinking out of the box and I do new things every day, and that is how ISB's one year was fashioned as well: each day was a new challenge. That experience made me persistent and adaptable. You can put an ISB alum in any role or present any business problem, they'll either solve it themselves or will hustle their way to get it done! Challenges don't scare ISB alumni.
What made you choose ISB over other programmes in the market?
There were 3 major reasons:
The first is that it was a one year programme, and although I was an early career professional, and I had a good start, I didn't want to put in a 2-year break to do an MBA. In India, we don't have quality 1 year full-time MBA programmes, only Exec MBAs and although abroad you do, programmes such as INSEAD ask for at least 5-6 years of work experience.
I was getting an opportunity to do a global MBA while in India – in a way that the course work is designed and the professors are all globally renowned, it made the most sense to go for ISB.
The third was the Alumni Network. Today, the ISB network has a strength of 11,000+ alumni and it is not just of the biggest but also one of the most engaged as well as well-connected alumni networks across the world for any B-School! You find ISB alumni everywhere across the globe and they are always just a phone call away to help you out with anything at all.
What were your goals or expectations from an MBA programme before starting PGP at ISB? Were these expectations met?
I was expecting to learn various nuances of business, of course. But I also wanted a playground to test and try new things. ISB is very famous for functional and industry shifts – we keep hearing of army veterans come in and transition into Business Managers post ISB, for example. So I too wanted a playground to try new things, succeed and fail and ISB allowed me to do exactly that. I also wanted to get the smartest and most diverse peers who come into the programme with quality prior work experience. Most other B-schools don't have this as most of their students join MBA immediately post undergrads and they don't bring much value from their experiences to their classmates but ISB requires a minimum of 2 years work experience, so there is massive learning from peers both inside and outside the classroom.
Please share your YLP experience with us. The process, the challenges…
I was in the 2nd year of my undergraduate degree at St. Xavier's College, Kolkata in 2014, and I stumbled upon YLP when the deadline was just 24 hours away. An alumnus from my secondary school was already enrolled with the YLP programme, so I connected with him immediately and after he recommended that I go for the programme, I sat down to write my application. Back then we had to submit a video essay as well! I was shortlisted for the 2nd stage, and I had to submit 2 more essays and my GMAT scores. I took the GMAT with just 15 days of preparation and got a not-so-great score – a 640! Everyone told me that for YLP, especially since I didn't have work experience, I needed at least a really high GMAT score. I had bootstrapped 2 startups at the age of 17 and was scaling them up against all odds. With the quote "If you don't try, the result is always failure." on my mind and despite being doubtful, I submitted my application with a 640 only! I was pleasantly surprised when I was called for the Interview and was grilled for 1.5 hours mostly about my start-up; I was running an E-commerce business.
Post the interview, I thought it didn't go well and I was so disheartened that I skipped exploring the ISB campus as I had planned and went straight to the airport. After a couple of months, I heard back from ISB and received the good news that I was selected. I later came to know that 640 was the lowest GMAT score they had accepted till then (now it is 610), but the point is that ISB reviews your entire application and your overall profile holistically and the GMAT score, for example, is not a make or break!
How did you zero on this particular role? What other industries/ opportunities at campus or out of campus were you considering?
I got this role outside of campus. ISB gave me the confidence to write a cold email to the global founders of WeWork and I pitched to them how I could help them with their growth and expansion plans given my prior experience with Uber and my MBA. They were impressed and referred me to the company, and within 2 weeks I had an offer from them! A lot of graduates worry about campus placements but actually, the ISB brand and skillsets that you acquire are enough to land you off-campus roles. I ended up with 5 offers from outside of campus!
I enjoy expansion roles, getting into new geographies or starting new business lines, and I like to be an intrapreneur when I can't be an entrepreneur. I was looking for roles that allow me to be an entrepreneur within the company and WeWork gave me exactly that!
What was one subject you studied in PGP that is most relevant to you in your work?
I think my favourite subject at ISB has been Negotiation Analysis (NEGA) because whether it is your professional or personal life, every second you are negotiating. And especially since I am driving multi-million dollar deals, the negotiation is tough and complex with my clients – something I could not have excelled at without this course at ISB. It has also helped me negotiate my salary really well! Negotiation, although we think it is only for business, it's all-encompassing and is relevant to each and every area of your life.
What are some skills or learnings you received from PGP that makes you "recession-proof"?
ISB turned me into a leader. And it taught me that age is no bar for a leader, and that hard work and persistence can turn a 22-year old into a leader. I was elected as the Director, Alumni Affairs Council of the Graduate Student Board – 650 students voted me in, a class which had an average age of 28! It was a very humbling experience, to lead a team of 60 people at that age. And this happened only because of how supportive the cohort is: age was no barrier for them and they motivated me to become a better version of myself every single day.
ISB also made me industry as well as function agnostic. And if you are a leader and you are industry or function agnostic, then you can fend for yourself!
Tell us about some challenges you faced as before joining PGP, and how PGP helped you overcome these challenges?
Before ISB I was very operational oriented, in the sense, that I was doing mostly execution of ad-hoc tasks in the operations or marketing sphere. ISB polished and nurtured me into a business person and it broadened my horizon and business acumen and gave me a bird's eye view of how business works. Earlier, I could not hold a well-rounded discussion on business and that changed post ISB. I am now more versatile too with regards to my skill sets.
Can you share instances where the ISB alumni network has benefitted you?
As I have been the Director, Alumni Affairs Council of the GSB, I can tell you that the ISB network is an unending goldmine! You can get as much as you want from it and anytime you want! It is an asset you get for life. One instance I can tell you is that I got the opportunity to go for an Exchange Programme to Bond University, Australia but I wasn't too keen, as it was not an ivy league – it wasn't a Wharton! But then I picked up the phone and called a couple of alumni who had gone for the exchange programme. And just a 30 minutes conversation with them convinced me that I should head to Australia – which I did post my PGP completion.
If I had not approached the alumni, I would have missed out on one of the best experiences of my life! I achieved so much in that exchange programme. I learnt the global business, created a global network and got the chance to travel extensively across Australia and New Zealand!
Since we all know this is a year unlike others… and some of the candidates are unsure if this is the right time to do an MBA. Can you share some tips or advice for the candidates of PGP who would be joining this year?
Some hard facts: My salary increased by almost 3X post ISB compared to my earlier days. Although the approximate 40 lakh fee looks huge in the short term, the ROI is exponential. In times like these, you can't get a better foolproof return on your investment. More than the fees, you are paying this 40 lakh for access to two things: One, to the leaders of tomorrow, and two, to the leaders of today – which you receive in the form of the Alumni Network.
Finally, how has ISB helped polished your personality? Can you describe certain learnings from your year at ISB that changed you as a person?
I entered ISB through the Young Leaders Programme, and came out of ISB with the prestigious Young Leader Award! Plus, I am a person who likes people around, and hence, I participated in a lot of community-building activities and invested my time in relationship building such as organising meetups and catch-up events. I was also very engaged in the Entrepreneurship & Venture Capital Club – which I was passionate about thanks to my background. All of this taught me time management! ISB has just so much going on at all times, that you learn work-life balance by default.
– Pulkit Chhabra, Enterprise Growth and Expansion, WeWork