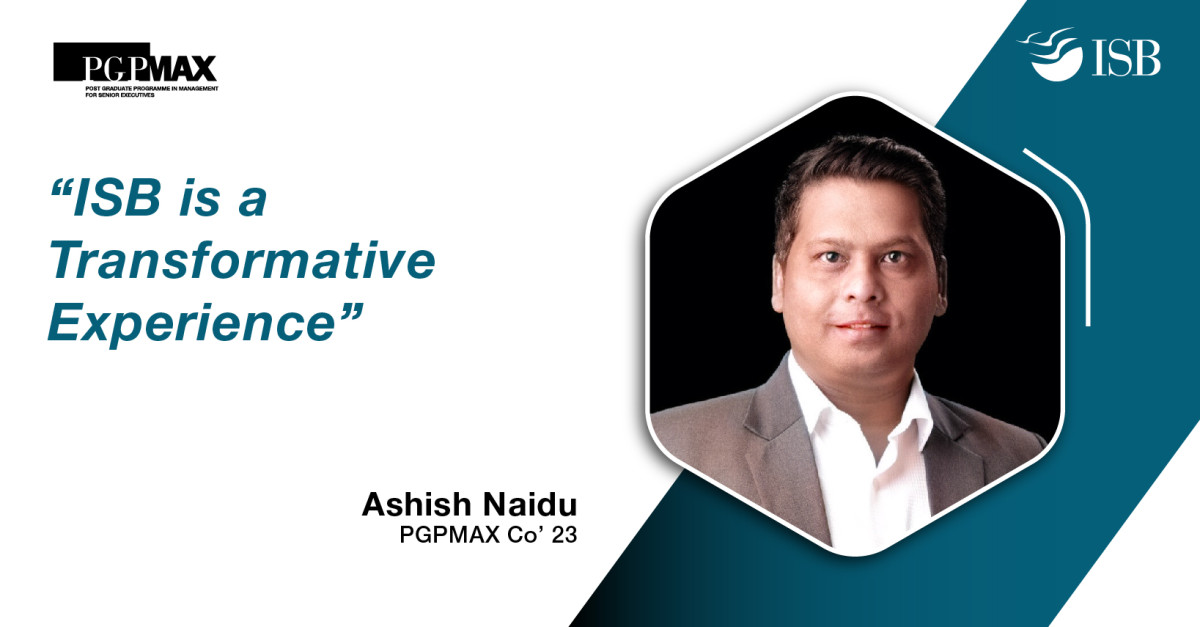 Ashish Naidu, PGPMAX Co'23, is a strategic business leader with a strong background in the automotive and manufacturing industry backed by a master's degree in automotive engineering from Birmingham City University, UK. He has 16 years of professional experience, of which 12 were with Ford Research. At Ford he worked on intellectually driven projects at prestigious facilities of Dagenham Diesel Centre and Dunton Technical Centre, UK and at Research & Innovation Centre in Dearborn, US. He led cutting-edge technology research aimed at improving vehicle energy management for electrified vehicles using connectivity for Connected Autonomous Vehicles (CAV).
Highly experienced in electrified powertrain systems engineering, product development, strategic planning, and technology disruption, he recently returned to India, and is on a career break, fully focused on full-time studies.
Why ISB?
Ashish is actively fine-tuning his technology entrepreneurship endeavours in the domestic sunrise sectors. The role demands skills in product ideation, positive value-cost matrix, successful pitching, and financial sustainability. However, upward mobility in career isn't possible sans leadership skills, understanding of a global business landscape and business acumen. A PGPMAX from ISB was the perfect answer to this challenge.
"The programme offers a structured approach to sharpen my leadership skills, strategic thinking, and enterprise management abilities that align with my future. Learning from distinguished faculty members and collaborating with a diverse cohort of experienced professionals will greatly add to my experience."
The Comprehensive ISB Experience
ISB has been a transformative experience for Ashish. It has broadened his horizons, challenged his assumptions, and empowered him to think more strategically and ambitiously.
A comprehensive, well-structured curriculum and an extensively industry experienced faculty makes for an engaging and practical learning, leading to a deeper understanding of various industries, functional areas, and emerging business trends.
"Exposure to different leadership styles, innovative business models, and disruptive technologies, have broadened my perspective and opened my mind to new possibilities. They have helped me develop a strategic and forward-thinking approach to my career, pushing me to explore new avenues and consider alternative career paths that align with my evolving aspirations. "
Group projects, case discussions, and experiential learning activities have helped Ashish gain practical insights into effective collaboration, negotiation, and relationship building. Interactions with industry leaders, successful entrepreneurs, and influential professionals from diverse backgrounds have expanded his professional network and provided valuable mentorship and guidance.
Lessons Learnt and Applied
"Incredible lessons at ISB have shaped my approach and mindset. They have influenced how I approach challenges, interact with colleagues and stakeholders, and drive positive change in the changing business landscape."
The significance of clear and concise communication, active listening, and building strong relationships are helping Ashish to effectively convey ideas, build consensus, and foster a collaborative work environment. By applying these lessons, Ashish says he has become more adaptable, resilient, collaborative, and growth-oriented.
The Return on Investment
"The return on investment from PGPMAX programme is beyond the traditional understanding of ROI. The knowledge, skills, and networks I have acquired through the programme have had a tangible impact on my thinking. These will allow me to navigate complex business challenges, make informed strategic decisions, and thrive in dynamic markets." The programme's comprehensive curriculum and experienced faculty have equipped Ashish with the tools and frameworks necessary to excel in his professional endeavours. Furthermore, the diverse peer network and engaged alumni community have provided invaluable support and opened doors to new opportunities, expanding his professional horizons.
Ashish believes in the power of giving and contributing to the network, hence an important measure of ROI would be the value you are giving when compared to the value you are getting out of the programme.
What a Good Leader Must be
"My philosophy of a good leader encompasses aspects of purposeful leadership, including having a clear vision, fostering collaboration, practising servant leadership, and embracing systems thinking. I believe a leader must adopt a finite approach with an infinite mindset, which is closely aligned with systems thinking." A finite approach recognises the need to set specific goals, prioritise tasks, and achieve measurable outcomes. It acknowledges the constraints and challenges that leaders face in the short term. The interconnectedness and long-term implications of decisions emphasises the need for leaders to adopt an infinite mindset and consider the broader system in which they operate. By adopting a system thinking approach, leaders can make informed decisions that create sustainable success and have a positive impact on the organization, its stakeholders, and the larger ecosystem.
Ashish is striving to enhance his clarity of vision, develop his skills in servant leadership and collaboration, and embrace a finite approach with an infinite mindset. By integrating these principles into his leadership approach, he aims to inspire others, drive positive change, and contribute to the success and sustainability of his organisation.
The Pride of ISB Community
Being a part of the ISB community gives Ashish a deep sense of pride and belonging. His long stint abroad had disengaged him from the business landscape, values, and styles specific to India, but the company of his cohort is bringing that understanding back. The value of the ISB community, an astonishingly diverse cohort, extends beyond traditional classroom learning. It provides amazing opportunities to network and build relationships with brilliantly successful alumni, industry leaders, and professionals through alumni events, seminars, workshops, industry interactions, and guest lectures.
"The lifelong friendships I am forming is a priceless asset of support, collaboration, and belongingness. The inclusive environment gives me confidence to express myself, motivates me to excel and make a positive impact."
Being Relevant and Keeping Spirited
By seeking out new knowledge, acquiring new skills, and staying informed about emerging technologies and industry developments, Ashish ensures he remains relevant and equipped to tackle evolving challenges.
"In my spare time, I enjoy reading industry publications, books, and research papers to stay updated on the latest trends and insights. I actively participate in professional networks and communities, attending conferences and workshops to expand my professional connections and learn from industry experts."
For a healthy work-life balance, Ashish indulges in hiking or playing sports to stay fit and active. He also spends quality time with family and friends, as their support and companionship are vital for his overall well-being, he says.
Advice to prospective applicants
"As a prospective applicant, especially when returning to India after a successful career abroad, take time to reflect on your goals, aspirations, and values. Understand what you want to achieve and how the programme you're applying to aligns with your objectives. Leverage your international experience; how you can contribute to the diverse learning environment. Understand the Indian business landscape. Familiarise yourself with the challenges and opportunities present in the Indian markets. Showcase your cross-cultural skills."
A thorough research of the PGPMAX curriculum, faculty, resources, and extracurricular activities will help understand the programme inside out. Reaching out to the alumni and current students to gain insights into their experiences and perspectives will induce confidence. Present your authentic self, showcase your strengths, values, and unique perspectives, he says. Embrace the journey, learn from any setbacks, and remain confident in your abilities and qualifications.