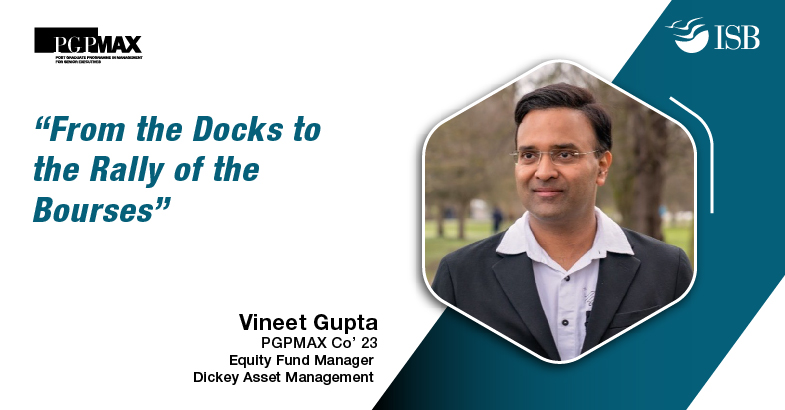 Journey Towards Financial Freedom
Vineet Gupta, PGPMAX Co'2023, is a fund manager (equity) in Dhfin Group (Dickey Asset Management) and manages funds of the Category III Alternate Investment Fund.  
He is an entrepreneur with a vast experience in managing own business. In the process he has got a grasp of several associated business cycles. He is a thought-leader in investment and is driven by passion and long-term goal.
With over 20 years of research-based experience of stock markets and over 10 years of practical investing experience, he has succeeded in generating returns better than the average stock market benchmark indices. He was formerly registered with SEBI as an Investment Advisor.
Vineet is a Certified Capital Market professional from National Institute of Securities Markets (NISM), a Postgraduate Diploma in Financial Markets from National Institute of Financial Management, has acquired Chief Engineer Certificate of Competency from Maritime & Coastguard Agency, Government of U.K. and has done Marine Engineering from Glasgow College of Nautical Studies, Glasgow University, Scotland.
As part of his professional journey, he has moved from merchant navy job to set up his own business before eventually turning into an individual investor.
"I had an aim of doing something completely at my own freedom. While setting up business was my transition phase towards achieving my aim, I faced a challenge of whether to close my well set business and move towards greater freedom and peace. In 2014 I took the decision of handing over the structured business to my father, and I worked hard to acquire knowledge of the stock market domain to grow as an individual investor."
He says his decisions have helped him achieve significant freedom, peace and wealth in his personal as well as professional life. This has helped him to spend time with his family at his discretion, and he can use his wealth with a sense of freedom.
Why PGPMAX?
Vineet says he is financially retired and is now looking to grow himself beyond an individual investor and wishes to improve his management and leadership skills. To accomplish his goals, he finds PGPMAX to be most apt. The diversity of the cohort, the expansive opportunities of networking and his client base that is predominantly Indian made ISB a convenient choice.
"I am determined to build upon my current experience and broaden the opportunities in wealth management and investment domains. ISB can help me achieve this by providing a competitive environment that can improve my leadership skills, my creative thinking, and my ethical responsibilities as a citizen and as a money manager."
The Return on Investment
The power of compounding is visible after 7 to 8 years, says Vineet, and his financial acumen likens the PGPMAX return on investment to the compounding power of money. Investment of one crore at 25% CAGR becomes ten crores in ten years, but the best years to see your money grow exponentially in terms of total value is between 8–10 years. The return on investment of an MBA from ISB is similar and the real advantages are not accrued immediately.
Getting to make new friends of the same wavelength and building robust relationships within the cohort is an asset that pays handsomely. The incalculable benefits of the bonding and interactions far outweigh the classroom learning.
Leadership Lessons
The ability to identify the potential of a team member is an essential leadership quality. How efficiently you get the job done and achieve the results is a measure of good leadership. Good leaders are excellent storytellers and they use it potently to influence and persuade people into getting results.
"Treat everyone with respect and walk the talk and people will reciprocate suitably. Remember people's name and call them by their name. That helps connect with them emotionally."
Staying Relevant and Buoyed
Investing into the Indian equity markets keeps Vineet excited. It is not only a profession for him but is also a passion and a recreation. Staying dynamic to the times, managing his own investments and refining portfolio strategy stimulate him unendingly.
He strongly advocates travelling and says he is indebted to his extensive travels for the life lessons he has acquired. He believes in simple living and keeping physically fit is crucial to enjoying life. "On an average, I walk over 10 kilometers each day."
Advice to the PGPMAX Aspirants
One must be very clear on the reason for pursuing the programme, Vineet says. One should not expect a miracle immediately after the programme, because nothing can be achieved in the short term. Establishing authentic relationships, building healthy connections and associations are the hallmark of PGPMAX.
"It's not easy to make close friends after a certain age. But here at ISB it's not difficult to find friends with a similar wavelength. That is a big advantage. The networking and the relationships you build give you a lifetime of advantage."