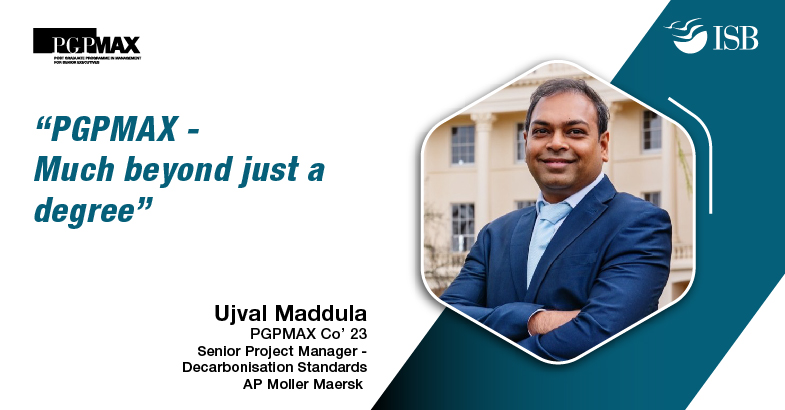 Ujval Maddula, PGPMAX Co'23 is a senior project manager for decarbonisation at Maersk. Hailing from the port city of Vizag, Ujval developed a curiosity for ships during his jaunts to the beach. It wasn't known to him that this interest would be a forerunner to a career that would unexpectedly meander to the shores of a shipping and logistics firm.
When Maersk was sponsoring education in India, Ujval applied for it and triumphed through a stiff competition. This earned him a Maersk sponsored Marine Engineering from Singapore, post which he was absorbed in the firm's workforce. He is now destined to travel to Denmark and dedicate himself to curb environmental pollution caused by the container industry.
Why PGPMAX?
Sailing through life with a well-poised career graph, nothing seemed amiss to Ujval. But the need to expand his knowledge of leadership, strategic thinking, and other business functions that would give him a broader business understanding egged him on to stretch beyond his comforts.
"Since I am working for a global company, it only seems fit to acquire a sense of global business perspective. PGPMAX fit well for my needs. The flexible format suited me. Diversity of the cohort and networking were the other alluring addons."
The ISB Advantage That Puts the Wind in the Sails
That the course was rigorous was a forgone conclusion. But howsoever well you are prepared, it hits you hard and challenges you. It takes a couple of terms to hit the right balance and get the priorities right, Ujval says. "But once into the groove, the phobia gave way to confidence. Now my mind is open to learning and once you learn to think broadly, you start to observe and solve problems that were once not visible. My perspective has undergone a sea change."
The PGPMAX journey has been no short of thrilling. The faculty is steeped in patience and passion for teaching, he asserts. The various modes of learning—case studies, assignments, group study, simulations, etc.—cause crystal clear understanding and reinforce concepts. Student groups representing every function of business, like finance, marketing, operations, etc. bring forth different points of view, assist learning and help solve assignments and cases with ease.
ISB spurs a growth mindset and provides opportunities to grow new skills, which is highly motivating and steers you in a direction you never supposed you could.
PGPMAX is Much Beyond Just a Degree
"Once I was discussing a subject with a professor and he advised that I write a paper on it. I was clueless about writing a paper, but he informed me that the writing cell at ISB would guide me. I was amazed! Other than this instance of support, the mentoring, and the coaching assistance I got added tremendous value to me. It occurs to me that not just its education, but the entire supporting environment contributes significantly in developing a person."
Ujval's stint at ISB is creating those flashbulb moments of memory he believes he will cherish a lifetime—the instantaneous bonding with his cohort and the late night assignments are just a few to which many more will likely get added by the end of the programme.
Learning Experiences
Even though his learning graph has not yet reached its zenith, Ujval has had substantial learnings. Developing a strategic thinking that helps analyse complex situations and take informed decisions is one he will apply amply in his organisation. Second, understanding different perspectives and communicating effectively. Finally, evaluating risks and turning them into possible opportunities with an entrepreneurial mindset and newer ideas.
The Return on Investment
The programme is unquestionably a significant investment. But Ujval doesn't measure the ROI in terms of money only, rather it's the intangible benefits and a platform for sailing through life comfortably that adds to the grandeur of ROI.
"Irrespective of its fee, it was either ISB or nothing for me. This kind of environment is not available anywhere else. The value add is enormous because of ISB's eco system—the paper writing cell, the incubators, the D labs, the coaching, the entrepreneurial mindset et al. One gets enriched not just in subject knowledge, but in so many variegated ways." Some from his cohort have already begun their start-up journey while some have transitioned to a different role with the help of their friends in the cohort.
Leadership Lessons
Servant leadership as a concept appeals to Ujval and an exposure to emotional intelligence has caused him to pay attention to his own self awareness, self management, and social skills. As a result, his confidence level has shot up immeasurably. Humility, empathy, and coaching are the important elements of leadership he has learnt, he says.
"As a leader, my aim should be to support and develop my team members. I should not become a bottleneck. Empathetic listening and clarity while communicating, and giving constructive feedback at the right time are some things I am working on to get better at."
A Community That Creates Value in Multi Directional Ways
ISB gives opportunity to learn, grow, and connect with like-minded people. The entire stint gives valuable insights into yourself, into industry and the market. Multiple value creation happens at the same time, Ujval asserts.
ISB also opens the doors to professional networking, where all the knowledge you have gained can be put to creating opportunities and connecting with leaders. "When I connected with a CEO on LinkedIn to get help on a coursework, the fact that I am doing PGPMAX drew instantaneous response from him. Brand ISB opens the doors immediately."
Being Relevant and Keeping Abreast With Changes
Continuous learning, adaptability, and networking make Ujval feel relevant. Technology is changing at an astounding rate and a failure to adopt new technologies or learning new skills can make one obsolete quickly.
ISB has exposed him to the power of networking. People are nice and ready to help in every way, which is an opportunity, he says, to leverage the good out there and turn it into something valuable.
Ujval is passionate about photography and that keeps him busy during the weekends. As a community service, he teaches photography to the slum children and has also donated photography equipment free of cost to them.
Advice to the PGPMAX Aspirants
A 6-step advise to the aspirants starts with a clarity about why one should want to do PGPMAX, and what's the takeaway desired. Second, do a good research and select an appropriate programme. Third, evaluate your own readiness in terms of support from family, team, your company, etc. Fourth, list down your priorities. Where does ISB fit? Be true to yourself. Reflect on where you wish to see yourself. Fifth, prepare well. And finally, enjoy the ride.
"ISB is a transformational experience."