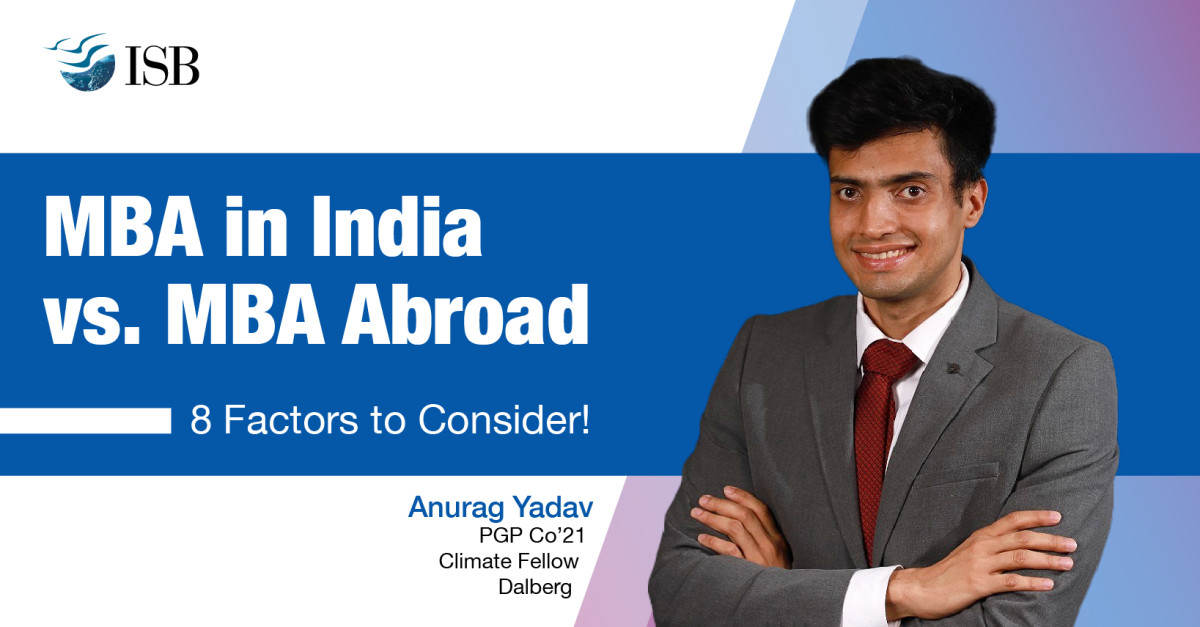 As an MBA aspirant, I was once in a state of confusion, not knowing where to apply for my desired programme. After receiving interview invitations from both Indian schools (ISB and IIM ABC) and international institutions like INSEAD, I intentionally sabotaged some interviews to ultimately choose ISB. Now, I believe it's my responsibility to share my experience and insights to guide other students in making informed decisions.
Here are 8 key factors to consider while choosing the right MBA programme for yourself:
1. Career Prospects
It's crucial to align your MBA aspirations with your desired industry or companies when selecting which schools to apply to. For instance, as someone with a strong interest in consulting, I carefully considered my options and narrowed down my top choices to ISB (track record of ~200 MBB offers) and INSEAD (200-250 MBB offers per year).
Similarly, renowned US business schools like Berkeley are recognized for their technology focus, Stanford for their emphasis on startups and Kellogg for their expertise in marketing, making it essential to strategically align your MBA programme choices with your career goals.
2. Location
Location is a critical factor when choosing an MBA programme. If your goal is to work in Europe or the United States, I would highly recommend considering institutions such as INSEAD over the Ivy League. On the other hand, if you wish to work in India, ISB would be a suitable choice.
A pro tip that I would like to offer is to visit the country where you plan to attend the programme before finalizing your decision. It's essential to experience the local culture, lifestyle and work environment first-hand to ensure that it aligns with your expectations. After all, pursuing an MBA requires significant investment and it's crucial to make an informed decision.
3. Diversity
When selecting a school to attend, it's essential to consider the diversity of individuals from whom you'll learn. Indian schools, such as ISB, provide a broad range of functional diversity in terms of experience. When it comes to global diversity, schools like INSEAD, LBS and HBS are well-regarded.
4. Networking
If you're looking to establish a global network, consider attending schools outside of India. For instance, INSEAD boasts over 90 nationalities among its student body, providing a diverse and extensive global network.
However, if your entrepreneurial aspirations are focused on India like mine, schools like ISB and IIMs offer you a solid network. These schools often have strong connections with local industries, business leaders and alumni, providing valuable opportunities for networking and building connections in the Indian business ecosystem.
5. Exam
Each individual has unique strengths that may not be immediately apparent. You can test your abilities and identify your strengths by taking mock tests for various entrance exams. For example, if you struggle with the CAT exam, you may perform better on the GMAT or GRE.
Scoring a 710 or above (90th percentile) on the GMAT or GRE may qualify you for admission into prestigious institutions such as ISB. In comparison, scoring in the 80th percentile on the CAT may result in admission to less desirable colleges.
Therefore, it's worth exploring alternative entrance exams and identifying your strengths before choosing an institution. A higher score can open doors to top-tier institutions and unlock greater opportunities for your future career.
6. ROI
Choosing where to pursue higher education is a significant decision that many people put a lot of thought into. It's important to consider your ability to handle pressure when making this decision.
In India, it's possible to spend 25-30 lakhs and secure a job that pays a similar salary. Alternatively, spending 150-200K in the US or Europe may lead to a job with a comparable salary, but the pressure of finding employment to justify the higher investment can be more intense.
There are cost-effective options that provide an excellent education, such as NUS and NTU. These institutions offer affordable tuition while still providing high-quality education, making them an attractive option for students who want to study abroad without breaking the bank.
In summary, consider your pressure-taking ability when deciding where to pursue higher education. There are various options available, including cost-effective alternatives like NUS and NTU, that offer great value for money without compromising on the quality of education.
7. Brand
Brand reputation can indeed have an impact on your educational experience. Choosing a top-ranked school in India may be preferable to attending a lower-ranked school in Europe or the US. It's crucial to carefully consider this decision since pursuing an MBA is typically a one-time opportunity.
Top-ranked schools in India such as ISB are often renowned for their rigorous academic programs, esteemed faculty and strong alumni networks. These factors can provide you with a valuable learning experience and open doors to career opportunities within the Indian business landscape.
8. Overall
Top-ranked global schools such as HBS, MIT, Booth, Stanford, INSEAD, LBS, and Kellogg offer an exceptional MBA experience and should be considered if you have the opportunity to attend. However, if you are not able to secure admission to these elite institutions, it's worth exploring top Indian B-Schools.
Indian B-schools such as ISB & IIMs offer world-class education and are highly respected within the Indian business community. They offer robust curriculum, distinguished faculty, and extensive industry connections that can facilitate your professional growth.
It's important to recognize that an MBA programme's value extends beyond the brand reputation of the institution. Factors such as faculty, curriculum, alumni network, location and industry connections can all impact your experience and career outcomes.
Therefore, if you aren't able to secure admission to the top global schools, you can still attain a high-quality MBA education from India's top-tier institutions. Keep an open mind and thoroughly research each program to determine which one aligns best with your career goals and aspirations.
I hope that the above information has been helpful in guiding your MBA journey. Pursuing an MBA is a significant investment of time, effort, and money, and it's important to make an informed decision that aligns with your career aspirations and personal goals.
–Anurag Yadav, PGP Co'21