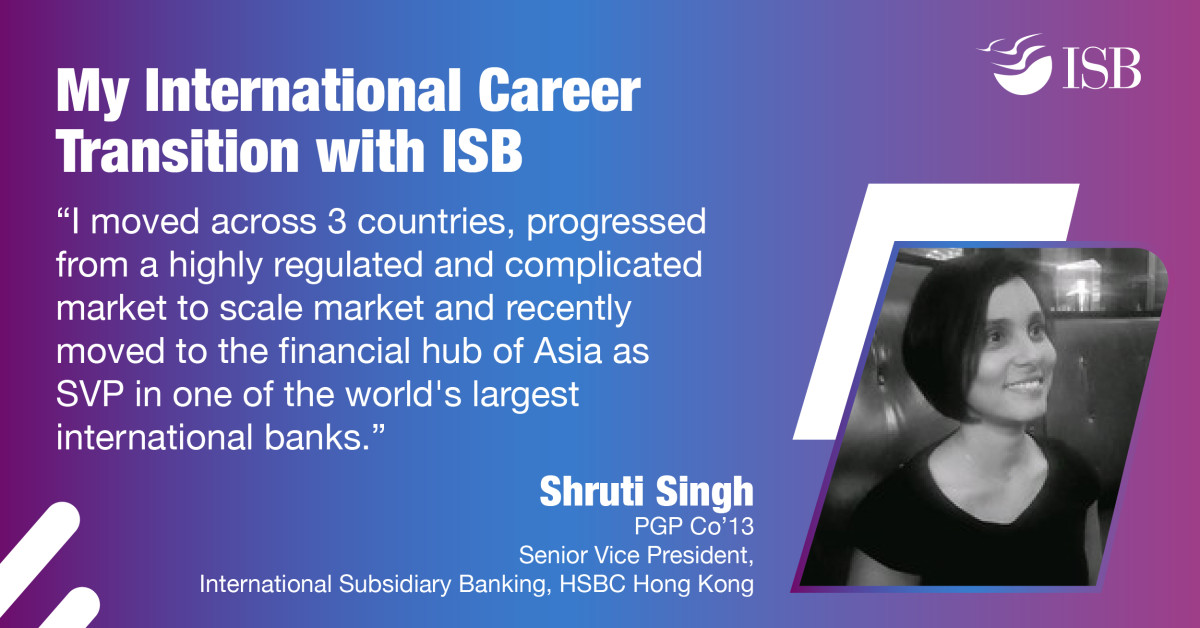 Finding Opportunities Overseas: My Career Journey after ISB
My Career Abroad & the ISB Advantage
I work as a Senior Vice-President (SVP) in one of the world's largest international banks. I am currently based out of its Hong Kong office. In my current role, I handle the banking needs of MNC clients with a presence in Asia. ISB's ecosystem of best-in-class people and global collaborations with international schools expose students to different perspectives and cultures. The diverse opportunities offered by ISB ingrain collaboration, stakeholder management, time prioritisation and delivering in tight deadlines consistently. These values imbibed by me during my ISB days have kept me driven and ensured a seamless career transition for me. I moved across 3 countries, progressed from a highly regulated and complicated market to scale market and recently moved to the financial hub of Asia as SVP in one of the world's largest international banks.
Global Exposure & World-Class Management Education at ISB
The rich multidisciplinary perspectives from students across industries at ISB ensure we are exposed to global output, encouraging students to think out of the box and derive solutions from a collaborative perspective. In addition, the world-class program design includes business management skills and a research-based curriculum, amalgamating the latest trends in markets and the wider economy.
My Top 5 Reasons to choose ISB
Accelerated and Unparalleled Learning:Diverse group of people in the classroom, accomplished in their industries.
World-Class Faculty who are leaders in chosen fields bring a global perspective.
Unparalleled Alumni Network spread across 60 countries – ensuring students have access to mentors for career guidance.
Switching Careers with a Plethora of Career Options: Coming from an IT/Tech background, I was keen to explore a career in banking or consulting & ISB gave me the right platform to transition into the banking sector post-MBA.
World-Class State of the Art Campus for conducive learning, the various ELPs offering experience across industries, the diverse opportunities in terms of corporate case competitions and other such professional avenues teach us to be prepared and driven in these fast-evolving business environments.