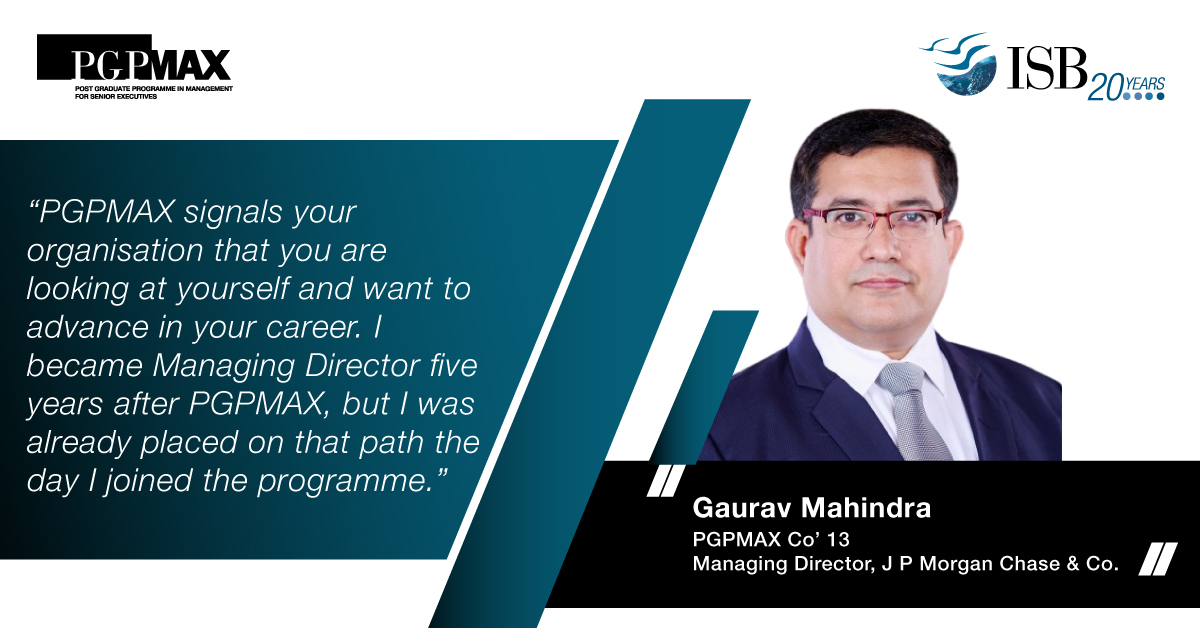 Gaurav Mahindra is the Head of Technology (India) for JP Morgan Chase's Consumer, Business & Core Banking, Auto Finance, and US Wealth Management practices. He is responsible for all the delivery from India, across 4 business lines. He is also the Center Head of JPMC's Hyderabad Technology Corporate Center.
An ISB alum from PGPMAX Co'13, Gaurav is also proud to chair the Autism@Work program at JP Morgan Chase India & drives the Autism@Work Corporate Summit – an All-India Convention that seeks to create sustainable career paths for people on the spectrum.
We connected with him recently to talk about his ISB days, experience, and life ever since. Here is a short summary from the interview.
Tell us about yourself, your current organisation and role, and your professional journey so far.
It isn't easy to date back exactly when but I have over 25 years of professional experience primarily in the technology sector focused on banking. I am an engineer by passion and graduated in computer science. As a kid, I loved solving puzzles, breaking things down and rebuilding them again. I guess that is where the passion for problem-solving & building solutions came from.
After graduating in 1997, I chose to join HCL to gain exposure to marketing & sales. Upon realising it wasn't my cup of tea, I joined a start-up to restart my tech journey. Thereafter, I worked with Cognizant Technologies for around 8 years as a consultant and got the opportunity to travel the world.
Currently, I work with JP Morgan Chase & Co. (JPMC) and have been associated with the organisation for over 11 years now. It is during my time here that I decided to pursue management studies and came across PGPMAX offered by ISB. I applied for the programme in 2013. I started this exploration as a Vice-President, got promoted to Executive Director during the course and today I am a Managing Director in the organisation. I am responsible for driving delivery for the Chase brand which is in the retail side of JPMC. We support and deliver services for the consumers & community banks which are essentially 64-65 million households in the US, around 18,000 ATMs & approximately 6000 branches. I am particularly responsible for around 1000 people in the teams based out of Hyderabad, Mumbai & Bengaluru. Apart from that, I am also the Center Head for the GT Tech Center at JPMC's office in Hyderabad.
When did you decide to pursue executive management programme?
Like I stated earlier, I pursued PGPMAX in course of my career with JPMC. In a conversation I had with a Chief Information Officer I was working with back then; I realised the need for more awareness in terms of business & the big picture. I was lacking the commercial side of leaders' mindset and the ability to understand a problem from the business perspective. As I had started moving from a mid to senior level leadership role, it was the right time to pursue management education. I started exploring options and PGPMAX matched all my expectations, and it has been a great journey so far.
Where do you think you were heading in your career before you took the programme? How has the overall ISB experience affected the direction?
I think it certainly helped. We learnt the concept of signalling and it is amazing how we were able to connect to that. Pursuing PGPMAX signals your organisation that you are looking at yourself and are ready to invest in yourself. The fact that you are willing to do that shows that you want to excel & advance in your career. This brings the organisation on your side and management starts to back you in your long-term goal. After PGPGMAX, I was given more opportunities to learn through the leadership programmes & trainings at JPMC. Though I became Managing Director five years after PGPMAX, I was already placed on that path the day I joined the programme.
Tell us about your ISB days, specifically about the programme and the faculty. What ISB memories do you connect with most profoundly?
The first one that comes to my mind is around the first few cycles of the programme when we came to campus. We were introduced to the subject DMCC which came as a shock to everyone as to how complicated and difficult it was. I suspect ISB did that on purpose to get us all senior leaders off our perch and make us students again. Each one of us at that time was either a Senior Vice President, President, CFO, or at some kind of CXO level and had most of the work happening for us and to a large extent was driven by our pace. The subject made us realise that we were students again and that we had to listen to our teachers. That is one memory we all fondly remember in our group. Whenever things get tough or hard, we remember how we got to clear the DMCC subject.
The trips we took to Kellogg & Wharton were memorable. The class on strategy with Prashant Kale was incredible. That he emphasised on data saying "Bring me the data! Show me the data!" is something that he drilled into our heads. His ability to look at a problem from different perspectives and provide multiple solutions to the same problem is another fond memory.
Then, of course, the get-togethers; late-night studies; sitting on the steps of ISB and completing our assignments; weekend dinners; grabbing food at Bajaj Hall – all of them are great memories.
Tell us about one course/class which enabled professional transformation. What was the course? What lessons did you take back to work?
Like I stated earlier, it was Prashant Kale's course on strategy, where he walked us through various theories & flavours of management styles. For me, the ability, or mechanics to look at a problem and realise the various tail wins, head wins & the vectors that influence the solutions to the problem is something that I still use. I have used it to put together a bit of a chart to solve a financial problem we had at the firm. I had also used to solve issues with location strategy when we were looking to expand in India. I had even used it to teach young graduates on how to set up their career paths.
How did you finance the programme? Did you seek support from your organisation or from ISB? How would rate the programme in terms of ROI?
No, I financed my PGPMAX study completely on my own. I took a student loan covered it completely on my own. Regardless, I consider it as one of the better investments of my life.
The ROI is the opening of one's mind. You really can't translate it purely in terms of money, but returns come rather as learnings from the programme & the ability to network. Personally, while most won't believe it, I tend to be a very insular individual, but PGPMAX allowed me to step out and develop a friend circle and peer group whom I can approach anytime for any kind of help & advice – be it professional or personal.
What is your philosophy of a good leader? What nuances of leadership did you pick up during the programme that was worth applying in your professional journey?
There was this course by Mr. Kayapa where he instilled the term authentic leadership into us. At that point in time, I guess most of us couldn't connect to it but over time, we realised the importance of authenticity to the team. As a leader, you are constantly faced with people wanting face time with you & getting your experiential viewpoints. At times it becomes repetitive & seems almost transgressional in a few instances. But the learnings you have gained in the programme make you realise that those 5 minutes is a window where you make a genuine impression on an individual and create a difference. As a leader, one should be able to connect with individuals at their level and understanding of the world. One should be very clear about who they are and where they come from to form a better connection with team members. Some problems are similar even at the senior-most level of the organisation. To have the ability to self-evaluate and work on yourself even at the highest position is the true mark of leadership.
What are the new challenges business leaders face in the wake of the current global pandemic? How has business leadership evolved in these unprecedented times?
I think the pandemic has led to the democratisation of access. When you are in a so-called 'brick & mortar, non-digital world, working from office mode', whether you like it or not, there is a hierarchy. As a result of that, a leader must work really hard to make sure he/she is equally accessible across the organisation. The pandemic has allowed people across teams to reach out to the leaders several tiers above with help of a simple call. The accessibility to reaching out the leadership has become easier.
On the other hand, it has broken down the separation between work & personal space. It has been quite difficult for individuals to have some sense of mental balance between work and personal life. For leaders, mindfulness has become very important to push their team to disconnect and prioritise work-life balance. The amount of information leaders have to deal with in the digital era (especially during the pandemic) is another challenge.
What is it that keeps you buoyed and relevant? What do you cherish doing in your spare time?
What I cherish most nowadays is keeping away from my phone. It is almost like an anchor in recent times. Feels like you are tied to work all the time. So, having time where you don't have to react to every notification on the phone is something I cherish the most. It allows me to disconnect from work and connect with my kids. I like to paint in my spare time and to do that with my kids is something special for me.
In terms of keeping myself buoyed and relevant, I think it is a real challenge for everyone. With things moving so quickly with AI and other technologies, one must keep re-sharpening skills to keep themselves ahead of the curve.
What does it mean to you to be part of the ISB Alumni community? The value you have derived and how has it benefited you?
ISB Alumni Community is a network and like other circles, you have your inner circle and outer circle in the alumni as well. The inner circle is generally your cohort, and the outer circle is the larger alumni from different courses.
The ISB alumni network provides the access to a talent pool you can trust and hire from at any time. As a senior leader, it is helpful in bringing new talent and ideas to the organisation. Apart from that, you can always reach out to the network anytime to seek advice in order to avoid future pitfalls and downturns.
What advice would you give to the current class and to prospective students?
For the current class, pay attention during class and keep your mobile phones switched off. Make sure you prioritise learning when on campus. There are nuances you will miss if you pull out your mobile phone and respond to work emails. Enjoy your time at ISB. Take out time to know the professors because they never stop helping you. They have such high exposure to knowledge from various industries, that you can reach out to them anytime and get their inputs on any problem. Because of the nature of the programme, it seems hard to find time to do that, but one must try.
For prospective students, be very careful about why you want to pursue the programme. If you are doing it just for the label's sake or degree, you are going to waste your time, energy, and money. Be clear about what you want from programme. There must be an objective or goal. Be clear about your ROI.
– Gaurav Mahindra, Managing Director – J P Morgan Chase & Co., PGPMAX Co'13