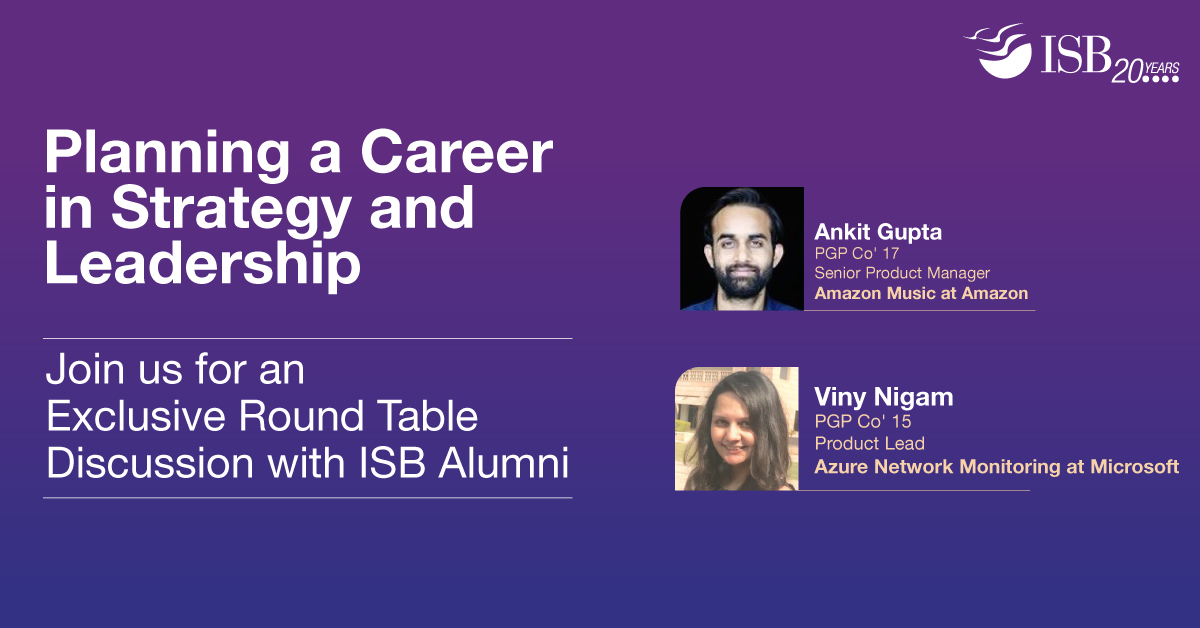 In recent times, Product Management has emerged as an important element of a business's core strategy. Challenging yet highly coveted in the present job market, Product Manager is among the highly sought-after career roles.
An engineer by background, Viny Nigam worked as a software engineer before joining ISB in 20014. A keen learn and risk-taker, Viny ventured into product management upon graduating. Six years down the line, she is currently positioned as Product Lead for Azure Network Monitoring at Microsoft.
Originally a telecom engineer, Ankit Gupta tried his hands in product management after graduating from ISB in 2017. He currently works as a Senior Product Manager with Amazon Music looking after the US, Europe & Japan region. He describes himself as an experimenter who loves statistics, predictive analyses, machine learning, and everything else associated with product experiments.
In a recent online panel discussion organised by the Indian School of Business, the two former ISB students discussed various aspects of their job and answered the 4 most pertinent questions. Here is the summary from the session.
What is Product Management?
A software engineer by profession, Viny Nigam has spent nearly a decade in product management. According to her, "A product manager answers the 'What' & "Why' of a feature or the next thing that will occur in the product development and has the customer at the center of their decision making. All the cool features that you use in your everyday popular products (e.g – apps), there is a very smart product manager that who thought it; decided to build it; designed how it should be built; took it to the people to use it and today is sitting behind in some room looking at the matrix, analysing how many of you are actually using the product, taking in feedback and making some smart decisions behind the scenes."
Sharing his perspective, Ankit Gupta adds, "I believe product management is about coming up with ideas and working on those ideas backward from customer-end. A product manager must see what is relevant and must solve problems efficiently. They have to work with the engineering, design, and research team on executing the product development and also manage post-launch activities and feedback. It is a continuous cycle of development and improvement that keeps repeating."
When thinking about the fun part about his job, Ankit jokes, "It is mostly a thankless job. The fun is derived from the satisfaction one gets upon completion of a product cycle. The result helps to mitigate the frustration we go through prior to the launch. When you people using your product and how it is helping in their everyday lives – that to me is the most fun part of it."
Talking about the non-fun part of the job, Viny says, "The copious amount of paperwork that has to be done as a product manager. The note-taking, interviews that we record, up-levelling, specs writing – all of it requires tons of paperwork. The dreaming & solving part is fun but to turn that dream into a one-pager with proper lingo is a bit boring but necessary.
Is Tech Background a Pre-requisite for Product Management?
When speaking about being technically adept for becoming product management, Viny adds "I would say If you can be, then why not! Though I understand the point coming from a non-engineering background, it is an added bonus if you know technology well enough to have a confident conversation with engineers working on the product. Despite all the factors that we consider during product management (marketing, strategy, UI, UX, etc.), a lot of time is spent working with key stakeholders i.e. engineering, and making sure they understand what they are building. That is where having technical knowledge comes in handy for translating lingo into technically understood concepts. Now, what if you don't have a technical background? There are companies where the product engineering interaction aspect is separated from the product marketing & strategy aspect. One can also pursue roles in those companies. In full-stack roles, one can always show the intent to learn and pick up enough technical knowledge to have a confident conversation with the team. Be it may, one should always be prepared to learn technology while working as a product manager."
Adding his viewpoint to the topic, Ankit believes one should have a passion for technology to be a product manager. "If you want to be a product manager, you should not hate technology. Even if one does not know about technology, one should always have the intention to learn it. As long you have the intention to learn tech and have a technical mindset, one will face never any major challenge while managing a product. A product manager will probably never code and would generally have a conversation around the overall architecture. For Product Manager with a non-technical background, do not choose platform building roles and rather find a customer-facing management role."
How should one upskill for becoming a product manager?
Sharing his views on the topic, Ankit believes there is no silver bullet to becoming a product manager. "Product management in itself is not a skill. It is a combination of skills that helps in delivering products in accordance with customer needs. The key component is taking a big complex area and breaking it down into meaningful pieces which one can simplify and solve. Having structured thinking around the product is the key requirement for being a product manager. Your thought process and mental models should be consistent enough so that your decision-making over time becomes easier. One should not have to re-evaluate their entire work while making every decision. Another aspect that product managers should develop is the ability to take feedback and improve on it. Being open-minded about feedback and suggestion helps a lot in the execution part of product management."
While speaking on the difference in skills required for product management roles in different companies (such as Software Company to E-Commerce Company), Viny added, "There are few skills that are common to product management in every company. Doesn't matter at what role or company are you working with – at the end of the day, you are solving problems. The priorities for different companies however vary. In enterprise companies, qualitative feedback is highly valued and product development takes time. In a consumer-centric company, the opportunity to develop and re-iterate is quick. So, depending on the company, product managers should be quick enough to adapt and learn quickly."
Sharing another insight on upskilling from personal experience, Ankit adds, "If one wants to work as a product manager in a consumer-centric company, one should learn to deal with statistics. There is a lot of experimentation that goes into developing new features and one should be able to navigate through the metrics so that it doesn't affect the whole product itself. If you are good with statistics, you will be a top-tier product manager."
How does an MBA help in Product Management?
Putting forth his view on the topic, Ankit said, "I would say an MBA helps in two ways. One is the development of business lingo. As a product manager, one has to write business proposals, develop business plans, forecasting, and so on. Sometimes a great idea can be chucked out because it is not written in the right manner. When you pursue MBA, you get exposure to the business terms which helps in forming better business-oriented proposals and ideas. Secondly, the other subjects you study during MBA helps a lot. At ISB, I was exposed to statistics and business communication that helps in making better decisions from multiple aspects. Though one may have learnt these skills separately at different points of time, an MBA provides a platform to bring all the skills together and put them to better use in product management roles."
Sharing her thoughts on the topic, Viny stresses choosing the right MBA. "One has to choose an MBA that provides the right lingo, structured thinking, and out-of-the-box ideation. There is a lot of method to the madness that PGP at ISB provides and helps you carve a better outlook for product management. The way things are taught at ISB and the whole learning culture imposes a huge impact on our everyday work functions after the programme. The two things that I really benefitted from PGP are the strategy models we built and the organisation behaviour courses. I still use some of the value-chains we learnt to develop at ISB to this day. The ability to influence change across levels and teams in the organisation without authority is another thing I learnt at ISB. Product Managers are individual contributors. We make individual impacts that span across all teams and come out as business impacts. To be able to confidently handle changes coming without losing motivation due to conflict becomes easy after ISB because you have the tools and frameworks to rely on. Not an MBA, but the right MBA is what makes all the difference while looking for a career in product management."
The above article summarises and presents excerpts from an online panel discussion organised by The Indian School of Business on the topic "Career in Product Management". Viny Nigam (PGP Co'15) is a Product Lead, Azure Network Monitoring at Microsoft. Ankit Gupta (PGP Co'17) works as a Senior Product Manager (Technical) with Amazon Music at Amazon. The session was hosted by Pragati Garg, a current ISB student from PGP Co'22.