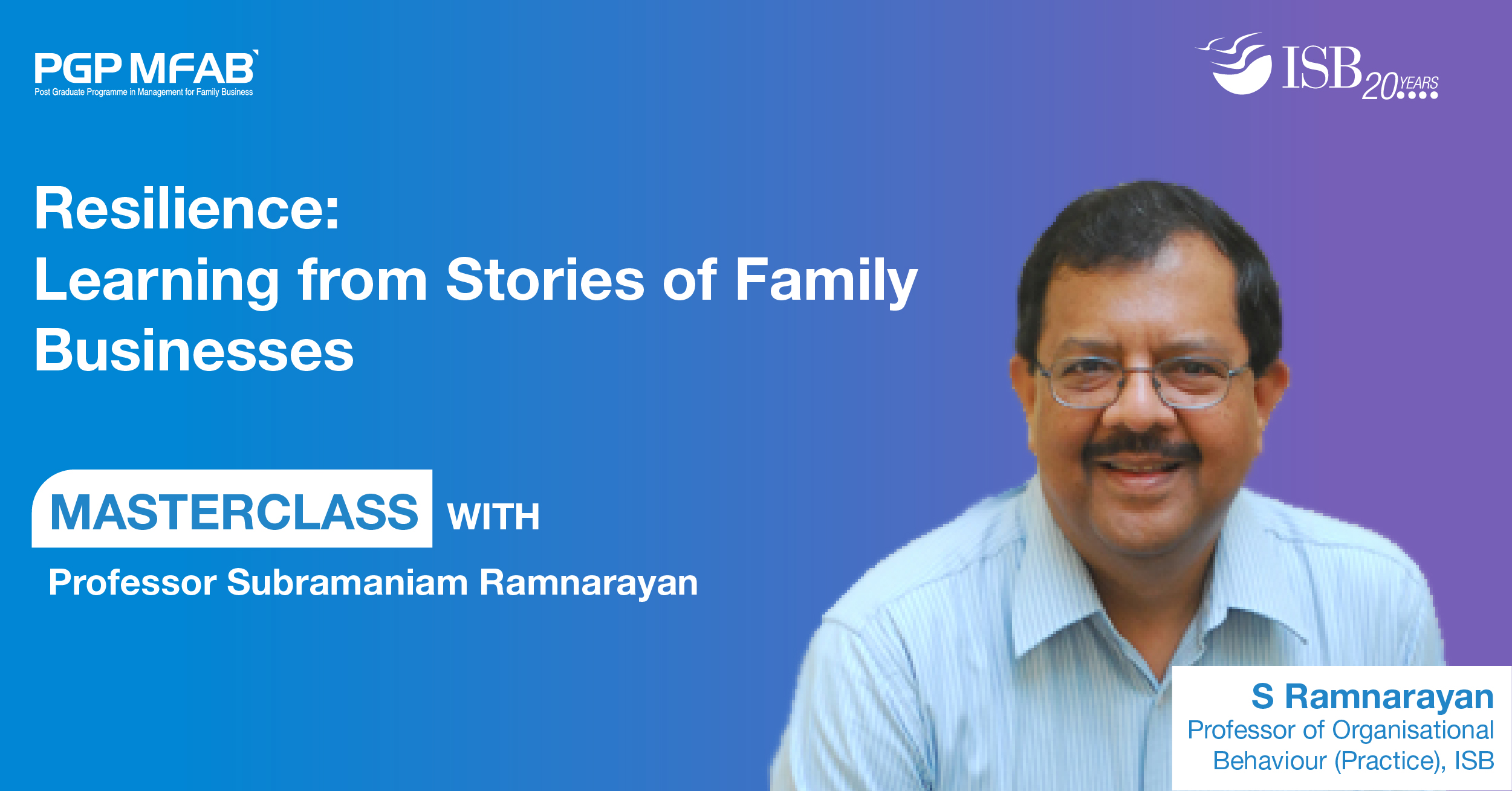 The world today is reeling under the global pandemic which has affected a lot of aspects of our everyday lives. At many times when we face difficulties, our response tends to be non-constructive due to several aspects. Under present circumstances, when we are faced with several setbacks and uncertainties, these negative occurrences are becoming more commonplace. In order to deal with these challenges, personal resilience has become a highly required innate quality in business leaders.
What is Personal Resilience? In simple terms, it can be defined as our ability to recover quickly and respond constructively to difficulties, challenges, or hardships. It is critical for leaders to develop resilience and start from self-management for bringing effective change while dealing with uncertainty. In the field of management & leadership, the value is not in the concepts per se but rather in the application of those concepts in everyday life. It is not the understanding of concepts that gives you results; it is the practice of real ideas that matter. Hence, we begin with two stories of family organisations that I have been closely involved with, describing the basic cases and analyse what we learn about personal resilience from them.
The Story of Lavanya Nalli
Lavanya Nalli comes from the family which owns and runs Nalli Silks – a multi-generational family business based out of Chennai known for its silk sarees. Lavanya became the fifth generation member to join the family business after graduating in computer science. Being the first woman from the family to join the family business, she faced passive resistance and a lack of support in the organisation. Being from a computer science background, she was assigned data processing work which was a very peripheral part of the business. She humbly refused the desk job and looked to study the business from every aspect. With the absence of an induction module in the organisation, she designed her own system of training and began learning about the business on the sales floor of the store. She went to different Nalli stores, observed their supply chain and understood the business from the grassroots level. In order to understand their business in other cities, Lavanya decided to work at the Mumbai store to gain insights into the store operations.
At the Mumbai store, she was again assigned the desk job at the cashier's table. To learn beyond mere transactions, Lavanya began observing the daily activities and started conversing with different people to get multiple perspectives. Through her observations, she noticed a lot of young girls who came to the store with their elders did not buy anything from the store. Upon enquiring, it was realised that the young women looked for contemporary designs in their sarees and assumed Nalli was all about Kanjeevarams. They were surprised when Lavanya asked the store staff to bring out a rich variety of sarees of their preference. When this observation was brought to the notice of the Store head and senior employees, they did not consider it to be a demand leakage as they thought younger women rarely visited the store and were not Nall's target customers.
This is where resilience comes to play. Instead of getting frustrated, Lavanya put herself in the shoes of the store head and senior people. She realised they were well-meaning but their opinions were shaped by their experiences. She had to bring in evidence to back up her opinion. She tracked the number of younger women and older women walking into the store and generated systematic data on footfalls and conversions. The data confirmed the significant difference between the conversion rates for older & younger women. The store head and seniors were surprised but argued how the existing store format could be changed. Again, resilience is required at such a challenge. After reflection, introspection & conversations, Lavanya concluded that a solution had to be found beyond the existing setup. That is how the concept of "Nalli Next" stores came up which offer premium products catering to all the needs of women in the category of designer & cocktail wear saris, heavy saris for weddings & special occasions, lehengas, apparel & other ready-made garments.
The Story of Malaka Spice: Resilience to deal with crisis
Praful Chandawarkar along with his wife Cheeru Chandawarkar established Malaka Spice, a restaurant serving Southeast Asian cuisine in 1997. At the early stage, his style of running the business was authoritarian and non-participative. With the rapid growth in business, the senior management came under stress as all problems came directly to them due to the absence of delegation. This made him realize the need for a change in work style and management.
With the help of an external coach, Praful reflected on his own style and work methods. Over a couple of years, he reviewed the work practices at Malaka Spice. Accountability was strengthened and people were empowered by giving them the responsibility of managing things on their own. Systems were set up for lateral and vertical communication on a daily basis. This ensured alignment of priorities and coordination in the effort. The nature of discussion and consultations with staff underwent a change. This helped Malaka Spice when dealing with crisis management.
When the pandemic hit, Praful anticipated its possible impact on the hospitality industry. With his senior team, he quickly worked out innovative business ideas and executed these effectively. These ideas provided new revenue streams. These included running home delivery operations, family meals, DIY curry pastes, Malaka Market and much more. Employees were encouraged to exploit new business opportunities. Two of them started supplying materials for the new revenue streams. A person pitched for the franchise of Malak Spice home delivery outlet for an area that the organisation couldn't reach out to. Different people picked up different roles and skills which helped them enhance their earnings. Despite the hospitality industry being badly hit due to lockdown and other restrictions, people were energised to create and sustain a whole new set of outcomes. As a result, Malaka maintained profitable operations during the pandemic without corpus or charity and protected the jobs of its employees.
Case Analysis through the Lens of Resilience:
Let us examine Lavanya's behaviour when she faced setbacks. She did not resort to vilifying other parties (popularly known as the Fight Syndrome) and neither did she withdraw or retreat from the problem and from the people (as called Flight Syndrome). Both Fight and Flight Syndromes are counter-productive to problem-solving and take us nowhere near to the solution. Instead, Lavanya took a pause to exercise self-control and discard wrong impulses. This requires the awareness of the emotional grip on the mind and soundtrack of thoughts. With the help of these mental capabilities, Lavanya was able to come to the right conclusion.
In the case of Praful, he moved his organisation from crisis-induced learning to anticipatory & participatory learning. Instead of learning from mistakes, the organisation anticipated future problems and found solutions beforehand. He also used the principles of prediction, understanding and control to dampen organisational stress. When employees have a reasonable understanding of what is likely to happen and when it will happen, they feel they are aware of the situation and feel secure. Providing people with an understanding of why certain decisions were taken is critical to curbing the anxiety. Giving people more control over their work and situation helps to keep them motivated.
Therefore, one must "Pause" to gain heightened awareness. Pay attention to the internal monologue that goes in your head all the time. Are those thoughts helping you or are they getting in your way? Talk it out. Learn to challenge your thoughts, feelings and actions that you plan to take. What you resist persists; what you embrace dissolves. The practise of mindfulness helps you enhance your self-awareness.
One must move from a counterproductive flow of thoughts to a constructive flow of thoughts. Rather than dispensing answers, one must ask questions with curiosity. Instead of advocacy, one must focus on inquiry and dialogue. Lastly one must introspect belief and behaviour. Hence the set of beliefs together set of behaviours is truly at the heart of practising personal resilience.
The above article summarises the online masterclass "Personal Resilience – Learnings from the Stories of Family Businesses." conducted by Prof. S Ramnarayan at the Indian School of Business.