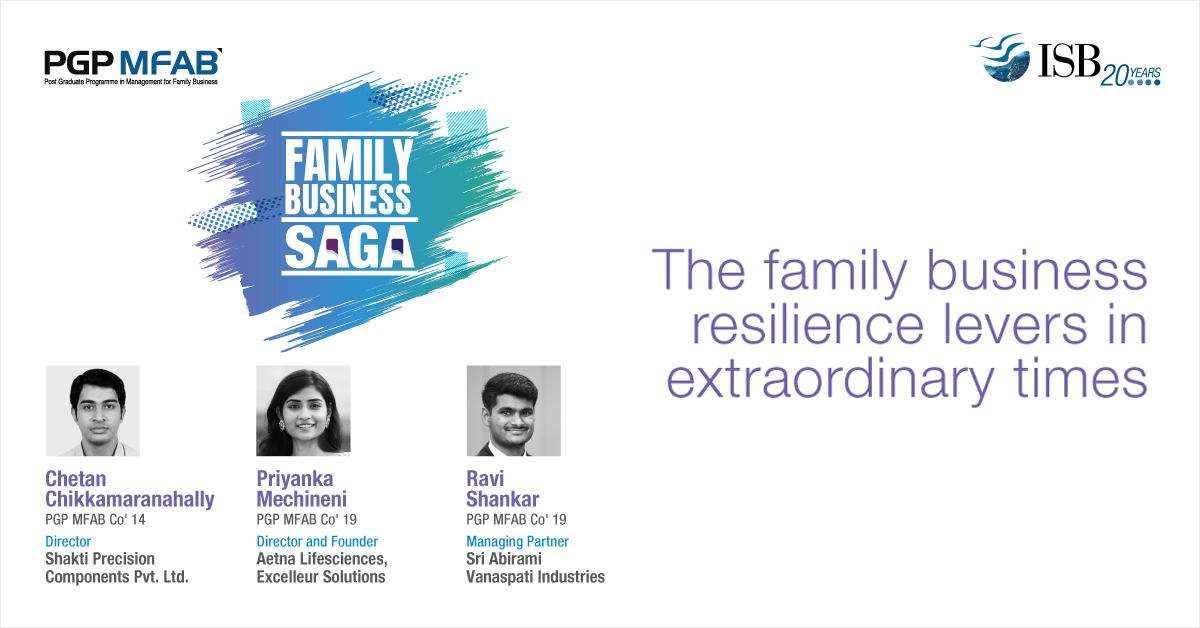 The current global pandemic induced by Covid-19 has brought disruptions of unparallel magnitude in recent times. As the world reels through these unprecedented times, family businesses around the world are evolving rapidly to cater the new realities and are developing new ways to deal with the economic downturn.
To address the issues of recent extraordinary times and what resilience levers Family Businesses have to cope with it, former PGP MFAB students & current ISB Alumni joined the "The Family Business Saga" discussion.  Here is the summarised version of the session.
Pandemic Redefining Work & Family Boundaries:
When a crisis hits a family business, it also comes home, increasing the level of work-family conflict. The case has aggravated even more in the current situation where work and family boundaries are being redefined with social distancing measures.
Speaking on the topic, Chetan reflects from his own experience, "Although we were taking all the necessary precautions at home and office, the second wave made us realise the importance of keeping individual family members & business stakeholders safe. If all of us got infected at the same time, there will be nobody to take care of day-to-day business functions. Our adaptability towards using digital resources for meetings, everyday discussions and client relationships became an advantage, helping us to keep going. The crisis does hit the office & home at the same time, but a well-thought-out plan can keep problems at bay.  It also comes down to each family member and employees taking responsibility and precaution to ensure everyone's safety."
Sharing his thoughts on the topic, Ravi added, "There was a time during the pandemic when all of the family members were hit by Covid-19 at the same time. It was a bit difficult for us to look after each other and be aware of everyday work at the business. We had to adapt to a different style of working over the past year. As long as family businesses are able to make that change, it bodes well for the family as well as the business."
For Priyanka, the situation looked a bit different in her family. "While none of our family members (at least the ones involved in the business) were directly affected by the virus, but my father's business (hospitality) took a bit hit due to the lockdown. The industry was taken by a storm with a period of complete shutdown and zero cash flows. We had to look for ways to mobilise, liquidate as well as a set sight for different opportunities. This made us realise the importance of risk diversification."
Empathy & Bonding in the Times of Crisis:
Family businesses are also known for their tendency to allow more space for emotional factors than other businesses do. Emotions flow from the family to the business and vice versa. These features offer a significant advantage in times of crisis.
Speaking on the topic, Ravi stressed the importance of empathy. "I believe it is first on the family businesses to showcase understanding and care to its employees during a crisis. Businesses should be ready to support them during these tough times. Once family businesses are able to take this first step, there is a good level of reciprocation that comes back from the employees as well."
Priyanka recollects a change that the pandemic brought in their family. "Though all the family members & stakeholders spoke to each other every day in terms of business, it was during the pandemic that we all connected on the personal level as well and spoke about our hobbies and interest. This brought a lot of positivity to the workplace environment and the whole culture of the working changed significantly."
Echoing with thoughts of the panellists on the topic, Chetan added, "The pandemic came as a reality check for us as it gave us a new perspective to look at things and forge in a lot of new relationships. Your colleagues are just like your extended family and taking care of their health and well-being became a priority. Once that is taken care of, it is win-win for both – the people and the business."
Crisis & the Financial Resource Management:
Crisis not only affects the everyday business but also the management of financial resources, shifting the focus from the income statement to the cash flow statements and raising the issues of the investment opportunities.
Speaking on the topic, Priyanka highlighted how everyday management in their family businesses changed, "We as a business started re-analysing and re-working from the grass-root level. More than anything, the pandemic hit the continuity of most businesses. It was not about the profitability or growth at one point in time but rather about survival. It essentially included taking care of overall business including sales & production, liquidity & breach concerns, and refinancing issues. To maintain the survival of family businesses, management of cash flows is most important during a crisis. We redefined our targets & goals at every level of the organisation and identified key stakeholders. All of this was possible only by looking at cashflows at a magnified level rather than income statements."
Adding another point to the topic, Ravi said, "The RBI loan moratorium gave businesses a sigh of relief and time to cushion the effect. But the reality hit when the moratorium was withdrawn and businesses had to pay the interests on the loan they had taken.  Another thing that has come up in the last few months is the commodities super cycle where we are seeing inflation in various sectors go up by 30-40%. Since prices have gone up, it is important for family businesses to prioritise the liquidity, not just for their own businesses but also the downstream distributors and wholesalers to ensure purchases. So, the shift from the income statement to cashflow statements is for the entire ecosystem of businesses, suppliers & customers."
Lessons from the Crisis:
As family businesses span many generations, they have often overcome every crisis with lessons that can be still relevant today.
Sharing his thoughts on how relevant Covid-19 and its consequences has been, Chetan said, "Any crisis, be it economic downturn or pandemic, businesses do get hit in a similar fashion, barring few small differences. In the case of Covid-19, the difference is taking care of the health of stakeholders. We ensured each and everyone related to our business got vaccinated as soon as possible. Similarly, for finances and cashflows, we sat down with our partners to understand their issues and work on finding ways to ensure the sustainability of business during tough times. This has definitely helped us a lot."
Multi-Dimensional Resilience:
Family-controlled businesses need to address this unstable situation not only at the business level but also at the intersection of the family, business and ownership. While this adds another layer of complexity, crises allow family businesses to forge a multidimensional resilience and strengthen it over generations.
Adding her perspective to the topic, Priyanka articulated, "The way our family business has been organised, it is probably the way modern family businesses are trying to evolve. Our business is more modular in nature and with the pandemic, it has become more important to have risk diversification in your portfolio. Though these modules fall under the bigger umbrella of the family council, each module of business works more independently. This helps in building more leaders in the organisation which brings more resilience and strength. Hence, it creates a strong foundation for the family businesses in diverse industries and enables them to withstand crisis more effectively."
Economic Fallout & Measures:
As the economic fallout from the pandemic hit family businesses & their balance sheets, many of them took drastic measures to preserve cash, such as significant cuts on capital expenditure, dividend cuts, reductions in external spending and temporary plant closures.
Addressing the subject of taking measures, Ravi opined, "I believe different sectors have been hit differently by the pandemic. Each family business had to evaluate which division required more attention and there few hard decisions had to be made. But as we have witnessed historically, every period of crisis has been followed a period of high growth. It is important for family businesses to conserve cash and reduce capital expenditure in order to capitalise in period of high growth which we expect once the pandemic is over."
Long-Term Gains over Short-Term Profits:
The long-term outlook of family businesses distinguishes them from other enterprises. By focusing on resilience, as opposed to short-term gains, family businesses are able to weather economic storms in a better manner.
Speaking on the subject, Chetan put forth his views. "Family businesses generally focus on long-term visibility, viability and survival. Leaders in family businesses do not dive in and focus on just making their balance sheets look good or make as much as money possible in a short period of time. They invest in long-term continuity, survival & growth of family business in order to pass it on from one generation to another. This helps family businesses to cope with the crisis in a much better way as they are able to take a step back ensuring enough reserves to get back on track once the economy springs back."
Employees Relationship during Crisis:
Family businesses are also less likely than their non-family counterparts to lay off employees during economic downturns. Longer employee tenure, in turn, reinforces the culture, while increasing efficiencies.
Speaking on this phenomenon, Ravi added, "Family businesses tend to think of employees as a part of their extended family and are likely not let go of them in times of crisis. This makes employees feel more closer to the business and develop a sense of ownership which in turn helps in increasing productivity. Additionally, when you don't lay off your employees, you save time and resources on hiring and training a new employee. This is another benefit family businesses have with employees having longer tenure with the organisation."
The above blog summarises and presents excerpts from an online panel discussion organised by The Indian School of Business on the topic "The Family Business Resilience Levers in Extraordinary Times" dating 31-07-2021. Chetan Chikkamaranahally (PGP MFAB Co'14) is Director at Shakti Precision Components Pvt. Ltd. Priyanka Mechineni (PGP MFAB Co'19) is the Founder & Director of Aetna Lifesciences & Excelleur Solutions. Ravi Shankar (PGP MFAB Co'19) is the Managing Partner at Sri Abirmani Vanaspati Industries. The session was hosted by Aneesha Chowdary, Associate Director of Admissions at ISB.
Author:  Paritosh Garlyal