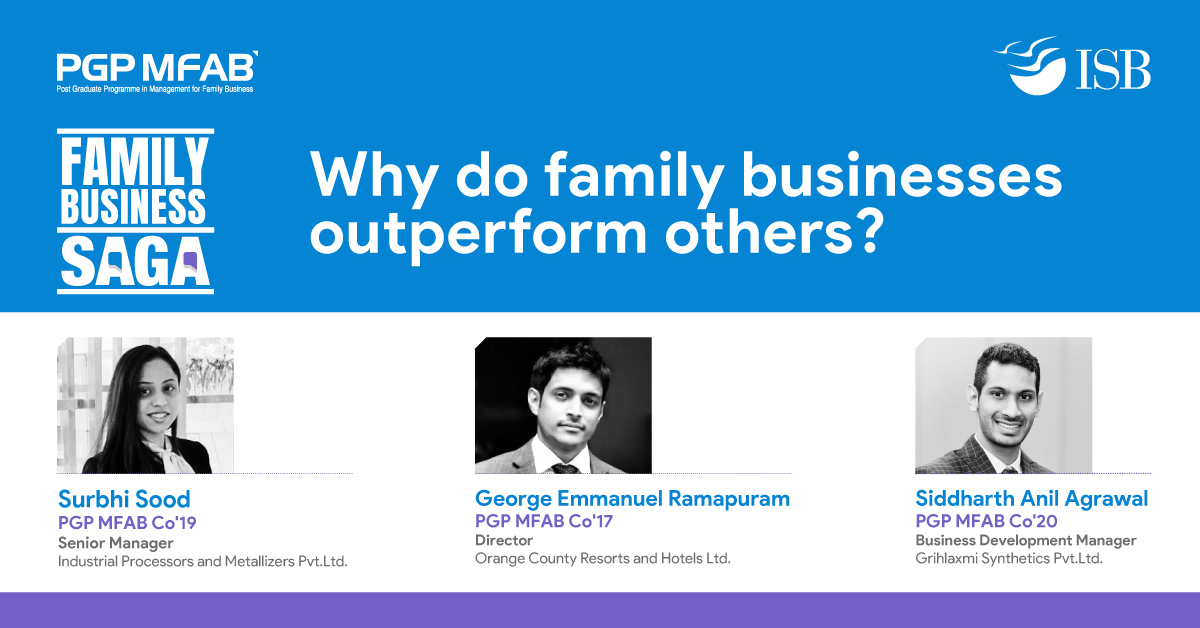 Family businesses are the most prevalent form of business around the world. Various studies conducted in the last few years indicate that family enterprises are more successful than their non-family counterparts. For instance, research in large, publicly-traded, family-controlled firms revealed that their long-term financial performance was higher across the board. Similarly, research by Credit Suisse into data of 280 family companies worldwide showed that family businesses outstripped public companies in revenue growth a year – this during the global recession of 2011-12.
In a discussion over the topic "Why Family Business Outperform others?" a few interesting factors were discussed between the students and alumni of ISB's MFAB programmer. Following are the key factors observed and discussed:
Ability to bet on solid innovation investment
Leaders of family businesses live through decades of economic cycles and don't waver much due to the ups & downs in the way non-family businesses do especially in uncertain times. The long relationship with the industry, backed by years of experience, helps leaders make better investment decisions.
Every problem is an opportunity
For any business that has been in operation for decades, the leaders utilize the collective experience while facing a crisis such as a recession or pandemic. The leaders & members of family businesses usually stick around tough times, unlike professionals who head for greener pastures. With no option but to stick around, family businesses see every predicament as an opportunity. Bigger the problem; the bigger the opportunity. Therefore, family businesses can put the collective experience to better use to sustain until better times.
The value of stewardship
The values of stewardship in the family business should be engrained in leaders & family members. With the mindset to pass on the reins to the next generation in a better state, family businesses focus on long-term success & returns. A family business can be considered a family cow. To enjoy the milk, each generation has to nourish & nurture it, so that the next generation too can reap its benefits. The values of stewardship ensure that leaders do not prioritise personal benefits over the business.
Better financial self-reliance
Family businesses do not like higher debt and are majorly self-reliant. Though debt is necessary for growth, family businesses use debt at the right time and work cautiously to clear it up in a time-bound manner. Since the focus is on the long-run margins & returns, family businesses have sturdy cash flows & higher returns.
Generational business & conservatism
A family business may not be the first in riding the innovation curve but are always among the first in early adoption. In family businesses, values are rooted in the family tradition, and rightly so. Tradition is like a bowstring – the more you stretch it, the farther you can get ahead. It ensures the different generations working in the business are able to work together & have family values as the guiding light. However, tradition should not become a burden or a hindrance to contemporary growth & innovation. The co-existence of multiple generations in a family business ensures the balance between tradition & modernity. Harmony & inter-generational communication are the necessities for steady progress & growth.
Risk – aversion & acceptance
Family businesses aren't risk-averse but are more prudent in approach and take all aspects into account in view of long-term viability. Though family businesses generally do not venture into unchartered territories of business, vertical integration is a typical approach in the family business in terms of diversification. This not only ensures growth but also poses a minimum risk in approach & maximum self-dependence, leading to stable growth & expansion in knowledge of the industry.
The family alpha factor
Family businesses are more realistic in their targets & take long-term returns over quarterly returns more into caution while making decisions. This leads to a steady progression & more growth over time. Since family businesses are less reliant on funding from share-holders or banks, they are very independent in terms of decision making & adapt easily in any circumstance.
External guidance
Having external guidance in the family business always helps. Bringing external board members fetches different points of view and insights, helping family businesses to broaden their perspective & make more sound business decisions. The choice of board members should be diverse & possess all-around business expertise for superior guidance.
The above article summarises the family business saga interactive session on the topic "Why Family Business Outperform Others?" organised by ISB. The family business saga is a series of sessions conducted by students of the MFAB programme with an alumni panel. This session had Mr Siddharth Agrawal, Ms Surbhi Sood & Mr George R. as alumni panel along with Ms Trisha Gupta as moderator.
Author: Paritosh Garlya