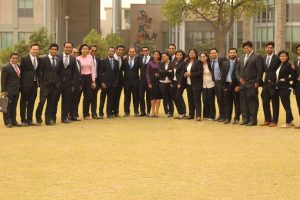 The Indian School of Business (ISB) sets itself apart from all other B-Schools in having a rich blend of students coming from diverse backgrounds and work experience.
At its Mohali Campus (part of the One school two campus theme of ISB), the institute boasts of 280 students drawn from some of the top notch academic institutes of India and the world.
You will find students from reputed institutes such as IITs, NITs, NSIT, DCE, Presidency College, St Xaviers, SRCC, St Stephens, Goenka College Calcutta and Foreign Universities such as University of Pennsylvania,UT Austin and HKUST.
ISB takes care to give admission to candidates with diverse work experience backgrounds. This was one of the biggest push for me too when I decided to apply.
It is also a place where you would not find a fresher just out of college doing an MBA, but where everyone has something to bring on the table. The work experience varies from 2 to 20 years and more.
MBA is not only limited to knowledge gained from reading the books but also should entail experiences garnered from the job life and practical experience.
The fact that I will be interacting with my batch mates, who come from varied industries from diverse sectors, was a boost in itself. From doctors,
engineers, Chartered Accountants, Regional Managers of Banks to artists, musicians, National level sports personalities and entrepreneurs, you will find achievers from all walks of life.
Ranked among the top 30 B-schools globally (as per the prestigious Financial Times Global MBA Rankings 2016) ISB has been able to carve a niche for itself.
It has one of the stiffest admission processes and if you are able to crack this tough nut, an amazing experience awaits you.
Apart from one's GMAT score which is also averaged at a staggering 710-720 (range being 610-780), one needs to showcase brilliance in various facets of work, life, academics and should bring in genuine and honest recommendations.
There are students who keep trying and are reviewed as re-applicants the next year if their applications didn't make the cut.
One round of advice I can give to aspirants is that one has to be serious with the essays in the application as that is the mirror which gives the true image about you as an individual.
All significant achievements in one's career can be highlighted through the essays. Thus, they are very very important and have a significant weightage in the final selection.
It doesn't matter if you have not done well in one of the facets. Your ability to bring out the best in some other domain is what decides your crossing the line and making it here.
Another big advantage of ISB is that it draws the top faculty from top notch global institutes like Wharton and Kellogg. It is a mind blowing experience to learn from such stalwarts.
Academics at ISB is an intellectually stimulating experience and one will be having the opportunity to go through Case based learning which is very interactive.
Apart from academics, ISB has many student clubs which are the professional and social clubs. For example, on the one hand, you will have the Graduate Student Board and Senior Executives Club and the musical club, sports club and many more on the other.
ISB provides you opportunities unparalleled to bring out the best in you. All of this culminates in the strong placements that happen at ISB. In 2016, the record breaking 1100 plus offers to its 812 students stands testimony to this fact.
With companies coming from all sectors and Consulting being the most sought after, ISB is one of the favourite hunting grounds for the recruiters for years now.
My one piece of advise to all aspirants would be to work hard on the application and give it your best shot. Yes, it is a herculean task to crack ISB but if one has the grit and the determination then ISB will turn into a reality …. Live it for a lifetime.
Rahine Bose is student of PGP Class of 2017 at ISB. His last industry role was Chief Manager & Regional Head Sales at ICICI Bank Ltd.
First published in