17-year undergraduate stood at the entrance of the Oberoi Hotel in Hyderabad each day and for hours would quietly watch people walk by. The General Manager of the hotel observed this for many days and one day he got curious.
'What are you doing standing here?' he asked the boy.
'I have nothing much to do after my classes, so I am standing here watching people.'
'Would you like to work in your spare time?'
The boy gladly accepted the offer and joined the travel desk as a part-timer working the second shift or the night shift. A structured and organised way of working, however, was not his disposition. Creativity was his forte. He proceeded to pursue a job in advertising three years later with a PG Diploma under his belt. He was the youngest marketing officer in Associated Glass Industries.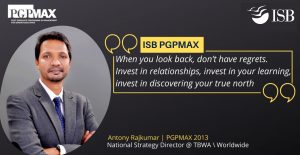 The boy, Antony Rajkumar, PGPMAX Co'2013, is the National Strategy Director of TBWA, a global ad company, and is founder and Chief Storyteller of StoryWalker, founded in 2016. StoryWalker is a kids' content company that creates original IP for children globally in the 3-6 and 7-10 age groups.
'A personal experience with my daughter influenced me significantly. It made me believe that it's easy for us adults to talk about courage, determination, etc. but for the young minds it is a puzzle. Such values can be best taught through stories.' Antony writes stories for modern-day parenting. 'Stories,' he says, 'can transport you to the unknown and can be used to instill enduring and beautiful values within.' The STORYWALKER365, an app he has developed, has stories that are consumed by children delightfully and easily. He has started an initiative called 30Blocks, sharing stories and story-based activities for families with young children. 'Storytelling is the most powerful way to put ideas into the world today,' he quotes Robert McAfee Brown.
He also runs workshops for organisations and helps senior leaders craft and build their stories. 'All celebrated leaders are good at inspiring not because they are great communicators but because they are authentic and stories help eke that out.'
At 30 he was offered branch manager role in the advertising business in a non-profitable company, without credentials or the requisite experience for the job, because 13 people had rejected it earlier. The opportunity to stem attrition and grow the company into a profitable business, which eventually he did, was a blessing. Leadership skills, ability to win business, and virtues he had never imagined existed within him flourished. The first ten years of his work life saw him in roles that came to him sooner than he had expected. At 35, he turned down an opportunity to become a COO of a company.
Antony had a lot to learn. He couldn't ill-afford to spend 15-20 years of his career the same way. 'I had to equip myself with version 2.0 of me. I had to challenge myself. I wanted it tough and hard. That's what brought me to ISB.' For all the money in the world he would do nothing that he wasn't passionate about, he says. He wanted to be the best storyteller and that drove him insanely. 'When you want something dearly, the only person who can stop you from getting it is you.'
Antony picked up on subjects that were distant to him, like process management, analytics etc. the exact things he later became a champion of in the organisations he served. He attributes this skill to the interest generated in the subject during the classes. 'The way the professor taught has left a huge imprint in my mind. I have incorporated the learning in my daily life.' Subjects can be dull, but a good educator can generate interest in it and make it an unforgettable experience.
ISB made Antony more resilient, more confident. His experience at the School is replete with aha moments. The School is a place of bountiful opportunities, he says. Meeting highly successful people and forming deep and special lifelong connections are one of the many. 'In my life, I usually meet people in my profession the most. I may never breakfast or interact in a casual friendly manner with someone running an electronics company or the MD of a software company.' The learning at the School was not just from the subjects but was also from one another.
'We are all about connection. When I look at people and talk to them, I realise how similar our struggles are, how similar our organisational issues are, how similar the problems with our teams are.' Storywalker was funded by 6 of his ISB friends. 'Who would dare to put money on a story company? It's all about relationships. They would reach out to me for any information on brand creativity or storytelling, and I would reach out to them for my doubts on their subject of expertise. It's because there's no agenda and I can rely on them.'
Things will not be the same all the time, he believes. 'You need different kinds of jobs in the second phase of your life. You must be a sought-after person, a person who stands for something. That doesn't happen early in the career.' His earlier life experiences have made him look at these things closely. He observes and is open to learning from around him. 'It is lonely at the top. You cannot share your fear with anyone and everyone, else you will be construed as weak. When you grow older and become wiser, you need people who will show a mirror to you, people you can fall back on, in whom you can confide. ISB gave me that cover.'
His advice to the current batch and for the course aspirants? 'When you look back, don't have regrets. Invest in relationships, invest in your learning, invest in discovering your true north. This is a lifetime opportunity that will not come again.' He advises the aspirants to probe within on the reasons for enrolling. Wrong reasons don't make the right decision, and you must discover your true calling to be successful.
ISB's PGPMAX is a 15 month, Global Executive MBA level programme designed to meet higher career aspirations of Experienced Professionals and Business Owners/Entrepreneurs with 10 to 25 years of work experience Click here to know more.