"ISB is not an entitlement. Hard work, clear goals and focus are essential to make the best use of the opportunity that ISB is."
It's fascinating when someone joins a B-school for her thirst for learning as the only reason. Gamya Goli, Scholar of Excellence – Co '18 PGPPro, Indian School of Business (ISB), began her career in a start-up and is presently the Site Lead at Google. She has worked at the US Department of State as a fraud investigator, got trained by the US FBI on counter-terrorism interrogations, went undercover to bust high profile frauds, and has also saved two girls from getting traffic. From not even knowing what operations meant in an IT services company, where she joined after her stint as an investigator, to becoming Head of Service Operations for the largest SBU at an IT services company, her journey is awe-inspiring.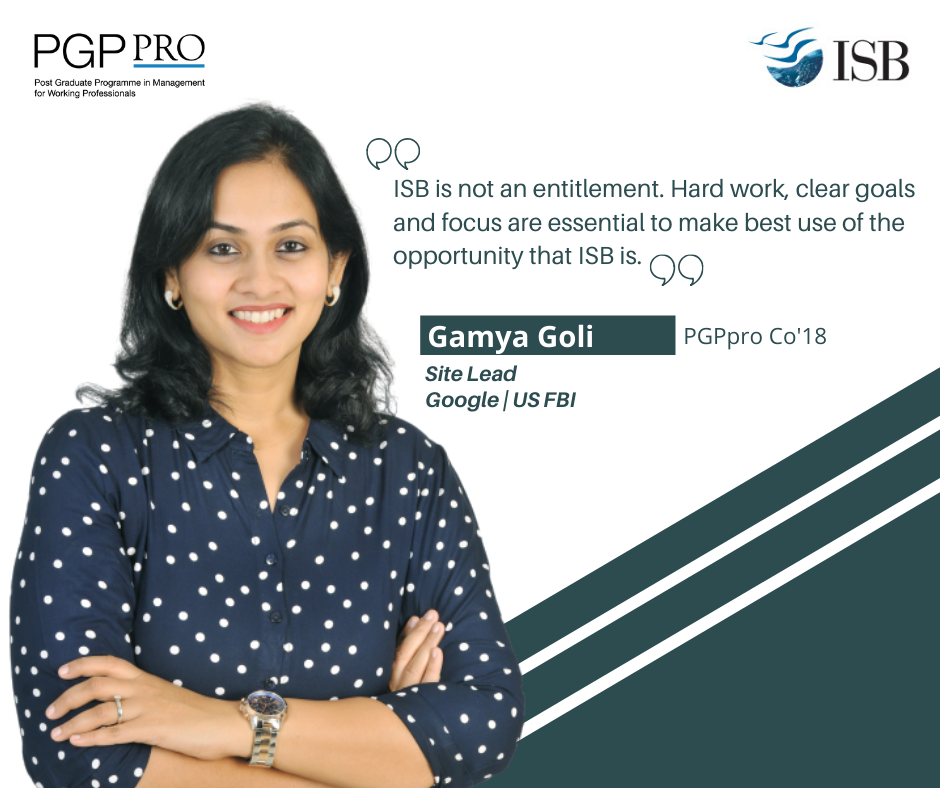 When asked about her journey at ISB, "The bliss of learning was so overwhelming I used to have tears of joy in the classroom. ISB has been such an enriching experience." ISB is a dream for many as it was for Gamya, and PGPpro was the weightiest of all the options for its curriculum and flexibility, she says. The scope of a rich and stimulating learning experience while sitting next to a student of similar or a greater number of years of experience motivated her.
About ISB experience, she adds, "I think the school goes beyond teaching just the subjects. The experience was holistic, has taught me to be strong and to be able to face the challenges of life with aplomb." She believes ISB is a great enabler and nurtures the mind to think and act beyond one's own imagination. Gamya calls out that the course is demanding and what one carries back from the school, depends on the extent of effort one is willing to put in. Discipline, Determination and Dedication (3 D's as she calls them) are paramount to coast over the rigorous course at ISB. To extract the maximum from the programme, she followed a strict discipline of setting aside a few hours each day despite having a demanding career. She set tough goals to motivate herself—goals such as not allowing herself to play with her 18-month old child until she had completed a topic.
According to her, the advantages of being a part of the ISB alumni are beyond doubt. She attributes the connect to the fraternity for her job at Google. She herself has helped her peers get a break post ISB. She has given several referrals to ex-students and fellow students of her class. Gamya is a great advocate for the quality of the curriculum and the top rung teaching at ISB.
"ISB is not an entitlement and neither is it like a walk in the park. You have to put in the effort. There has to be a clear goal and focus on why you are doing a course at ISB. If you are not investing the right amount of effort or if you are not able to make the best use of the opportunity, you have to think about how you can re-strategise your entire plan for desired results."
About her professional journey, "One must never look for instant gratifications whatever job one is in," she says. Life is about long-term gains. You never know what the small things you do today, can lead you to. While speaking about her career graph, she says she didn't ever limit herself to just her job duties or comfort zones. She says she always took on challenges and worked on complex projects which earned her rich, diverse experiences and also opened up various job opportunities. "If opportunities do not knock on your door, focus on re-building the door, and opportunities will strike," she says.
About her leadership journey, she says, "A core principle I abide by is to do the right thing, no matter how difficult the path is. I make decisions based on the impact it could have and the number of people it would positively affect. There are always a lot of expectations from a leader and not all leadership decisions might yield the desired results. But again, whatever the outcome, one must not digress from one's core principles". She firmly believes and advocates that if what one does is right for the greater good of a larger population, in the long term one will be respected, even if the short-term results are not favourable. "Short term results, no matter how tempting and desirable, are not worth compromising core beliefs for."
On team management, Gamya says "As leaders, we need to inspire people to rise above the poverty levels of ambition; a phrase I heard from the Chief Economic Advisor of India, our Professor Krishnamurthy Subramanian and follow it by heart". As leaders, we need to show our people their potential, motivate them and help them achieve success." She says she has deployed the various management principles she learned at ISB, to get her teams motivated and nurtured them towards delivering high performance.
She finally adds, to be a successful leader, one must find the right cord of balancing employee morale and business goals.
– Gamya Goli, Scholar of Excellence – Class of 2018, PGPPro