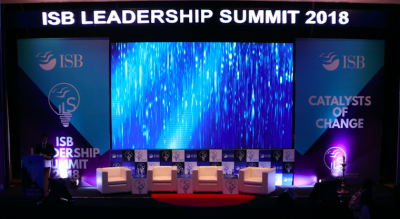 Every year ISB hosts a thought leadership summit-the ISB Leadership Summit (ILS), inviting exciting and extraordinary leaders from the worlds of business, politics, media and entertainment and sports. These brilliant leaders share their inspiring personal journeys and innovative ideas across a series of individual talks, panel discussions an 'fireside' chats. This year's ILS theme, 'Catalysts of Change', was chosen to signify the importance of change in the world we live in. With the advent of better and faster technology, disruptions are occurring at break-neck speeds, in some of our traditional industries. Today, more people are tapping into their inner entrepreneur and starting bold new ventures. These young, driven individuals combined with some fascinating technology, are responsible for some truly exceptional innovations in various fields.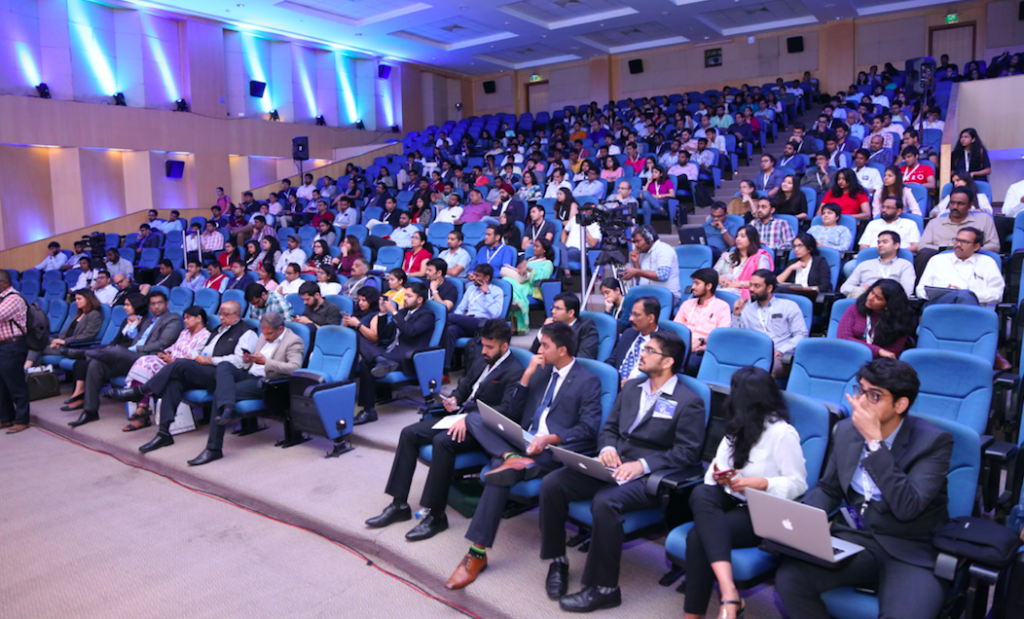 The PANEL for the EVENT
This year, ILS kicked off on 8th September, with an extremely relevant topic- 'Breaking the glass ceiling'. On the panel were three truly remarkable women-Durga Raghunath, (alum and CEO, Indian Express Digital), Asha Kharga, (CMO, Axis Bank) and Richa Kar (Founder, Zivame), with our very own Prof. Deepa Mani moderating. The women spoke about their journeys and the unique insights they bring to their jobs. They also emphasized the importance of supporting other women in the workforce (God knows we need this, as only ~5% of S&P 500 companies have women CEOs. That's a pretty dismal statistic. And that's in America.) With some stellar moderating by Prof. Deepa Mani, the panel was extremely engaging, and ILS was off to a great start.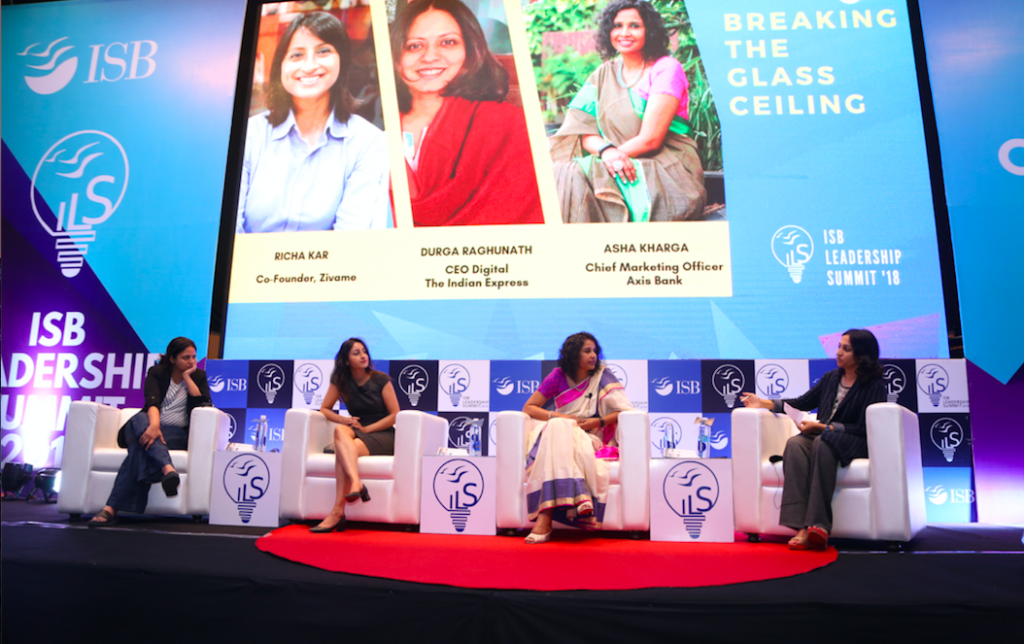 Day 1
The inaugural day started with a key note speech by Indigo CEO designate Mr. Gregory Taylor . This was followed by a panel discussion moderated by our Prof. Chandrasekhar Sripada on the increasing importance of HR in an organization with our 'Animal Spirits' panel, with young, exciting entrepreneurs such as Vivek Sunder (COO, Swiggy), Amuleek Singh (Founder CEO, Chaipoint), Rohan Mirchandani (Co-founder, CEO, Epigamia) and VC queen, Sequoia Capital's Anjana Sasidharan. In the evening, a packed house greeted actress and comedienne Mallika Dua, who cracked us all up with her witty one-liners.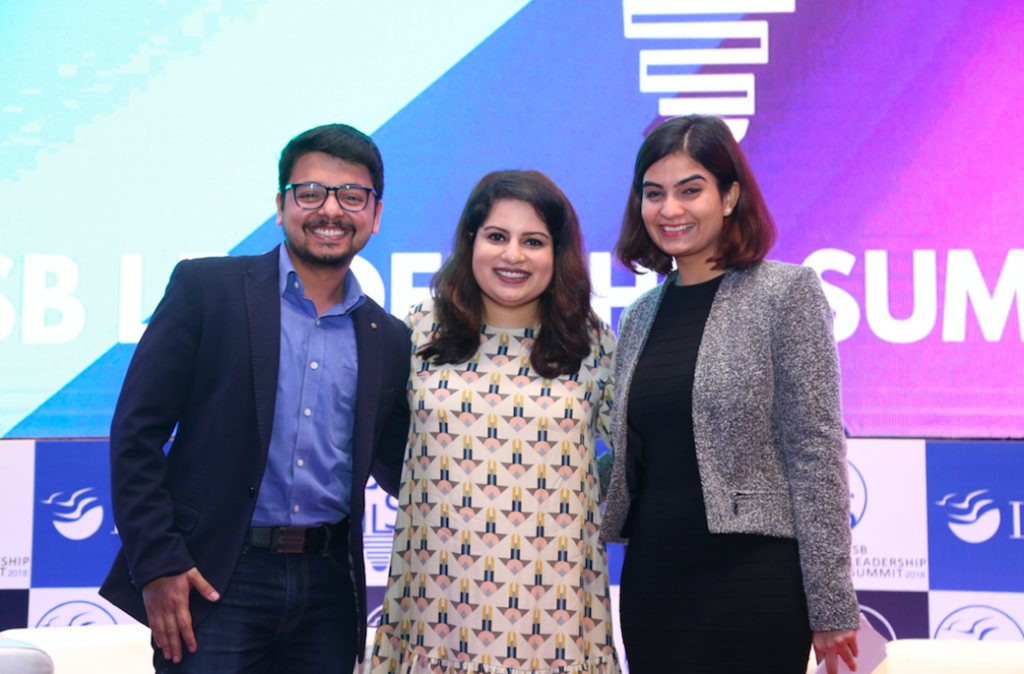 The last and most awaited session of the day saw Ajit Andhare (alum and COO Viacom18) and 'Bhagwaan' aka Nawazzuddin Siddiqui talk about their new movie 'Manto'.The movie deals with the timely topic of freedom of expression. In an auditorium that was packed to the rafters, Mr. Siddiqui regaled us with humorous anecdotes. He had us all cheering and laughing along with him, and day 1 ended on a truly high note.
Day 2
The second day kicked off with our political panel "The Journey to 2019' with speakers from the two national parties as well as regional parties such as TDP and TRS. As expected, the discussion was heated and yes, even entertaining, with Mr. Asaduddin Owaisi (MP, AIMIM) and Mr. Ramchander Rao (MLC, BJP), often debating passionately on the various topics. The afternoon saw a panel discussion on the 'Sharing economy', moderated by Prof. Bhagwan Chowdhary with Greg Moran (Co-founder, CEO, Zoomcar) and Ryan Bennett (CEO, WeWork). It was about the future potential of such innovative 'sharing' products and services.
After this, ILS took a decidedly creative turn with Abhijeet Awasthi (Ogilvy & Mather) and Soumya Parmar (Twitter), in conversation with each other about traditional TV ads vs new-age digital advertising. The evening saw an address by Rega Jha (Former editor, Buzzfeed India).In the session she walked us through her hilarious presentation on the 7 things she learned while building Buzzfeed at 22. The speech was relatable, uproariously funny and had the audience in splits.
Saving the best for the last, the final session of the summit was master political strategist Prashant Kishor's first public interview. With veteran journalist Sankarshan Thakur conducting the interview, Mr. Kishor spoke about his work with various politicians from competing parties. Articulate and diplomatic, he also announced that he would no longer go back to managing political campaigns. With frenzied interest, the session saw intense media coverage from all the leading news outlets of the country the next day and brand ISB/ILS reached millions of people pan India the next day.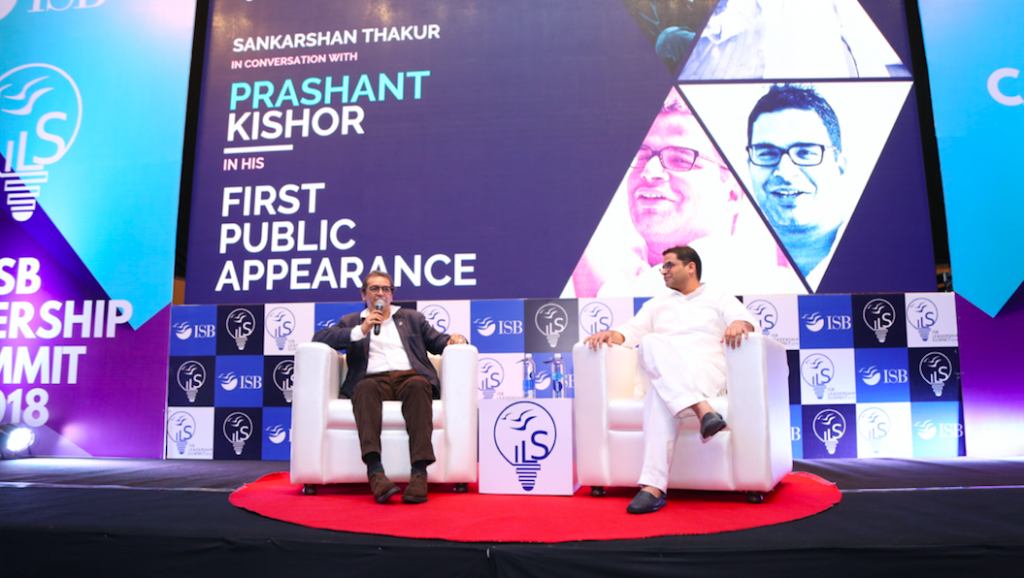 The Conclusion
With this engaging and insightful session, ILS 2018 came to an end. Through these two days, we got to hear from some of the most remarkable minds in the country, as they chased their dreams, build important things and changed the world around us. Also, for the first time in 16 years, ILS would now undertake a brand repositioning and transition from a summit to a content platform. This would mean that the cohort would see more relevant path-breaking content coming from the ILS stable throughout the year in the form of 'ILS Masterclass'
Sanaya Manek Kalyaniwala
PGP Class of 2018