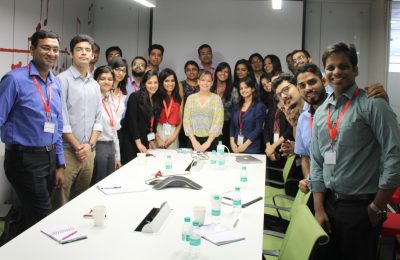 On the August 25, 2016, around 30 students of Indian School of Business visited Johnson & Johnson Medical for an induction session. It was organized by Ms. Richa Sharma, Sr. Specialist -Talent Acquisition, along with the Marketing and Healthcare Clubs at ISB.
For some students it was an eye opener to the world of healthcare, for some it was a sneak peak into Sales & Marketing in a healthcare firm, and for others it was getting to know the huge impact J&J is making to the lives of billions of people.
The learning is likely to help us in making decisions in our marketing stints going forward. Understanding that the "Indian consumer is a value seeker and not price conscious" was a thought provoking insight. It challenges us to design our offerings accordingly as future business leaders. OneTouch succeeded after consumer research showed that people don't want to buy complicated things and that it is important for us to know consumers well and deliver exactly what they want.
It also made us realize the importance of consumer research and the insights that come out of them which are the major drivers of innovation . Market Research in today's world of big data is data rich but insight poor – hence, marketing requires managers who can build insights. Understanding the importance of the sales and distribution model of having franchise specific sales team versus the industry norm of having all sales people for the entire gamut of products to converse with the influencers (i.e. well-learned doctors) was another big learning.
Our questions regarding the difference between sales and marketing, and the challenges faced by the firm were answered, giving us a lot of clarity about variations in marketing strategies at a healthcare firm. One of the biggest takeaways was that advertising in this space is primarily about educating the customers about the problems faced. It is about the potential issues that might come up and the available cures or treatments. It is not just about selling an implant but also a complete solution. Market research, observations, clinical inputs, product customization (for a country), counselling patients and using the influence of doctors is a lot more important in today's times.
We also learnt about J&J's "Our Credo" and the importance of having strong core values. Another aspect of our sessions was the chance to know more about J&J's culture, on-the-job training programs, the roles and responsibilities, work-life balance, internal mobility and the openness to innovation.
Overall, it was a great learning opportunity for all of us at ISB and it gave us a much deeper view of the healthcare industry and the prowess of Johnson & Johnson. We would like to thank Mr. Ashish Kohli, Director – Ethicon Surgical Care, Mr. Kalyan Sattaru, National Sales Manager, the marketing team consisting of Ms. Naomi Cragg, Ms. Ruchika Singhal, and Mr. Sarosh Bharucha and our ISB alumni (from 2004 to 2015!)- Ms. Aneesha Philip, Mr. Ashish Vijh, Ms. Ritu Dwivedi, Mr. Tapan Desai, Mr. Bhargava Swamy and Mr. Prashant and Ms. Richa Sharma for taking out time, and giving us an unforgettable deep dive into J&J.
– Kriti Rawal