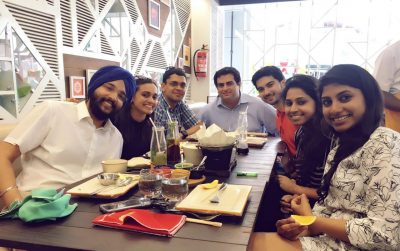 A team of 12 students from ISB campuses of Hyderabad and Mohali visited Zomato's sprawling headquarters in Gurgaon. They were introduced by Swati (HR) to Paras Arora, Product Manager, Content (ISB Co12), and Gaurav Gupta (IIM-Calcutta Co05, ATKearney) spearheading the Global growth.
The duo took the team through the internal divisions of Zomato that included Search and Discovery, B2B (ads and restaurant POS), Table Reservation and Online Orders. Zomato has grown exponentially across the borders through acquisitions of smaller firms. While in India they built the online content from scratch, for the restaurants, it was different in other countries where content was readily available online.
The firm is bullish on:
Their POS which they intend to install in restaurants. It will be a platform on top of which a restaurant can manage tables, food orders (in dining as well as takeaways or home delivery). Their vision is to have even food delivery apps use the same POS.

Global growth. The firm has expanded its operations in 23 countries. And it needs to rapidly increase its presence in more countries and increase the depth of their operations in the countries they are already operating in.
With 1200 employees (700 in sales and 120 in Tech), the business is very sales driven to generate revenues from restaurant marketing and operations. They are really fast at rolling out new products (concept to launch in 6 weeks).
From a recruitment standpoint, they look at anyone who could add value to their business – a Tech background isn't really required but beneficial. Zomato looks geared to recruit for their planned accelerated global growth.
Puneet Khanna (Co17) puneet_khanna2017@isb.edu