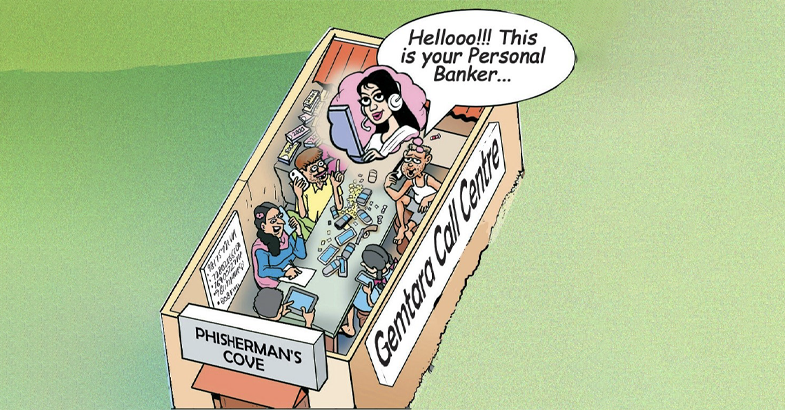 Creative Courtesy: Neelabh Banerjee
A call from the small town of Jamtara in Jharkhand to an elderly gentleman in Delhi changed his life forever. In an instant, a portion of his hard-earned savings vanished. This story is not a figment of a Bollywood screenwriter's imagination but a stark reflection of today's reality.
Cybercriminals, often from small towns such as Jamtara, have been causing harm to unsuspecting citizens by infiltrating databases of banks, insurance companies, and credit card providers. To deceive their victims, they use call centres as their tools of deception. This is not an isolated incident, as a closer investigation into newspapers and news portals has revealed an alarming increase in similar cases nationwide. As per records, 13.9 lakh cycberattacks were reported in India in 2022.
These stories of cybercrime became so widespread and captivating that they even inspired a Netflix series bearing the same name, i.e., Jamtara. The show portrayed the harrowing experiences of those targeted by these nefarious cybercriminals, providing a chilling reminder of the ever-present threat in our digitally connected world.
Cybercrime: Deceptive Tactics and Targets
Cybercrime is a rapidly growing threat that can take many forms, with perpetrators using various tactics to target unsuspecting individuals. Among the most common forms of cybercrime are phishing, spoofing, spam, and cyberstalking. These activities involve using false identities, fraudulent emails, and messages designed to deceive people and obtain personal information or money.
Cybercriminals also use other deceptive tactics such as fraudulent job offers, mobile installation schemes, and other advertisements to lure their victims into providing personal information or making payments. Once they have obtained this information, the criminals can use it to steal identities, commit financial fraud, or engage in other illegal activities.
To protect themselves against cybercrime, individuals must remain vigilant, be cautious of unsolicited communications, and avoid sharing personal information unless they are certain of the legitimacy of the request. In addition, organisations must take proactive measures to secure their databases and networks, train their employees to identify and prevent cyber-attacks, and maintain up-to-date security software. By working together, individuals, organisations, and law enforcement agencies can help combat cybercrime and create a safer online environment for everyone.
Increasing Awareness and Action Against Fraud
With the increasing number of frauds across India, stakeholders are becoming increasingly concerned. Initially, victims were hesitant to report the crimes, but there has been a shift as more people are speaking out about their experiences. This is crucial for addressing the issue and raising awareness.
As a result of these frauds, government departments, the Reserve Bank of India, and corporations, especially in the banking, telecom, and insurance sectors, have recognised the need for immediate action. They are implementing measures to combat the problem and protect their customers. Consumer bodies also advocate for legal action and work with various ministries including telecommunications, finance etc., to provide support and assistance.
Educating people about the dangers of fraud and how to prevent it is essential. The public needs to be aware of the various tactics used by fraudsters, such as phishing, spoofing, and social engineering. Individuals should also take measures to secure their personal and financial information, such as using strong passwords, updating software regularly, and being cautious about sharing personal information. By working together and taking proactive steps, we can reduce the incidence of fraud and protect ourselves and our communities.
Telecom Department's Advisory on Mobile Tower Installation Frauds
To address the increasing threat of cybercrime, the Department of Telecommunications (DoT) has issued a public advisory cautioning the public about mobile tower installation frauds. The advisory clarified that DoT and TRAI are not involved in leasing or renting premises for mobile tower installations. It also advised people to verify companies' credentials seeking money for tower installation and report any fraudulent activity to local police authorities or the DoT. To raise public awareness, the Department consulted with the telecom advocacy bodies and developed measures such as a nationwide SMS campaign, mass media campaigns, and periodic seminars. The ministry also urged the public to report any fraudulent activity and provided contact details of local field units.
The RBI also released a similar campaign urging people not to share OTPs with unknown individuals or anyone requesting it over the phone. These campaigns were successful in raising awareness among the public.
In addition to awareness campaigns, police action was taken, and several cybercriminals were apprehended. Overall, the concerted efforts of the government, industry bodies, and law enforcement agencies have reduced cybercrime and increased awareness among the public. However, it is still crucial to remain vigilant and take precautions to prevent falling prey to cybercriminals.
The Way Forward: Combating Cybercrime in India
While public awareness campaigns have effectively raised awareness about cybercrime, policy intervention is necessary to address the issue holistically. Cybercrime is a growing threat to individuals and organisations worldwide, and India is no exception. The Indian government has taken several steps to address this issue, including public awareness campaigns and law enforcement action against cybercriminals. However, to combat cybercrime effectively, policymakers must explore various options to strengthen the legal framework around data protection and security.
First, comprehensive data protection and security legislation is crucial to prevent data leaks from third-party call centre vendors of banks and insurance companies. These vendors often have access to sensitive customer data, which cybercriminals can exploit for financial gain. Policymakers must ensure that such vendors have robust data protection measures to prevent data breaches and leaks.

Second, legislation on virtual private networks (VPNs) can also help prevent their misuse by cybercriminals. VPNs allow users to access the internet anonymously, making it difficult for law enforcement agencies to track down cybercriminals. By regulating VPNs, policymakers can prevent their misuse and ensure they are used only for legitimate purposes.
Third, blocking the telecom SIMs of fraudsters is another effective measure to prevent cybercrime. Cybercriminals often use SIM cards to conduct fraudulent activities such as phishing, spamming, and spoofing. Policymakers can significantly reduce cybercrime by blocking these SIM cards and preventing fraudsters from obtaining new ones.
Comprehensive legislation on data protection and security, legislation on virtual private networks, and blocking telecom SIMs are crucial policy interventions to combat cybercrime. By implementing these measures, policymakers can provide better protection to the public and create a safer online environment. Working with stakeholders, including industry bodies, law enforcement agencies, and the public, is essential to address this growing threat and safeguard India's digital landscape.
These policy interventions are crucial to prevent and addressing cybercrime comprehensively. By implementing these measures, the government can provide better protection to the public and create a safer online environment. To combat cybercrime effectively, it is necessary to work with stakeholders, including industry bodies, law enforcement agencies, and the public. A combination of public awareness and targeted policy interventions can go a long way in combating cybercrimes in India. Individuals, businesses, and policymakers must work together to address this growing threat and safeguard the country's digital landscape.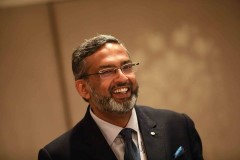 Author Bio: Rohit Dubey, a senior management executive with over 27 years of experience, is a student of AMPPP Co'23 and leads Corporate Communications at Reliance Jio. He has a diverse background with experience in Telecom, Retail, IT & ITes, Oil & Gas, Steel & Mines. An engineering graduate, Rohit holds certifications from IIM Kozhikode, IIM Ahmedabad, and IIM Bangalore. He is also an adjunct faculty at IIM Kozhikode. Rohit is a member of the policy think tank ORF, involved in telecom advocacy, and actively supports NGOs, including the Cancer Foundation and a special needs school.