"I am certain that after the dust of centuries has passed over our cities, we, too, will be remembered not for victories or defeats in battle or in politics, but for our contribution to the human spirit".
"Remarks at a Closed-circuit Television Broadcast on Behalf of the National Cultural Center (527)," November 29, 1962, Public Papers of the Presidents: JOHN F. KENNEDY, November 29, 1962
The current global crisis caused by COVID-19 has once again brought into focus the deeply complex business of policymaking. The unprecedented and unanticipated impact which the pandemic has caused has unsettled even the most competent policy-making mechanisms of the world. But the real challenge would be to recover from the battle wounds, once the dust has settled.
Just like how different countries have responded differently to the pandemic, achieving diverse results, the future too hinges on efficient and contextual policymaking. Policymakers and their advisors, therefore, need to accord adequate attention to the rebuilding strategy – which is going to be a much bigger challenge than the passing-through one.
Among many things which the current crisis teaches us, is the perfect manifestation of what former US Secretary of Defence Donald Rumsfeld famously termed as the "unknown unknowns". Things that we are neither aware of, nor understand. COVID-19 is that kind of adversary; it has moved faster than the world anticipated and acquired dangerously devastating proportions, even before an adequate defence could be developed.
What we need to therefore acknowledge is the fact that no longer can the classical approach to policymaking deliver the desired results. The luxury of planning for the long-term in a stable and predictable environment by pursuing a siloed approach may have outlived its shelf life and instead, in these ambiguous times, when the operating environment itself is highly dynamic and uncertain, policy practitioners need to demonstrate agility in planning, right from the design stages until its implementation.
The blog aims to highlight one such tool – "Policy Coherence", which has gained wide acceptance in the field of policymaking, especially in areas of sustainable development, public health, and urban planning.
Coherence in Policy Making
Policy Coherence is about different arms of government (or society more broadly) working together to find the most effective outcomes!. At the granular level, it is about identifying common goals while ensuring the work of one arm does not undermine the work of another.
Therefore, it is an approach which enhances the efficacy of implementation processes, eventually leading to synergized outcomes. It also needs to be noted that policy coherence is not a 'one-size-fits-all' approach, and therefore, needs to be tailor-made to each policy problem. As is the case with all approaches, policy coherence also has its own set of processes as well as outcomes.
The Treaty of Maastricht (1992) is widely credited to be the founding-block of coherent policymaking, at the international level. A dedicated "coherence article" formulated as Article 130 of the treaty stated that "EU members shall always take into account the interests of the developing countries when formulating policies", thus formalizing coherence". This has been followed by greater acceptance of policy coherence in several domains of policymaking, especially those involving sustainable development, public health and urban planning.
Importantly, the approach, vision, model and tool to implement it will depend on the national and regional circumstances, interests and priorities. This is where coherence becomes a complex and nuanced approach and needs to be carefully factored in the policymaking cycle.
A good example of what policy coherence can achieve can be seen in the Madurai district's COVID 19 response strategy. (Madurai district's institutional response strategy against COVID 19)"'. When the number of cases started to increase and Madurai district went on to have the largest number of cases in the state after Chennai, the TN Government appointed Dr Chandra Mohan as the monitoring officer to lead the COVID containment effort. He led the effort to conceptualise the response by way of a comprehensive strategy with 10 synergistic components involving multiple stakeholders for containing the spread.
Dr Mohan designed a strategy for active fever surveillance by involving the municipal corporation, village panchayats, the establishment of a large number of static and mobile fever clinics for early diagnosis, triaging and isolation of positive patients. Behaviour change communication through women self-help groups and strict enforcement by police, revenue and public health staff resulted in the extensive use of face masks and physical distancing.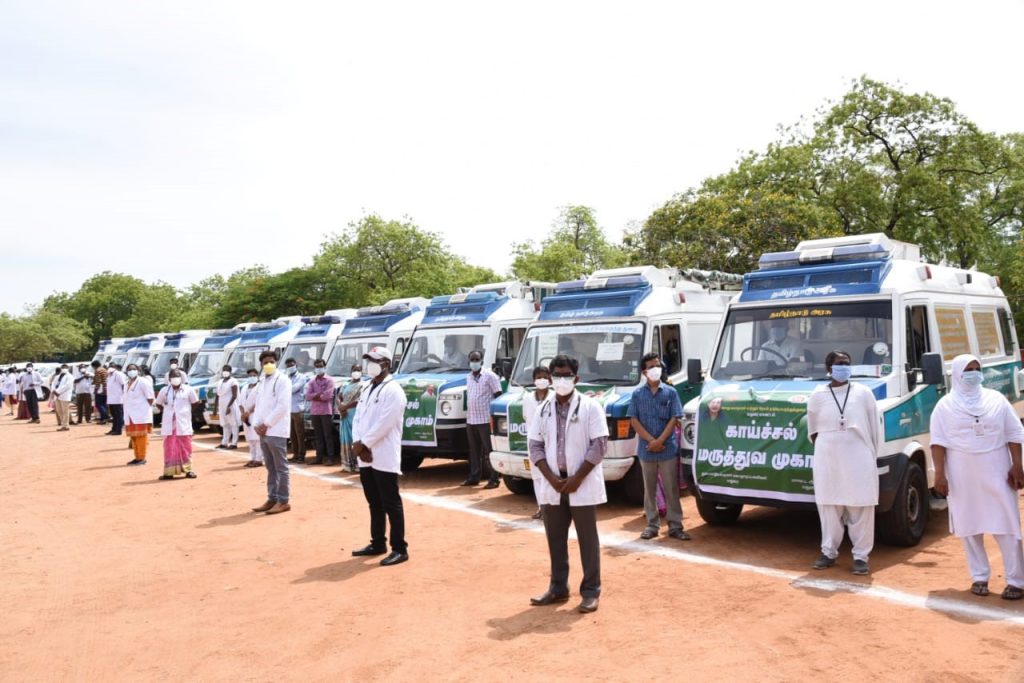 During the lockdown period, medical infrastructure in the district was rapidly scaled up to cope with the possible rise in the number of cases post lockdown. Bed capacity across various categories was increased from around 1000 beds initially to around 6000 beds. This ensured that no patient who required hospitalisation was refused admission for lack of beds. The private sector health care providers were roped in to expand care by making treatment for COVID eligible for reimbursement under the Chief Minister's health insurance scheme. A combination of Govt, private and non-profit players provided the much-needed complementarity and synergy.
All these coherent efforts resulted in reducing the number of new cases from a high of 467 to less than 200 per day, the number of active cases from 4000 to 2000 per day and the positivity rate from around 19 to less than 7. Policy coherence in this example involved strong leadership, that enabled strategizing with sound technical inputs, micro-planning and implementation with attention to detail and coordination with multiple stakeholders.
A Key Enabler to Optimal Outcomes
As seen in Madurai's example, Policy Coherence is a key enabler for efficient policymaking. It offers several advantages, especially under resource-constrained and resource-contested environments, like the one we are facing in the wake of the COVID crisis.
Firstly, it helps in balancing the inter-linkages and inter-dependencies of various stakeholders and interests to achieve optimal outcomes, which furthers the overall strategic policy vision. Without coherence, an isolated or siloed approach would only yield sub-optimal policies, with no real potential for achieving holistic development.
Second, a coherent approach can foster the involvement of partners and stakeholders for creating an enabling atmosphere. This is particularly important when faced with complex and complicated policy dilemmas, such as those involving growth aspirations vis-à-vis climate-friendly practices. More so, if such an atmosphere is created, then sharing of ideas and cooperation in terms of implementation and overcoming boundaries in policy development could also be achieved.
And Third, a coherent approach helps generate sustainable solutions, which meet the needs and aspirations of maximum stakeholders. It does this by maximizing opportunities, and minimizing potential negative impacts and risks, by finding the most optimal trade-offs and synergies.
Why is it important in the Current Times?
COVID 19 has undeniably challenged policy-makers world over. One can easily observe the unsettling impact it has had on each stage of the policymaking cycle, especially through the spill-over outcomes of one policy domain onto another. The unanticipated and unintended consequences of several policy decisions further add credence to the challenge. In dealing with some of the grave challenges caused by the current crisis like public health, education, unemployment etc, there is an urgent need for policy practitioners to think holistically about policy problems and crucially, see their connection to broader cross-cutting areas.
Madurai's synergised approach towards combating COVID 19, executed through strong leadership and multi-agent involvement shows us that coherence works as a force multiplier when putting to effective use. With correct application, it overcomes organisational siloes and harmonises institutional effort towards a common policy goal.
Therefore, what we need in these times is greater policy coherence, both at the horizontal (across sectors) and vertical levels (across levels of governance). A deliberate focus on integrating coherence in the policy-making cycle is indeed an essential imperative to achieve the desired outcomes from each of our policies. This is also important from the perspective of ensuring that actions were taken by one arm of government, or other sectors within society, do not undermine the actions taken by others. Rather, each policy should, support and reinforce one another. This way, coherent thinking and implementation would lead to effective policy outcomes.
In sum, policy coherence is an essential enabler which synergizes and helps policymakers achieve optimal outcomes, from their policies. A coherent approach allows practitioners to better appreciate policy effects in terms of unintended second and third-order interactions. Most importantly, it not only enhances the efficacy of individual policies but rather, enables the crafting of mutually supportive and reinforcing policies. This indeed is the 'need of the hour'.
About the Author
Puneet Balasubramanian is an alumnus of ISB's Advanced Management Programme in Public Policy (AMPPP) 2020. He is a keen student and practitioner of public policy, with a special interest in the intersection of Strategy and Policy.
The author would like to thank Dr B Chandra Mohan, IAS for his valuable insights and experience sharing of the COVID-19 response strategy in Madurai district.
End Notes
[i] Stockholm International Development Alliance, available at https://www.intdevalliance.scot/how-we-help/policy-and-advocacy/policy-coherence-sustainable-development, accessed on July 21, 2020
[ii] OECD (2018), "Towards policy coherence and sustainable management of the Water-Energy-Land-Food nexus in Korea", in Managing the Water-Energy-Land-Food Nexus in Korea: Policies and Governance Options, OECD Publishing, Paris, https://doi.org/10.1787/9789264306523-8-en, accessed on July 20, 2020
[iii] PA Narayani, 'COVID-19 cases stabilising in Madurai', The Hindu, July 18, 2020 https://www.thehindu.com/news/cities/Madurai/covid-19-cases-stabilising-in-madurai-monitoring-officer/article32125159.ece, accessed on July 19, 2020
[iV] Michael Howlett, M. Ramesh, and Anthony Perl, Studying Public Policy: Policy Cycles and Policy Subsystems (Oxford University Press, 2009)
Puneet Balasubramanian – AMPPP Batch 2019-20
DISCLAIMER : Any comments, speeches, articles, blogs, podcasts, videos/vlogs, opposite the editorial page/opinions andeditorials page (OP-ED), interview response etc. made by individuals should be accompanied by a clear disclaimer from the ones given below.
"The views expressed in this article are personal. Puneet Balasubramanian is a student of the Advanced Management Programme in Public Policy at the Indian School of Business."