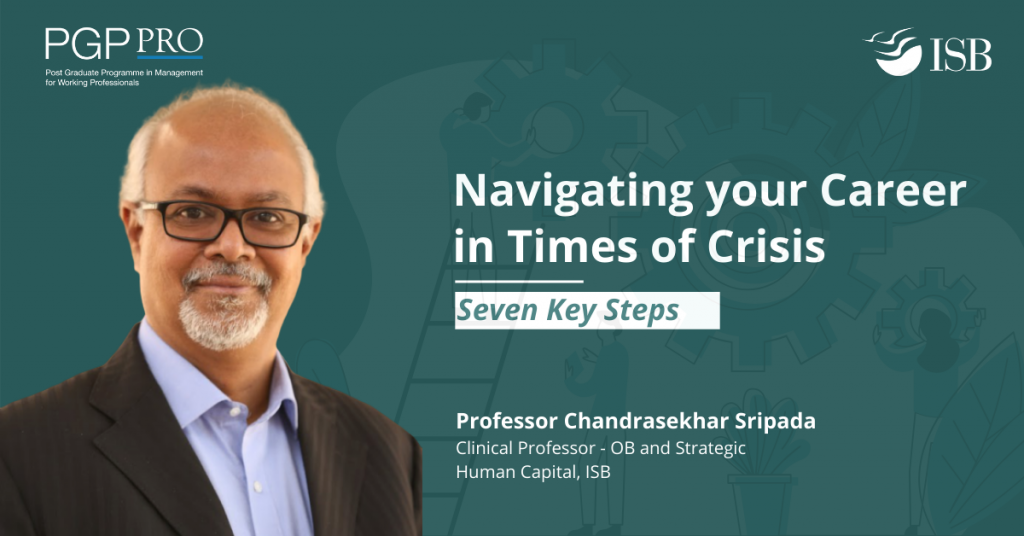 Kamal Gianchandani is the CEO at PVR Pictures Ltd., and the Business Planning & Strategy Chief at PVR Ltd. An entertainment and internet professional, Kamal has over two decades of experience in the film business and has served in key positions at major media organisations including Zee Group & Reliance Entertainment. He is also the president of Multiplex Association of India (MAI).
A PGPMAX alum from the class of 2013, Kamal joined PGPMAX when the course was fairly new. We got in touch with him recently to discuss his programme experience, life post ISB and how the film business is navigating through the current times. Here is the summary of our interaction.
Tell us about yourself, your current organisation and role, and your professional journey so far.
I am part of the film business and have spent close to 27 years in various media organisations professionally. My entire career has been mostly in the film and entertainment space, but I have dabbled in online streaming and mail order service sector as well. Currently, I work for PVR Cinemas which is a film exhibition company. We build and operate cinemas across the country and are by large, the largest exhibition player nationwide. My role is at the group level where I contribute in terms of strategy, growth and how to create long-term sustainability in our business. The cinema business has been through a lot of challenges recently due to the Covid-19 pandemic. It has been a challenge to protect our core business and at the same time add new revenue streams. So, a lot of my time is spent on devising strategies that will become the roadmap for company's future.
On a more day-to-day basis, my key responsibility is film content – interact & work with producers, the content fraternity, the external world, and all the external stakeholders. I also oversee digital and IT within the organisation. Like all other businesses, we are also trying to digitise as much as possible and create some new digital revenue streams. Film production is also a growing piece of our portfolio of revenue streams.
I am also the president of the Multiplex Association of India (MAI) and have been serving since October 2020. MAI connects all the multiplex operators in the country to associate, educate, lobby and engage with the external stakeholders from both sides i.e., content side as well as the government side. We deal with both state as well as central governments with the aim to create an environment conducive to cinema exhibition business and film business overall.
You were already leading PVR Cinemas when you decided to pursue PGPMAX at ISB. What inspired you to join the programme? Why ISB?
Like technology, management practices too continue to evolve. What I mean is management practices & styles keep changing with time. To stay relevant as a leader assuming more responsibilities, I wanted to learn new and current management practices. Though one does learn new things on the job, it is always a good idea to go back to school for a short while, just do like a refresher course and come back all charged up. To stay competitive and to understand what is happening within the management world, one should take a formal management course. For me, the main reason to pursue PGPMAX was to understand the current management practices, to evolve and to stay relevant as a leader since my responsibilities within PVR were growing. I was looking at more revenue streams, larger responsibilities and supervising a larger team. I felt that I was not fully ready to assume the kind of responsibilities coming my way and needed to equip myself with leadership style which was more holistic.
ISB provides the opportunity to learn from peers who come from diverse backgrounds. As I have spent most of my career in film and entertainment business, I had very limited exposure to other industries and people from diverse backgrounds. Hence, I aspired to be surrounded by an environment where I could deal with people who are not from similar backgrounds as mine. I found ISB as the right place to achieve this aspiration.
During the research, ISB also stood out in terms of brand equity. I visited the campus and found it amazing. ISB had PGPMAX with classes spaced out perfectly so that I did not have to attend a class every weekend. It also had the convenience of being in India with the main campus in Hyderabad & Mohali as an alternate campus. Travelling was a lot more convenient, and I could continue working without taking a sabbatical. So, all the pieces fell in place, and I asked myself – why not ISB!
You joined the PGPMAX programme when the programme was relatively new. What made you join the programme back then?
Frankly, I didn't care too much about PGPMAX being a new programme. My reasoning was based on the brand name, convenience of being in India, programme structure, and flexibility to learn without taking a sabbatical. These were the main reasons. Like I stated earlier, I have been in my profession for a long time, and it does get monotonous when you are in the same industry. I had to break that monotony and PGPMAX was the right way to achieve it.
You are now the CEO of PVR Cinemas & President of Multiplex Association of India. Where do you think you were headed in your career before you took the programme and how has the overall ISB experience affected your direction?
I took a conscious call to stay in the media-entertainment sector and even within that, I knew that I will always be in the film & entertainment business. So, my career was always moving in the direction and position that I am in today. But I think the ISB experience did have an impact on my career. I think it was a humbling experience. Once you spend more than 20 years in any industry vertical, you tend to become confident and have a fair understanding of the ecosystem. You have a system in place and that sometimes can create a false impression of you being better than what you are. When I came to ISB, I was surrounded by people who were not from the media-entertainment business. 99% of them were from a different background and when I engaged with them in group discussions within the class environment, I found it to be quite humbling as there was so much to learn from them. There were so many areas where I felt I could improve and that there were complex situations that could be seen from a different perspective. The entire experience was very grounding and made me a much humbler manager & leader after I finished this course.
PGPMAX also made me much more thoughtful. Typically, while working in just one sector, you also tend to become very impulsive & don't consider all the angles before making a decision. You may consider a lot of angles instinctively but not in a methodical or organised fashion. But with ISB, I was able to give a structured framework to my decision-making process. It made me much more thoughtful as a leader and as a decision maker.
Lastly my ability to take people along with me improved a lot. This has helped me a lot as a president of MAI as it requires me to lead by taking other members alongside. It's not like you are working in a company and these people are reporting to you. These are all different chains, some of these cinema chains are your competitors. I think the group discussions during PGPMAX helped me learn to find solutions to complex problems while creating a consensus alongside. Building consensus and then taking people along with you is a skill that I really developed during my time at ISB.
Tell us about your ISB days, specifically about the course and the faculty. What ISB memories do you connect with most profoundly?
I loved the programme structure because every sixth week you were going to the campus and spending one week at the campus. This worked well for me as it was a flexible way to manage studies & work. Those five weeks when I was not on campus, I went back to my regular work. For me, the days I spent at the campus were wonderful. The environment was fantastic and took me back to my college days. I loved that feeling. It reignited my working spirit & helped me re-energise my thought process. I wish I had studied more as I was enjoying the campus, partying hard and trying to make the most of the time which I was spending there. I wish I had focussed more on my studies but there are no regrets. In totality, I loved the entire ISB experience. The faculties were wonderful, especially the visiting faculties from top global B-Schools. The classes by visiting professors really meant a lot. I really value those classes and those professors a lot. The time we spent at Kellogg and Wharton during international immersion was a wonderful experience. I don't think without ISB I would have gotten this opportunity of going back to school as a student.
Can you specify one class or course which enabled you in your professional transformation? What lesson did you take back to work?
The classes by Prof. Shamika Ravi were exceptional. She used to teach us economics and I was really impressed by her. Though she was probably over 15 years younger than me, she was a powerful orator with vast subject knowledge. She expounded on the significance of signalling. For instance, if you are doing a course at ISB, it is a signal to your top management at your workplace about your hard work & dedication. Everything we do in life is basically some kind of a signal. Similarly, there are many small lessons which I took away from the programme, but signalling is something I have used every day. I use it in my practice as a manager & leader quite a lot even after finishing ISB a long time back.
What according to you is a philosophy of a good leader? What nuances of leadership did you pick during the programme that are worth applying in your professional journey?
My philosophy as a leader is to lead from the front. When it's a difficult situation especially, make sure you are in the front. Ensure you are visible and make sure you are talking to the team, asking for help, and trying to get solutions from your team. I also believe in hiring good people. All of us are humans and we have our own insecurities. Sometimes leaders, because of their own insecurities, don't hire good managers. But my philosophy has always been to curb my own insecurities and ensure that I hire good and smart people on board. Also, to give them the freedom to operate. Don't curb their instincts and initiatives. I encourage them to operate on their own, giving them enough elbow room to do the things they want to do and the way they want to do it.
As a leader, like I mentioned earlier, being a thoughtful leader is critical. One should have a holistic approach to the business and should not just think about any issue or situation in a narrow way. Having a holistic approach and analysing the impact on every stakeholder, whether external or internal, before you commit to a decision is critical. These are some of the nuances which I picked up while engaging with batchmates at ISB who came from diverse backgrounds. I think that is how the finer education took place besides the professors and us as a class. We were also picking up learnings from classmates, who had wealth of experience (15-20 years) working in different environments.
What are the new challenges business leaders are facing in the wake of current global pandemic? How has the business leadership evolved in these unprecedented times?
I think the pandemic has tested the business leadership and strength of companies. The pandemic has also brought forth the true character of leaders. Not only has it been challenging, but it also has been very dynamic in nature. Things are changing every 2-3 months. Just when you think everything is going back to normal, a new situation develops such as a new variant. The market has been very volatile and has tested the financial strength of companies. More importantly, it has tested the character of leaders. Whether one is a strong or weak leader, it has become very apparent because of the pandemic.
I think the biggest challenge today is to realise who your competition is. Leaders should have the ability to foresee future competition and possible disruptions. In our industry, we used to think that the Indian cinema exhibition business will be disrupted by some global cinema exhibition company, creating a chain and making the whole market more competitive. But the competition has come from streaming platforms. A lot of unexpected things are happening and to stay competitive, one must move fast. Leaders must figure out ways to protect the core business which means they have to digitize those points.
Also, the capital allocation for future growth strategies is critical. If your core business is generating capital, where do you allocate that capital is an important question. Do you keep expanding your core business or do you diversify? I think these are some of the questions & challenges that some businesses, especially traditional businesses are facing. Each company is devising its own strategy and hopefully, over the next 3-5 years, we will know who the winners and losers are.
What does it mean to be a part of ISB alumni? What value do you derive from it and how has it benefitted you?
To be honest, I have not been an active alumni member, but I do keep a track of what my classmates are doing and what my friends are up to. I value my place in the community but because of business and day to day tasks, I am not very active on it. The network of course offers a big advantage. Any city or place you want to go to or have something to be figured out, the network is there for you. Whatever help or support you need, the alumni network is always there.
What is it that keeps you buoyed and relevant? What do you cherish doing in your spare time?
I guess with age you start enjoying family and "me" time more than friends and just going to work. Work is an important part of our lives, but nowadays work and personal life has got blended in a manner where you are working at home, and you are doing personal tasks at work. I really enjoy family time and me time. I love travelling and that really relaxes me a lot. And of course, since I am in film business, movies are a big part of my life. Watching movies is also one of my favourites.
If you must encapsulate ISB experience in just one word, what would that be?
Awesome.
Author: Kamal Gainchandani, CEO – PVR Pictures Ltd., and Chief of Business Planning & Strategy – PVR Ltd., PGPMAX Co'13