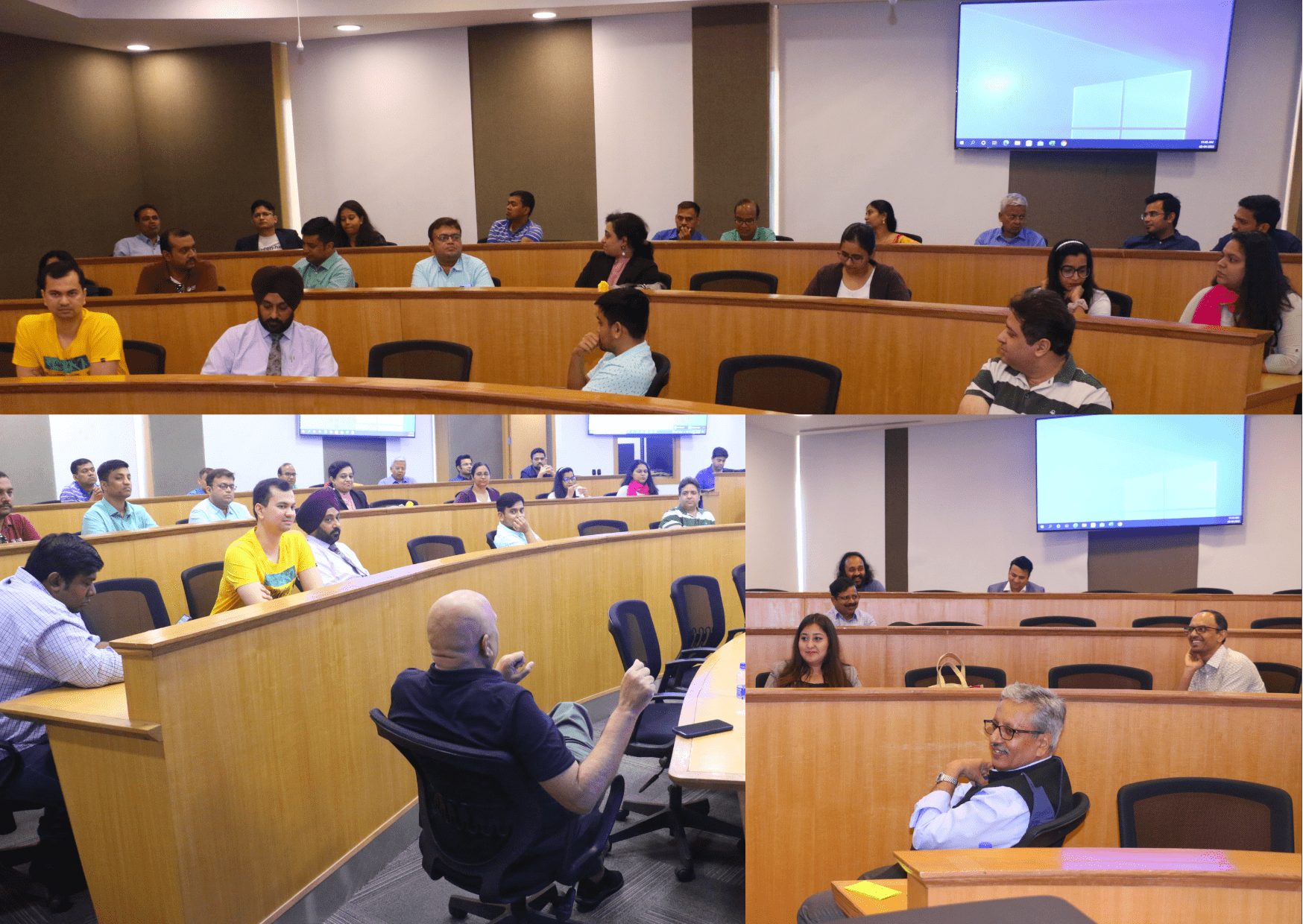 Public health has become a focal point post-Covid. But do we really need public health systems? What happens to the equity if all healthcare is delivered by private providers? Primary healthcare is critical and so is the digitisation of records, telehealth and trained workforce, disease surveillance, and interpreting emerging threats such as anti-microbial resistance. The pandemic has brought back the focus on various health issues in India – health security being one of the top issues. There is a collective understanding that India needs models different from other countries because our resources are limited. At the same time, innovation is happening extensively but more at the small players' level.
Max Institute of Healthcare Management in association with the Alumni Engagement Office and the Healthcare/Pharma Special Interest Group (SIG) organised Catalyst 'Unconference at ISB, Mohali campus on April 2 where ~50 attendees comprising students, alumni, faculty, staff, and healthcare professionals came together to discuss "Healthcare Trends and Innovation".
The discussion started with Ritesh Dogra, Moderator, Healthcare/Pharma SIG; AVP – Tech Commercialisation, Indigene; and PGP Co 2009 alum, talking about the 'founder's mentality' and how innovation and execution are the two ends of a chain. While innovation is often full of glitz and glamour, scaling any innovation needs to be executed with utmost care. The keynote speaker – Neeraj, Country Director (India), PATH – in his opening statement said that the biggest challenge that the public health system faces is that of management of human resources. He talked about politicising the public health system in India and the need for fruitful public-private partnerships. Neeraj also imposed a particularly important question to the attendees – Do we need a public health system?
In the next phase of the conference, the attendees divided into two groups to discuss two pressing questions in healthcare today: Delivery and Data.
Delivery track
The discussions started with questions on how to integrate the outcome measurement with current clinical practices for better patient engagement, and how to use the patient data to curate the care according to the patients' needs i.e., creating a 'human-centred design.' Often, the focus is on bringing innovations in healthcare delivery and not on improving patients' access to healthcare. We must realise that patients themselves cannot be ignored while devising newer methods of delivery.
As the discussion progressed to public policies pertaining to healthcare in India, the experts at the table believed that, given the change in thinking due to the Covid-19 pandemic, more state governments are now looking to introduce healthcare-related policies. However, the question about the role of the government is still unclear. Is it a regulator, a provider, or a payer? While curative care is critical, ignoring preventive care when formulating the policies will also have an impact. While for preventive care, awareness, education, and lifestyle counselling might work, for curative care, out-of-pocket expenditure needs to be brought down. The idea of OPD wallets was mentioned here.
The key takeaways of this discussion were:
Health being a part of states' subject list, a lot of policies might come in. However, one needs to carefully evaluate if such policies are implementable or human-centered.
While curative care continues to evolve, there is a great need for preventive care delivery and stronger primary care.
While insurance schemes do seem like a good option, a thorough study is needed to understand if insurance schemes reduce the out-of-pocket expenditure, or do they just delay the expenses. Can insurance companies make primary healthcare part of their – subscription models?
Lastly, we must not wait for models to emerge and continue doing process excellence as we go forward.
India needs a strong public healthcare system because of the vast diversity in its population and limited resources per unit.
Data track
With focus on HealthTech at its highest, we need to decode how HealthTech transforms healthcare delivery and impact outcomes. This can be done if we are able to understand how the patients are moving within the health ecosystem. Unless we do that, we will not be able to leverage technology to the extent we want to. But even before that, the organisations and the governments will need to invest in data collection. Now, the nature of healthcare data is not that simple. There is a lot of variability in how and what data is collected. Moreover, there are reservations around sharing health data, both with and without incentives. On top of this, the notion of privacy is overblown in India as compared to the West. People need to understand that nobody is looking at their personal data but the aggregate-level data when analysing for insights and trends.
The primary roadblock with data collection is that much of the data is not collected or digitised. Then comes the concept of conscious vs. unconscious data-sharing i.e., data collected via various applications and wearables. In a country like India, cultural and first point-of-contact trust also impacts the data collection.
The key takeaways of this discussion were:
Barriers to data
The nature of healthcare data is not that simple. The present level of data collection in the Indian healthcare sector does not suffice for a rich analysis for decision-making. The variability of data, differential interpretation of the same data by AI and by doctors, multiple devices for data collection, etc. add to the heterogeneous nature of data. This leads to either insufficient data for data-driven decisions or complete unavailability of data. The incompleteness of data adds to the slow progress in this domain and affects when it comes to building the correct level of expertise to use the data effectively. The missing link is building the data and matching it with the proper use of this data. For that, there is a need to understand the reasons behind the unavailability of the data. We also need to understand that new people, environments, and variables will keep arising. But, if we qualify data with medical professional insights, we will be able to control the outcomes. If we collect more exhaustive data, we will be able to find the mean, median, and deviation more correctly. We can adopt managed care models from other countries where one person is responsible for a set of people's health in their building/region. Giving doctors tools to digitise and digitisations of ANMs (auxiliary nurse midwives) can also be the missing link here.
Difficulty in capturing the data at source
Some of the most common reasons for data not being collected at source include lack of resources to capture the data and hesitancy among the patients and doctors. Even though newer technologies are aiding in data collection but equally important is to educate the masses and create awareness about the technology to remove some of the ideological barriers. To this end, providing incentives can play a key role to ensure the implementation of modern technology and active data-sharing.With healthcare data, there comes inevitable variability for which a standard analysis protocol becomes hard to establish. There are various levels of variability that need to be addressed – (a) at the patient level, owing to different response systems (b) at the level of the medical instruments/devices used for data capturing (c) at the level of the instrument operator or data collector. Also advised is large data collection so outliers and outlier data can be shared with expert doctors for recommendations. While it may not be possible to remove all errors, we can minimise the errors and get as close to real diagnosis as possible. All the variabilities listed above get amplified in the case of public healthcare systems relative to the private ones because of the shortage of workforce and senior experts. Perhaps, mandating digital health records will help ease out this difficulty suitably.
Patient empowerment and incentives
To overcome some of the challenges posed by the current positioning of the healthcare sector with respect to digitisation, patients can come forward and take the onus of pushing for digitisation. But how? The patients can prove to be the agents of digitisation by asking for their digital health records which in turn can also help them keep a track of their complete medical history. Pharmacies, instead of doctors, can take up the responsibility of digitising prescriptions since they also explain the medication routine to the incoming patients. A critical aspect of digitisation is the format in which data is being stored; a standard and correct format can ensure data interoperability.While there are always pertinent technical concerns associated with any innovation, one should not lose sight of the behavioural tendencies that might prove to be barriers to the way of adoption of modern technologies. The thinking is very rudimentary currently at the state level. The link between technology and health, and between the public and private is not there yet. Once the piping of data is there, incentives may prove to be beneficial in empowering patients.